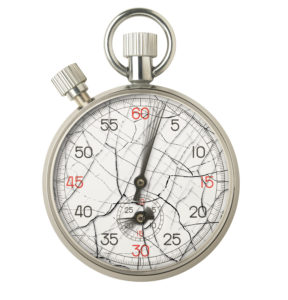 Austrian telematics company Dolphin Technologies last month reported some interesting correlations between trip length and odds of a collision.
"The lowest risk of accident in relative terms was for trips lasting between 10 and 20 minutes. After that, the risk rises disproportionately," the company wrote in a news release/blog post on Sept. 17. "If you are in the car for more than 40 minutes, you already have two and a half times the risk than if you are driving for less than 20 minutes."
The company analyzed 3.2 million rides driven by 40,000 people between 2018-19 — trips that resulted in 1,986 accidents.
It found 87 percent of trips involved less than a half-hour of driving. Only 6 percent saw the motorists on the road for more than the 40-minute threshold mentioned above.
A longer trip increasing the odds of an accident seems logical — after all, you're on the road more. But Dolphin also found the odds of a crash remarkably high if the trip is short.
"Notably, 25 percent of all accidents occurred during the first 3 minutes of driving, and another 14 percent within the first 6 minutes," Dolphin wrote.
If nothing else, it's an interesting piece of trivia about the crashes that fuel the collision industry's business. But it also makes one wonder how significantly the evolution of ADAS could eat into that quarter of crashes within the first three minutes.
Despite OEM 0-60 mph specs, it's possible some motorists Dolphin tracked might have lacked the chance to pour on the speed in those first 180 seconds of driving. That would seem to improve the odds of ADAS like autobraking either stopping the car entirely or alerting the driver in time to do so manually.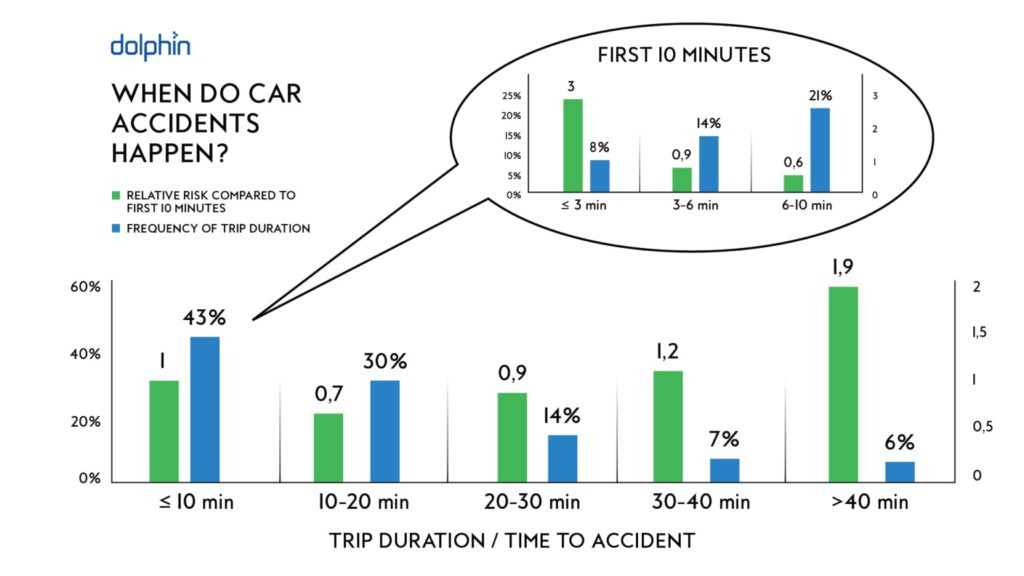 The Insurance Institute for Highway Safety's vehicle-vehicle autobraking tests, for example, run at 12 mph and 25 mph. The organization gives the maximum score to autobraking systems that can reduce a 12 mph velocity to 2 mph or less and a 25 mph speed to 3 mph or less.
"Sixty-six percent of the autobrake systems IIHS has evaluated on 2019 models earn the highest rating of superior for front crash prevention, and nearly 8 percent earn an advanced rating," the organization wrote in February 2019.
Dolphin also suggested drivers could be trained to avoid those crashes themselves.
"This study shows that if we could encourage people to give up their cars for short distances, up to 40 percent of all accidents could be avoided," study head and Dolphin data scientist Katharina Sallinger said in a statement. "We want to support people in being on the road safely. Knowing which behavior leads to accidents enables us to make targeted recommendations, and thus to minimize risks."
More information:
"Study by Dolphin Technologies reveals a quarter of all car accidents happen in the first three minutes of driving"
Dolphin Technologies, Sept. 17, 2020
Images:
Austrian telematics company Dolphin in September 2020 reported some interesting correlations between trip duration and odds of a collision. (pixhook/iStock)
Austrian telematics company Dolphin in September 2020 announced it analyzed 3.2 million rides driven by 40,000 people between 2018-19 — trips that resulted in 1,986 accidents — and found significant percentages of crashes occurred during really long or really short spans of driving. (Provided by Dolphin Technologies)
Share This: