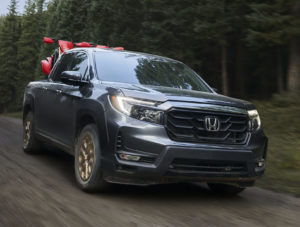 Honda on Wednesday unveiled a redesigned 2021 Ridgeline with a fascia that spreads body color further down the front end and adds functional side vents.
"Below, a new front bumper highlights the toughness of the new Ridgeline's design and adds broad side vents that route air through the bumper and around the front tires and wheels, creating air curtains to improve aerodynamic performance," Honda wrote.
A new "prominent skid plate emphasizes Ridgeline's "tough new look," and the wheels are now "tougher looking" too, Honda said.
The rear bumper also has been retooled and features twin exhaust ports.
The OEM swapped out the 2020 Ridgeline hood for a 2021 version "sporting a pronounced power bulge," and redid the fenders too. The truck features "all-new sheet metal from the front roof pillars forward," Honda said.
Honda confirmed Thursday the hood and front bumper beam remain aluminum, as they've been since the start of this design generation in the 2017 model year.
The grille is new, and the crossbar bisecting the headlight lenses has been redesigned as well. Honda says the latter will be gloss black on the Sport and Black Edition trims and chrome on the RTL and RTL-E versions.
Honda's news release suggests LED headlights will be standard on all trims, but it's a little unclear. If so, this would seem to address a poor IIHS headlight score found on the 2020 trims carrying only halogen lamps. The higher-tier 2020 Ridgeline trims this generation have featured LED low-beams and halogen high-beams and received a "good" rating. (This also included a credit for incororating automatic high-beam ADAS.)
We asked the OEM to clarify if LED headlights were now standard and, if so, whether this would mimic the LED-lows, halogen-brights format described above. "We will have more information as we get closer to the on sale date," Honda wrote in an email.
Repairers might also encounter a new aesthetic option package created in part by Honda Performance Development. The HPD configuration — which is available for all trims — adds a new grille, bronze-colored wheels, black fender flares and new bed graphics. Honda didn't provide images for the normal Ridgeline, and the HPD Package version is what you're seeing in this article.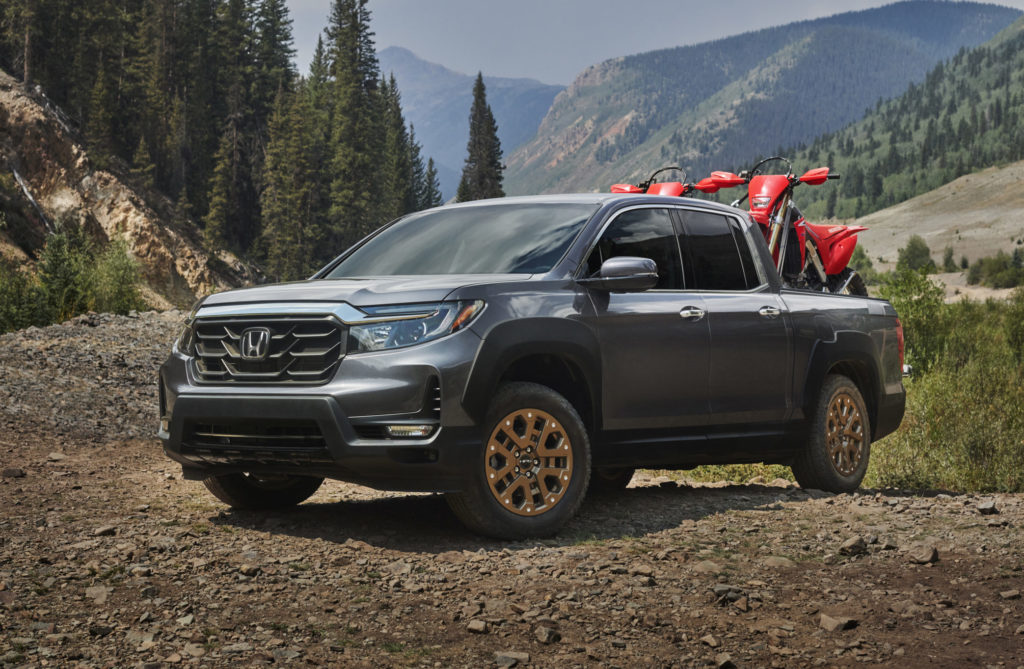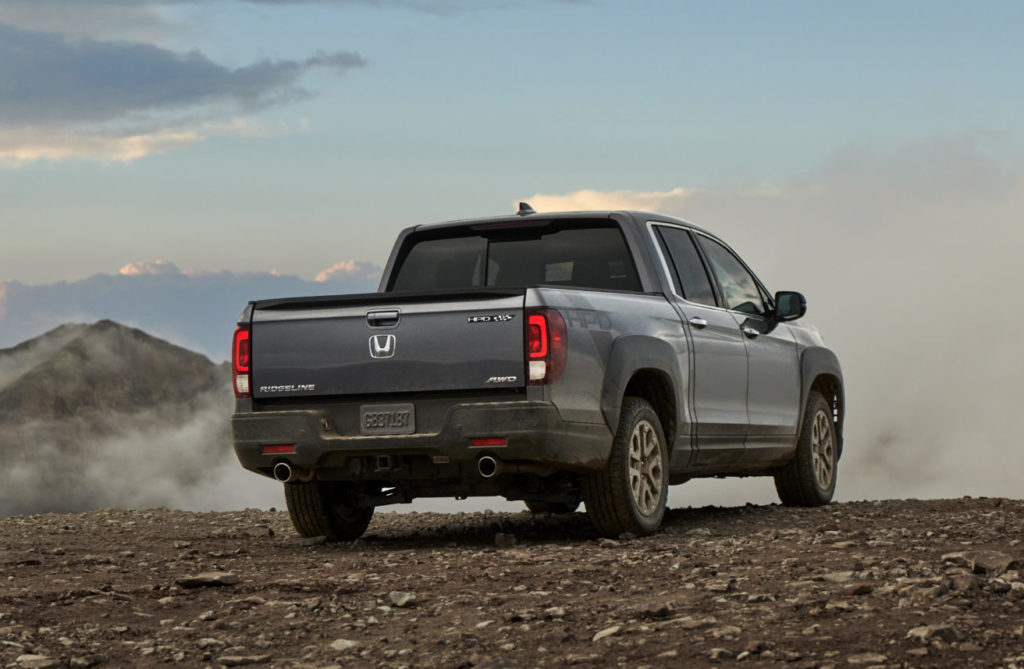 "Truck enthusiasts have long recognized Ridgeline as an incredibly versatile and capable pickup, and now it's got the rugged looks to match," American Honda auto operations Vice President Art St. Cyr said in a statement. "The Ridgeline signals a new direction for our light-truck designs, one that more effectively communicates all the hard work that goes into making Honda pickups and SUVs such proficient on- and off-road performers."
Honda on Wednesday touted the unibody structure of the vehicle.
"Underpinning its extraordinary packaging, hauling and driving character is Ridgeline's unit-body construction, featuring Honda's proprietary Advanced Compatibility Engineering™ (ACE™) body structure and fully boxed frame members for the body sides and rear tailgate frame with truss-style inner construction, plus a robust fully independent rear suspension," Honda wrote of the 2021 edition Wednesday.
The 2017-20 Ridgeline is 57 percent higher-strength steel of 340 megapascals or more, according to a 2019 Body Repair News. The truck also contains Honda's 1,500 MPa "door rings," which can only be replaced as a single unit.
The 2017-20 Ridgeline aced the Insurance Institute for Highway Safety small-overlap driver-side crash test, but only received an "acceptable" when the same test was conducted on the passenger side.
Honda on Wednesday announced a goal of "a GOOD rating in all IIHS collision tests," which suggests something would have to change to deliver that level of passenger protection.
However, when we asked about this possibility, Honda replied Thursday: ""There have been no structural changes to the truck."
The 2021 Ridgeline will also continue to include a glass-fiber-reinforced SMC composite bed, a tough substrate which allows the truck to function without a bedliner.
The 2017-20 bed is highly modular; assuming nothing changes for 2021, this should continue to make life easier for body techs and lower repair costs for customers. The higher 2021 trims will continue to offer "exciters" able to turn Ridgeline bed into a speaker.
Also on the electronics front, it's worth reminding shops and insurers that the 2020 Ridgeline received the Honda Sensing advanced driver assistance suite standard across the board. Honda has continued to bundle this ADAS package, which includes features like lane keeping and autobraking, into all trims of the 2021 version.
More information:
"Redesigned 2021 Honda Ridgeline Unleashes New Styling to Match its Rugged and Versatile Truck Capabilities"
Honda, Oct. 7, 2020
"2017 Ridgeline Series: Body Repair Information"
Honda Body Repair News, December 2019
Images:
A 2021 Honda Ridgeline with the Honda Performance Development appearance Package is shown. The Ridgeline was resdesigned for the 2021 model years, and some of the overall changes, such as the new air vents in the bumper, and some of the specific features added with the HPD Package, like the fender flares, can be seen here. (Provided by Honda)
A 2021 Honda Ridgeline with the Honda Performance Development appearance Package is shown. The 2021 Ridgeline has a redesigned rear bumper showing the dual exhausts. (Provided by Honda)
Share This: