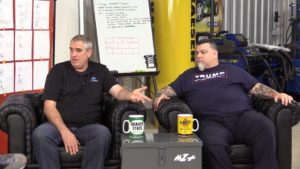 Collision repairers will protest that they lack the time to research OEM repair procedures, yet they'll dedicate labor to rekeying insurer estimates, Collision Hub CEO Kristen Felder argued in a "Repair University" this summer.
Some rekeying might be done in as little as 20-30 minutes, according to co-host Mark Olson, CEO of Vehicle Collision Experts. But an hour and a half per estimate is more likely — on a task "you really shouldn't be doing anyway," he said.
Felder said on the June 26 show that interviews with shop estimators during audits reveal half of their day is spent rekeying.
"We could take that hour and a half and go research OEM stuff," Olson said. "… We'll have time for that."
The show also argued that rekeying led shops to dedicate personnel to the front office instead of the shop floor — even though the latter is what earns the company money.
Olson said that when he had a shop, it was staffed for 1 person in front for every 2.1 people in the back. Now, this ratio might be skewed to 1 to 1 — or even more towards the front office. "Where's the money coming from?" he said.
Historically, the front office might have been a receptionist and an owner who doubled as an estimator, according to Felder. "That model worked," she said.
Shops might also be sacrificing money behind the scenes as well as on the actual repair order by rekeying.
Felder said she runs into situations where a shop without a DRP or without DRP software requirements will nevertheless subscribe to all three major estimating systems. "Those aren't cheap," she said.
The repairer feels they must have all three on hand to rekey estimates from an insurer's information provider of choice, according to Felder.
"No we don't," she said, arguing the conversation with the carrier should instead hold: "'Here's my estimate for fixing the car; you figure it out.'"
Rekeying across estimating systems also raises another issue besides subscription costs. A shop familiar with one information provider who rekeys into a different piece of software might inadvertently lose operations, Olson said.
More information:
"Repair University: Rekey Of Insurer Estimates"
Collision Hub YouTube channel, June 26, 2020
NASTF portal to official OEM procedure websites
Featured image: Vehicle Collision Experts CEO Mark Olson, left, speaks during a June 26, 2020, Collision Hub "Repair University" show. (Screenshot from Collision Hub YouTube channel)
Share This: