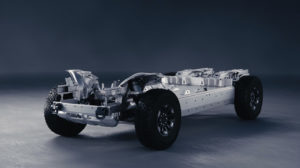 General Motors last week revealed a 2022 GMC HUMMER EV Edition 1 which "makes the battery pack a fundamental structural element of the chassis."
It's one of several body and chassis details accompanying — or leveraging — the vehicle's biggest news: the completely electric powertrain.
The 24-module, three-motor "Ultium" setup is expected to get more than 350 miles of range on a charge. The battery can be switched from a 400-volt configuration to handle 800 volts and from "parallel" to "series" to add 100 miles of range in 10 minutes.
"An all-new structure eliminates conventional frame rails, which would raise the center of gravity, and makes the battery pack a fundamental structural element of the chassis," GMC wrote. "It is protected by sturdy shear panels above and below the double stacked batteries, while an exceptionally rigid floor above the battery pack helps the body resist twisting, even with the Sky Panels of the Infinity Roof removed."
The flat floor enabled by the electric vehicle's architecture also allowed GMC to build in a two-tier front floor console for storage.
GMC said it protected the battery and other elements from below with an underbody armor setup including two underbody shields and five skid plates/rock sliders. It described these as "sturdy steel plates."
It also adds front and rear underbody cameras "specially packaged to help protect against damage and equipped with a wash function to help remove debris."
As noted above, the HUMMER features a "Infinity Roof" with modular, removable Sky Panels which can be stored in the "frunk" with an optional storage tray accessory.
"Even the I-Bar mounting frame for the panels is removable, for a totally open experience above, while a power-drop rear window takes the open-air concept even further," GMC wrote.
"The Infinity Roof embodies the HUMMER EV's spirt of adventure," said Zak. "It figuratively and literally removes the barrier between passengers and the world, for a more immersive driving experience."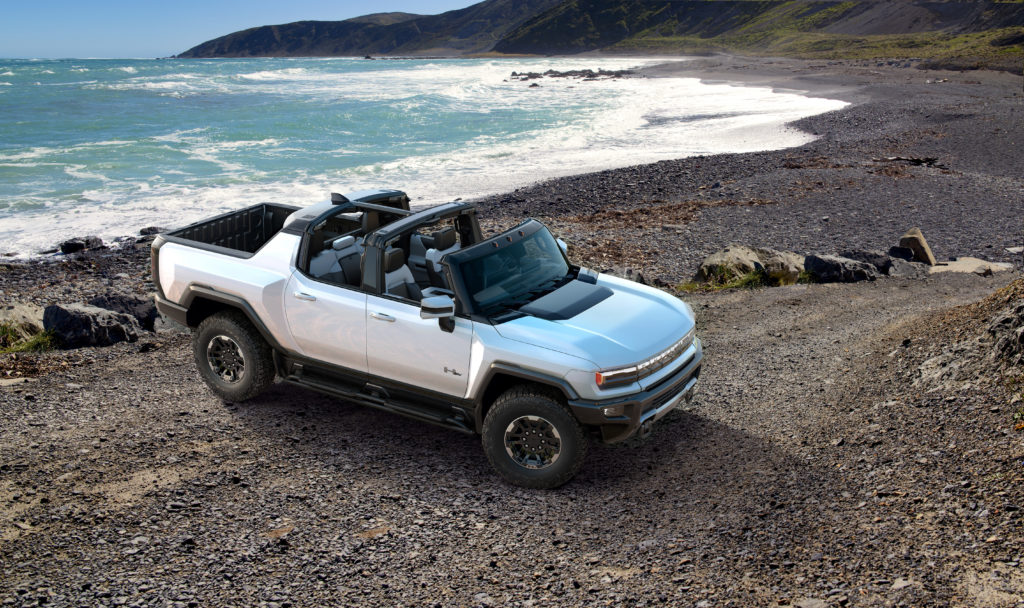 Other body and chassis items potentially of interest include:
The back of the truck will include the six-function MultiPro tailgate which debuted on the 2019 GMC Sierra.
The front and rear lights show the vehicle's charge, "and the front light signature serves as the face of the vehicle."
An "H" motif can be observed on the lamps and wheels.
The truck sports independent front and rear suspensions and active air suspension.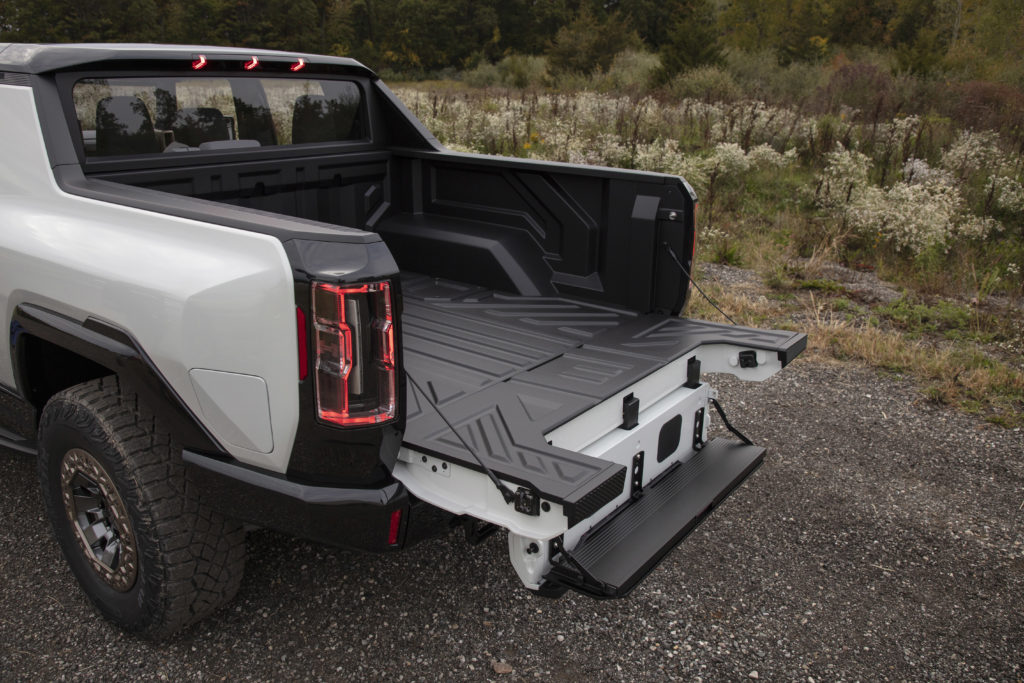 Heavy-duty ball-spline half-shafts reduce steering feedback and aid maneuverability. The rear wheels can be configured to travel forward like normal rear wheels or to turn in the same or opposite direction of the front wheels.
GMC pointed out that the electric powertrain in the HUMMER EV "eliminates the axle 'pumpkins' and prop shaft in conventional trucks, which helps optimize ground clearance."
There could be a lot of sensors in the vehicle or its parts. GMC said the vehicle can display variables like wheel travel, chassis height, pitch and roll angles and g-force articulation.
The HUMMER EV's unique architecture offers inherent advantages for off-road driving, with the placement of the batteries contributing to a low center of gravity for stability, while the design of the drive motors eliminates the axle "pumpkins" and prop shaft in conventional trucks, which helps optimize ground clearance.
---
Learn about General Motors' electric vehicles at Repairer Driven Education
Trying to get a handle on GM electrification trends and the potential ramifications for collision repair? Don't miss "Global perspective on electrification, safety systems, emerging trends and collision repair" during the SCRS OEM Collision Repair Technology Summit next week. GM collision manager John Eck will moderate a panel including GM Global Aftersales Mechanical Engineering (GAME) director Jennifer Goforth, GM global aftersales diagnostics and electrical engineering director John Willis; Nathaniel Skutt of GM body structure advanced serviceability of design engineering and GM collision program manager Christopher Blackmore. The session and other OEM Summit segments featuring Audi, Ford, Subaru and DuckerFrontier will be released online at 10 a.m. ET on Nov. 5 and be available for replay through Aug. 31, 2021. Registration is $150, or pay $375 for the full series pass, which grants access to the virtual OEM Summit and more than a dozen $75 virtual Repairer Driven Education courses, all replayable as well.

---
The Edition 1 will start at $112,595 and reach customers in fall 2021. Reservations are already full. A HUMMER EV3X featuring less torque and range will go on sale starting at $99,995 in fall 2022, followed by a 2-motor $89,995 EV2X in 2023 and 2-motor $79,995 EV2 in 2024. Besides the various differences in torque, range, motors and 0-60 mph acceleration, it's unclear what other standard items from the Edition 1 won't carry over to the lower-tier (relatively speaking) versions.
More information:
"2022 GMC HUMMER EV Edition 1: Off-Road Beast"
GMC, Oct. 21, 2020
"2022 GMC HUMMER EV Edition 1: Experience Just How Loud Quiet Can Be"
GMC, Oct. 21, 2020
"2022 GMC HUMMER EV Edition 1's Outstanding Performance Powered by Ultium"
GMC, Oct. 21, 2020
"2022 GMC HUMMER EV: Ultimate Capability, Revolutionary Performance"
GMC, Oct. 21, 2020
Images:
The 2022 GMC HUMMER EV Edition 1 will debut GM's Ultium electric vehicle platform. (Copyright General Motors)
The 2022 GMC HUMMER EV Edition 1 has the multifunction tailgate first seen on the 2019 GMC Sierra. (Copyright General Motors)
The 2022 GMC HUMMER EV Edition 1 has removable, modular "Sky Panels" in the roof. (Copyright General Motors)
Share This: