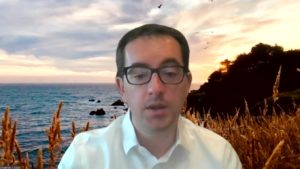 Insurers went increasingly virtual in response to the COVID-19 pandemic, and the methodology appears likely to stay.
However, carriers might need to make some corrections to how they manage the process and interact with shops, based on recent comments from a Top 20 insurer and a California body shop.
Both National General claims process and centralized service director Jonathan Chase and Barsotti's Body and Fender general manager Amber Alley participated on a Nov. 11 virtual Collision Industry Conference panel on COVID-19 lessons.
Chase offered an extensive take on virtual claims from an insurer's perspective during the Industry Relations panel, and we followed up with Barsotti Wednesday for more details about her references then to a shop's experience.
Insurer perspective
Better communication and understanding of virtual estimates' limitations could avoid virtual auto claims issues, Chase suggested last week.
"The key thing in getting this right is segmentation," Chase said.
An insurer should refrain from deploying the technology on the wrong claims, or it would cause "downstream problems," he said.
National General has found that virtual estimating has worked well on mild severity and total loss claims, Chase said. But the carrier has struggled when it uses the method on midrange severity, he said.
By attempting virtual estimating in inappropriate situations, "we can really cause some fallout" for collision repairers, he said.
Chase expected National General to increase its usage of the technology. "We have to be a lot more intelligent about how we do it," he said.
He said he also learned the value of communication with shops, explaining that from National General's perspective, it seems clear: Since the insurer has no other option during the pandemic, it writes what it can see in the images, according to Chase.
"We think of it as, 'Hey, we're teeing this up,'" Chase said. The insurer indemnifies the loss, and the customer goes to a body shop to get a more comprehensive analysis.
"We know that fully well," he said. But if National General doesn't explain to a repairer what the estimate is and isn't, it shouldn't be surprised that virtual estimating "causes you guys some indigestion."
He said "we know full well" that the virtual estimate is probably missing items which won't be caught until a teardown.
"We need a way to indicate that to you," he said. That way, a shop doesn't think "our mind's made up."
Chase also offered perspective into an insurer's thought process in response to a question about the importance of repairers' photos.
He used the example of a hypothetical bumper fascia hit hard enough to be deformed into a V-shape. Though National General's virtual estimate omitted the bumper beam behind the fascia, the insurer wasn't opposed to covering the part — "just not yet," Chase said.
A shop could get that component reimbursed with minimal documentation, for the insurer could anticipate it was likely, he said.
However, if the repairer needed to replace a harmonic balancer, the carrier would expect more details to justify the charge, he explained.
He called it critical that the insurer "level-set" and make it easy to confirm what the insurer suspects, "not put you through the wringer."
Chase said insurers need to think more about their methods of inspections and supplements, and collision repairers would be "a huge part of that."
"That's going to change our business model," he said.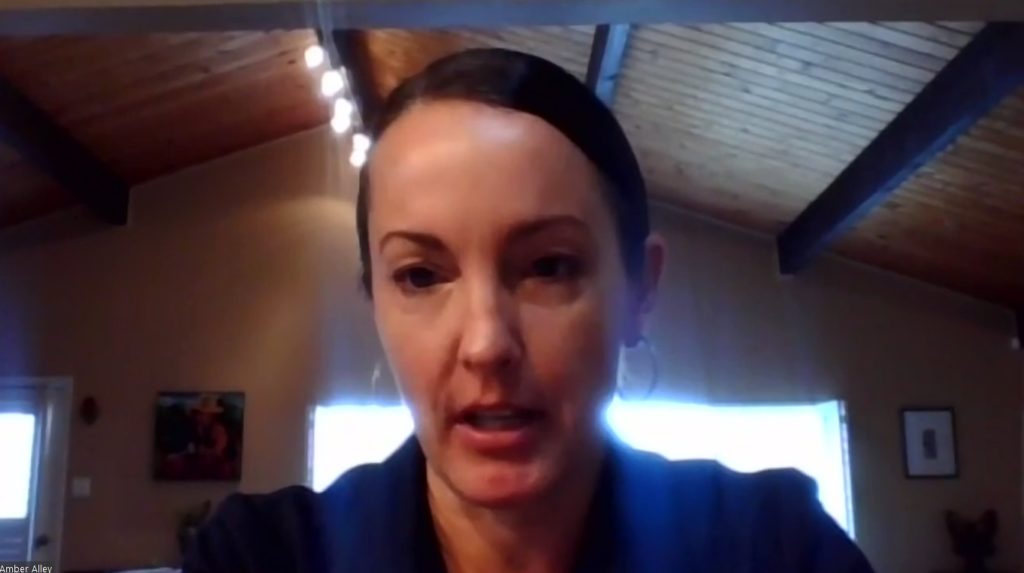 Shop's perspective
Barsotti's Body and Fender general manager Amber Alley said shops had under virtual claims become the "eyes and ears" of the repair process for insurers, which produced "definitely some pros, but also some cons."
One of the main problems is time, she said in a follow-up interview Wednesday. She described insurers consuming significant administrative time and demanding significant levels of imagery. She noted that Barsotti's at least had technology in place to help manage such a process, but it could be "potentially devastating" for smaller shops — there's "so much cost" in administration and time.
Alley noted that some customers have used insurer tools and started the process rolling, while others rely on the shop to walk them through it.
She said sometimes, the carrier will ask the shop to walk around the vehicle, providing a video feed so the insurer writes the estimate.
"That has got to be the stupidest thing ever," she said, pointing out that the customer has already brought the vehicle to a repair professional capable of writing an estimate.
In another scenario, the shop is asked to write the initial estimate and take accompanying photos — only to have an insurer fill it full of aftermarket parts and delete numerous operations.  She said a carrier might also request an unprecedented level of photo documentation of vehicle minutiae —  leading the shop to agree but warn it would charge for them.
Carriers are also making coverage decisions of unrelated damage based upon photos, Alley said. She said this has led to clearly related damage being denied.
The process can be outright "painful" on total losses, she said, given the amount of documentation the insurer might expect a repairer to provide. She also described how an insurer might involve a repairer in the total evaluation process to an uncomfortable level. "That shouldn't be left out to us," she said, but the repairer is "mixed in on that" nonetheless.
Insurers are also getting slow about making supplement decisions, with one major carrier lagging a week behind, she said. She said the argument that the carrier's staff is working from home draws little sympathy considering she's staffing a workplace during a pandemic. "I can't justify that excuse," she said.
And finally, she said car rental personnel have sought updates from the shop, for "they're not getting the notes" from an adjuster like they should.
"It's just a mixed bag all over the place," she said.
Images:
National General claims process and centralized service director Jonathan Chase speaks to a virtual Collision Industry Conference on Nov. 11, 2020. (Screenshot from virtual CIC)
Amber Alley, the general manager of Barsotti's Body and Fender, speaks to a virtual Collision Industry Conference on Nov. 11, 2020. (Screenshot from virtual CIC)
Share This: