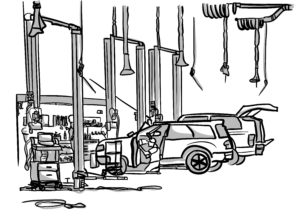 A North Carolina auto repair facility and its franchisor have reached a $1.8 million settlement with an elderly man who fell into an open service pit.
The 84-year-old plaintiff suffered a brain hemorrhage and a brain injury from the fall. He had lived independently prior to the incident but now resides in an assisted living facility and requires around-the-clock memory care, his Raleigh, N.C.-based counsel Osborn Gambale Beckley & Budd wrote last month.
Partners and founders Justin Osborn and Joe Budd had "argued that the orientation of the shop floor and lack of adequate warnings violated OSHA and NC DOL regulations," according to the firm. "They also argued that the franchisee failed to follow the franchisor's safety training and policies, specifically that customers were required to be escorted by staff members while on the bay floor.  Surveillance footage showed their client was unaccompanied when he fell."
The settlement was confidential, and the firm did not identify the specific case nor the defendant in its post Nov. 23. But the incident highlights the potential for auto body shops and other automotive concerns to be exposed under the concept of "premises liability."
The usual caveat: Nothing in this article is intended as legal advice and is presented for informational purposes only. Contact a qualified attorney licensed in the relevant jurisdiction before taking any action. Furthermore, remember that our interviews with North Carolina attorneys Friday and Monday often centered upon North Carolina law; your states' laws and regulations might differ.
Osborn said a repairer "absolutely" needed some a safety policy or plan in place for visitors on premises, with the "gold standard" involving having this information in writing. He said companies should also designate a person in charge of that policy and its enforcement and "some level of continual training."
He said his firm often sees companies who train employees quickly when hired but stop there. Instead, the workers should receive continual training, even if some of it takes the informal form of a "toolbox meeting."
The idea is to reinforce that incidents can arise that can change a person's life or kill someone, and "'We have to be vigilant.'"
Osborn advised keeping up with safety rules and bulletins shared by trade organizations. He also noted that OSHA requirements, even though they're intended for employees rather than customers, can also be used to demonstrate business negligence in customer lawsuits.
Escorting a customer around a facility is "probably the failsafe" in many circumstances, Osborn said. The employee should be attentive to dangers and the customer's proximity to them. "No one is gonna know that better than an employee," he said.
Other businesses on-site
Body shops receive frequent visitors present on official business for another company, such as a vendor delivering parts or an insurance adjuster inspecting a customer's vehicle.
Visitors like insurance adjusters should be considered to be like customers from a premises liability perspective, Osborn said.
For vendors performing work contracted by the repairer, things change a bit. It's assumed the other party's company offered some safety training, so the shop's overall exposure and duties involve merely "unknown" or "hidden dangers," Osborn said.
Consider an example of a contractor hired by a shop to make repairs on the ceiling. If that contractor uses a scissor-lift to reach a high point, the shop isn't expected to remind them to be careful to avoid a fall.
But this assumption isn't absolute and wouldn't take into account other hazards around the shop, according to Osborn. You'd still have to protect them from the threat posed by something which isn't a consideration for the vendor's job, he said.
Osborn described what he called an important North Carolina case involving a worker who ran a scissor-lift into electrical lines on the premises. The defendant was liable for failing to "extra-warn" the plaintiff of the threat of the lines, Osborn said.
North Carolina premises liability defense attorney Deedee Gasch said the the duty of care in North Carolina doesn't change whether a visitor is a customer or employee of a third-party company.
"You owe them all a duty of reasonable care," said Gasch, a partner at Cranfill Sumner & Hartzog.
But a body shop might face greater risk from a customer's premises liability claim than a lawsuit from a repeated visitor from a third-party business, according to Gasch.
A jury might feel the latter visitor would be more knowledgeable about conditions within the shop, increasing the chance the defendant won the case on contributory negligence grounds, she said.
An insurer who visits once a week would theoretically be more versed in known hazards than a customer patronizing the shop once a year, as Osborn described it. An insurer repeatedly visiting shops in a territory would have 'better working knowledge" of what's risky within the facilities, he said.
Repairers also shouldn't assume workers' compensation will cover an incident where a third-party business' representative was injured at a shop, according to Gasch. She said that while the employee certainly might file a worker's comp claim with their employer, they can still potentially file a premises liability lawsuit as well.
"He could actually have both," she said of a hypothetical injured worker.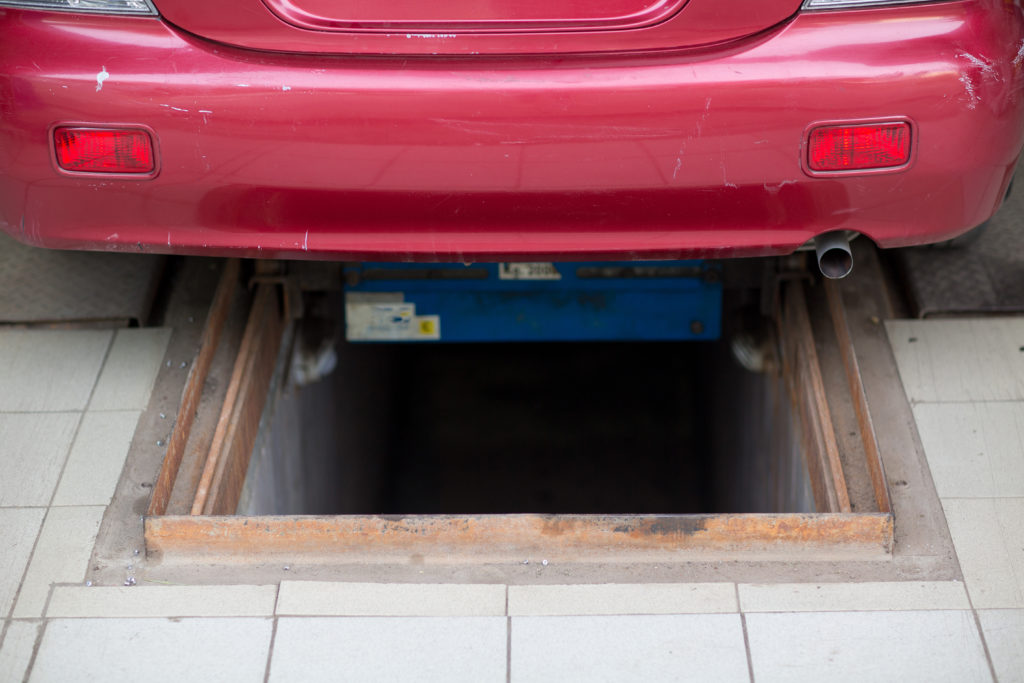 Service pits
Osborn also offered some additional context into service pits that shops might find interesting.
Even though a service pit can be a large hole in the ground, it doesn't fall within the ranks of equipment that should be obviously dangerous to a customer, according to Osborn.
OSHA changed fall protection regulations for open service pits in recent years, according to Osborn. He characterized the agency as recognizing the holes represented a hidden hazard and a unique situation in that they fluctuate between safe and unsafe. (i.e., covered with a car or not covered with one). He hypothesized that something like a lift might fall into such a category, as it's a risk in one position but "not dangerous when it's down."
According to OSHA, the fall protection regulation 1910.28 states:
1910.28(b)(8)
Repair pits, service pits, and assembly pits less than 10 feet in depth. The use of a fall protection system is not required for a repair pit, service pit, or assembly pit that is less than 10 feet (3 m) deep, provided the employer:
1910.28(b)(8)(i)
Limits access within 6 feet (1.8 m) of the edge of the pit to authorized employees trained in accordance with § 1910.30;
1910.28(b)(8)(ii)
Applies floor markings at least 6 feet (1.8 m) from the edge of the pit in colors that contrast with the surrounding area; or places a warning line at least 6 feet (1.8 m) from the edge of the pit as well as stanchions that are capable of resisting, without tipping over, a force of at least 16 pounds (71 N) applied horizontally against the stanchion at a height of 30 inches (76 cm); or places a combination of floor markings and warning lines at least 6 feet (1.8 m) from the edge of the pit. When two or more pits in a common area are not more than 15 feet (4.5m) apart, the employer may comply by placing contrasting floor markings at least 6 feet (1.8 m) from the pit edge around the entire area of the pits; and
1910.28(b)(8)(iii)
Posts readily visible caution signs that meet the requirements of § 1910.145 and state "Caution-Open Pit." (Minor formatting edits.)
A business needs to "do something besides assuming" customers will recognize the threat, Osborn said.
More information:
"$1,800,000 Injury Settlement – Premises Liability Victim"
Osborn Gambale Beckley & Budd, Nov. 23, 2020
Standard 1910.28 on OSHA website
Images:
Escorting customers rather than letting them wander unaccompanied might help avoid premises liability issues at an aut body shop. (A-Digit/iStock)
An inspection pit is seen. (primipil/iStock)
Share This: