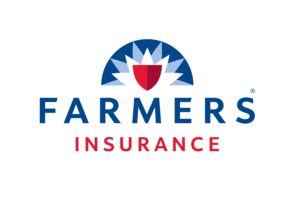 Farmers announced Friday it had purchased MetLife's auto and home insurance business.
The nearly $4 billion deal involves both the Farmers Group, which is owned by Zurich Insurance, and the Farmers Exchanges. The Farmers Exchanges are three reciprocal insurers owned by Farmers policyholders. Zurich owns the Farmers Group, which provides administrative support for the Farmers Exchanges.
"The acquisition of MetLife Auto & Home is a unique opportunity to accelerate our growth and gives us a significant presence in all 50 states," Farmers Group CEO Jeff Dailey said in a statement. "MetLife's distribution channels complement our existing strength in the exclusive agent channel, deepen our presence in the fast-growing independent agent channel and provide us entry into the worksite marketing channel via a leading platform, with the 10-year exclusive distribution agreement through MetLife Group Benefits."
Here's how it will work. Zurich said Friday it would buy the MetLife P&C business for $3.94 billion. Zurich will then immediately sell nearly all of it back to the Farmers Exchanges for $1.51 billion.
At the end of the day, Zurch would be out $2.43 billion, while Farmers will be out $1.51 billion. Farmers expects the deal to close in the second quarter of 2021.
Zurich/its Farmers Group makes money by charging Farmers/Farmers Exchanges a percentage of gross premiums for handling services like underwriting on Farmers' behalf.
However, Farmers/the Farmers Exchanges continue to be in charge of claims, the Farmers brand, and policy sales, according to Zurich. (In other words, Farmers is directly handling all the Farmers things you care about as a body shop; it's not outsourcing it to Zurich.)
"The acquisition significantly increases the potential for growth at the Farmers Exchanges and will further boost the share of Zurich's profits linked to stable fee-based earnings," Zurich Group CEO Marco Greco said in a statement. "Together with the continued increase in rates in commercial insurance, this transaction will strengthen our ability to achieve our 2022 targets."
As we read it, Farmers becomes a bigger personal lines insurance player, while Zurich gets to collect more relatively low-stress, low-capital administrative fees.
Zurich expected its $2.43 billion stake to earn a 10 percent return on investment from 2023. It said it would pay the bill with a "roughly equal combination of internal resources and hybrid debt."
Based on National Association of Insurance Commissioners data, MetLife was the nation's 18th largest private passenger auto carrier in 2019. The Farmers Group ranked No. 7 and controlled four times MetLife's premiums, based on the NAIC tallies.
MetLife posted $574 million in net written auto premiums in the third quarter of 2020. It reported more than $2.4 billion in net auto written premiums auto premiums for the entire year of 2019.
Farmers posted more than $10.53 billion in written premiums in 2019. Add in MetLive's auto business, and Farmers vaults past Liberty Mutual (around $11.7 billion in written premiums) to become the No. 6 auto insurer in the country. (No. 5 USAA controls more than $15.23 billion, in case you were wondering).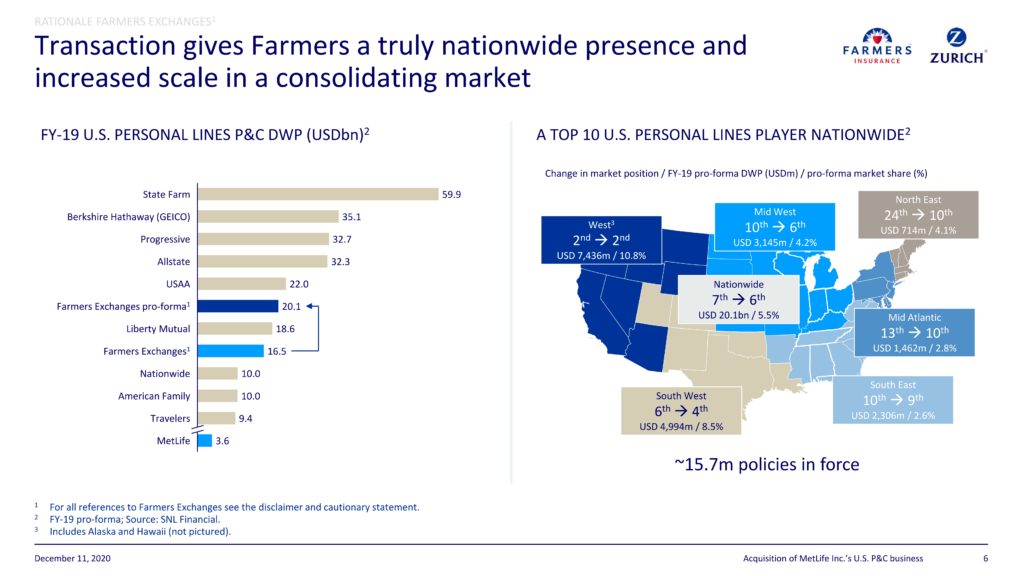 Zurich said the deal would also elevate Farmers significantly in certain U.S. markets when one considers all personal lines (home, auto, etc.). In the Northeast, Farmers will vault from 24th to 10th place with a 4.1 percent share. It'll go from 10th to sixth place in the Midwest with a 4.2 percent share.
Though those stats describe all personal lines, 67 percent of MetLife's net written premiums are derived from auto insurance. So body shops in those regions should pay attention.
The deal also lets Farmers sell insurance through "the employer distribution channel via a leading worksite marketing platform" for the first time, according to Zurich. In theory, this pitches Farmers products to more than 3,800 employers' workplaces. MetLife also contributes another 3,000 independent agents who weren't selling Farmers insurance already, Zurich said.
Farmers has not yet replied to an inquiry Friday about its future plans for the separate Farmers Guaranteed Repair Program and MetLife CARE direct repair programs.
Images:
"The Farmers Exchanges and Farmers Group, Inc. (FGI) Announce They Will Acquire MetLife Auto & Home"
Farmers, Dec. 11, 2020
"Zurich and Farmers Exchanges to buy MetLife's property and casualty business in U.S."
Zurich, Dec. 11, 2020
"Acquisition of MetLife Inc.'s U.S. P&C business"
Zurich, Dec. 11, 2020
Images:
The Farmers logo (Farmers/PRNewsFoto)
Zurich said Dec. 11, 2020, the MetLife P&C acquisition would elevate Farmers to Top 10 levels in each of the U.S. regions Zurich declined. (Provided by Zurich)
Share This: