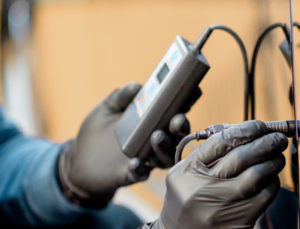 Even touch-up work might carry OEM procedures on top of the instructions from the relevant supply manufacturers.
We found a couple of examples during a Friday visit to the Ford official OEM repair procedure website.
One document describes what Ford would like done if an 2020 Escape front or rear window frame molding shows cosmetic damage. However, this damage must not exceed a certain threshold — otherwise, it's a replace-only operation.
"Scratches deep enough to cause a thumb nail to catch cannot be repaired and the component must be replaced."
The molding repair process describes steps like cleaning and polishing the part before sanding it with a 3-inch dual-action sander.
Ford wants you to start at either 800, 1000 or 3000 grit, depending on the size of the scratch and go finer and finer until a pass with 3000 grit.
If you sand away too much of the material, "component replacement will be required," Ford warns. (Emphasis Ford's.) If a scratch is so deep you can't get it out with 800 grit, it's replace-only.
Other steps follow. Read the full, current set of directions within Section 501-08 "Exterior Trim and Ornamentation" of the Escape service instructions.
Another touch-up process can be found within Section 501-36 "Paint – General Information."
Ford describes how a repairer should address environmental damage by applying specific Ford Motorcraft acid and alkaline neutralizing to the vehicle with separate clean twisted lambs wool mitts. The acid neutralizer must be mixed with water in a specific ratio; but alkaline neutralizer is good as is, according to Ford.
After what can take multiple attempts, ferrous metal particles should be gone, Ford says.
Ford also warns in the document that "When attempting to affect a repair by buffing, polishing or color sanding, do not remove an excess of 0.3 mil of paint film or refinishing will be required." (Emphasis Ford's.)
It also tells technicians not to mix and match different manufacturers' buffing products. After you pick a product manufacturer, follow their specific instructions too, Ford says.
Other steps follow. Read the full instructions on the Ford OEM procedure site.
More information:
Ford official OEM repair procedures website
Featured image: One touch-up Ford procedure indicates repairers will need to know whether they removed more than 0.3 mils of paint during "buffing, polishing or color sanding." If so, refinishing will be necessary. (RossHelen/iStock)
Share This: