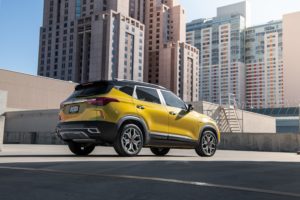 A slew of OEM sales tallies released this week suggests that 2020 marked the year crossovers and SUVs together commanded a 50 percent share of Americans' auto buying, according to an IHS Markit analyst.
IHS Markit principal automotive analyst Stephanie Brinley said pickups should comprise another 20 percent of 2020 sales.
"(T)his looks to be the year when sales of utility vehicles reached 50% market share, across all size segments, compared with 48% in 2019," Brinley said in a statement Tuesday. "Pickup truck sales remained strong over the course of the year, and are expected to end 2020 at about 20% share of total light vehicle sales, compared with 18.1% in 2019. There were also a number of new products contributing to the expansions. Though Jeep Gladiator and Ford Ranger joined the mid-size pick-up truck segment in 2019, 2020 saw impact of a full year of availability. As with pick-up trucks, share growth is in part on new entries and increased consumer choice. In 2020, Buick, Chevrolet, Kia, Genesis, Hyundai, and Toyota were among brands which added to the number of utility vehicles available in showrooms."
IHS public relations director Michelle Culver called the remaining 30 percent "everything else (cars (hatch, sedan, coupe), vans, etc)."
At least two OEM sales news releases supported Brinley's conclusion.
Kia said it set a sales record in 2020, with 62 percent of that total coming from the Sedona, Seltos, Sorento, Soul, Sportage and Telluride "light trucks." In 2019, these vehicles comprised 58 percent of Kia's sales.
Volkswagen called the fourth quarter of 2020 its "Best quarter ever for SUVs sales" at 60 percent. The OEM said 58 percent of its 2020 sales were SUVs — up from less than 20 percent just four years ago.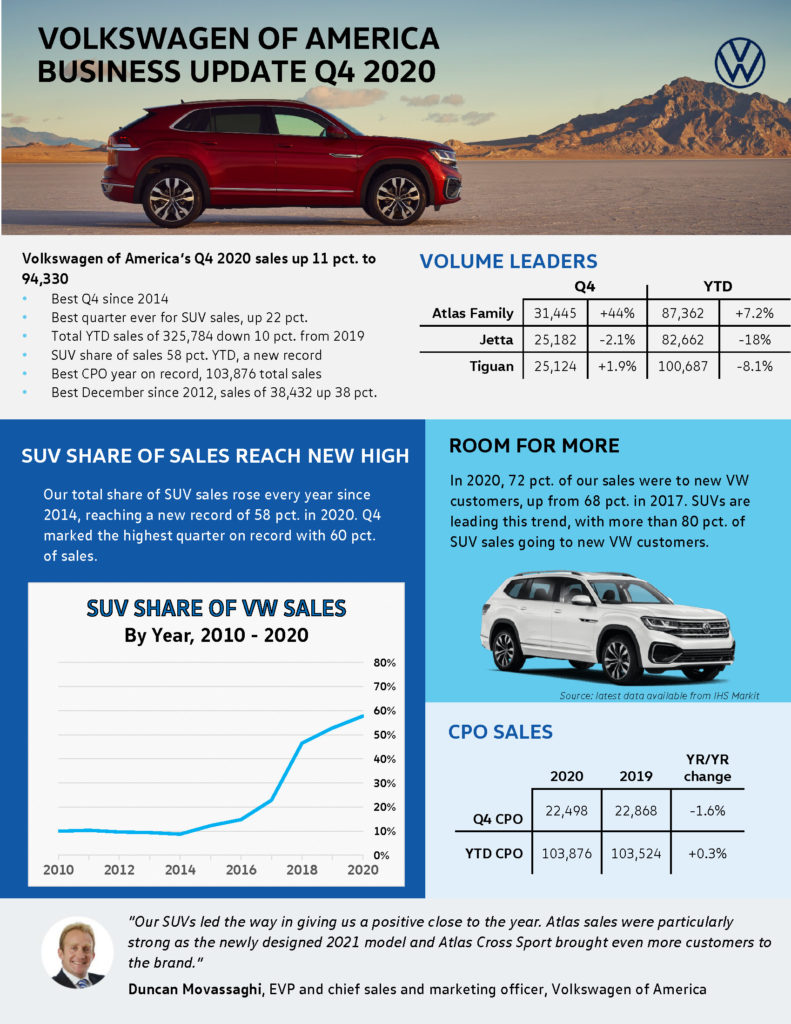 Americans eschewing cars in favor of trucks, crossovers and SUVs has ramifications for the collision repair and insurance industries. For example, larger vehicles might cost more to repair, both from a technology perspective and merely because of a larger surface area. They also might be more likely to display lightweighting than a lower-mass coupe or sedan.
"The growing popularity of larger, more expensive vehicles and new vehicle technology drove up the average new vehicle MSRP to over $35,000 in CY 2019, and many consumers opted for longer loan term lengths to afford a new vehicle," CCC wrote in its 2020 "Crash Course."
Brinley said she thought Americans would buy an even larger proportion of "utility vehicles" this year.
"IHS Markit forecasts that there remains opportunity for utility vehicles to increase share even further in 2021, reaching about 52% of total US light-vehicle sales, and that pick-up trucks will hold about 20% share into 2021," Brinley said.
Overall, automakers' sales didn't suffer as badly from the COVID-19 pandemic as one might have thought, according to Brinley. She said that "though down significantly, the year is closing better than expected given conditions earlier in the year."
IHS Markit North American light vehicle forecast manager Chris Hopson said December sales appeared stronger than November.
"This year-end push will put full-year 2020 light vehicle sales volume in the range of 14.5-14.6 million units," Hopson said in a statement. "IHS Markit expects continued demand volume developments in 2021, with sales projected to reach 16.0 million units for the year, up 10% from the estimated 2020 figure."
He said December 2020's SAAR sales pace was good enough to produce a 16-million unit year if sustained, and a year of sales at November levels would mean Americans took home 15.6 million new vehicles.
Total auto sales can also be relevant to body shops, particularly if older vehicles remain on the road and aren't scrapped, according to CCC.
"Growth in overall vehicles in operation is a key driver of steady growth in the collision repair industry, countering more recent slowdown in auto claim frequency," CCC wrote in its 2020 "Crash Course."
Images:
Kia expressed pleasure with the 2021 Seltos' sales performance in the fourth quarter of 2020. It classifies the vehicle as an "Entry SUV." (Provided by Kia)
Volkswagen released this infographic on Jan. 5, 2021, regarding 2020 sales. Note customers' demand for SUVs. (Provided by Volkswagen)
Share This: