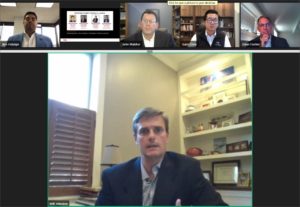 2020 MSO Symposium panels last fall offered collision repairers insight on the business-centric topics of private equity and auto body shop real estate management.
But the sessions also asked the panelists about business plans that went awry, and those responses offered a humorous and fascinating education in their own right.
Consider cybersecurity
Frontenac partner Neal Sahney warned the audience at a Nov. 12, 2020, panel on private equity about the danger of failing to prepare for a cybersecurity risk. He observed that while not collision repair-related, the issue was relevant to the "world we live in today."
Sahney said his private equity firm has in the past witnessed a portfolio company suffer a cybersecurity issue that "essentially shut down operations."
While not describing the specific form of the breach, he said it erased "very valuable" customer and financial data at the company and "brought us essentially to a halt."
"You gotta plan for stuff like that," he said. Think about precautions like penetration testing and cybersecurity insurance, and have a plan in place, he advised.
Consider 'known risks'
Jonathan Sieffer, senior partner for Caliber Collision minority owner Leonard Green & Partners, observed that cybersecurity was an example of what private equity refers to as "unknown risks."
It's a complete wild card, and one wouldn't reject an investment merely on the grounds that a cybersecurity issue "might" arise.
However, private equity also looks at "known risks," items one can conclude would represent a "'really bad day'" for a company should they occur. Sieffer shared an example of one his firm could have anticipated.
"We don't like to talk about it much," he said, but called the instance "a good lesson."
A long time ago, his company had invested in the auto glass space, Sieffer said.
Pricing ran off NAGS but saw "crazy, giant discounts" to the NAGS price, Sieffer said. Insurers also paid far more than retail customers for the same repair, he said.
Sieffer said the company assumed that this had "always been that way," with the higher charges for insurer justified by factors like claims processing, convenience and trust. But the private equity firm had thought at the time: "'It would be a really bad day if all of a sudden, that pricing flipped,'" he said.
NAGS prices fell, but insurance discounts remained the same, Sieffer said. Ultimately, insurers were paying less than consumers for the same repair, which was "pretty devastating" to the investment, he said.
Nevertheless Sieffer said the company probably would have pursued the investment even knowing this. He likened it to investing in health care: If the amount reimbursed changes, "you can't do much about it."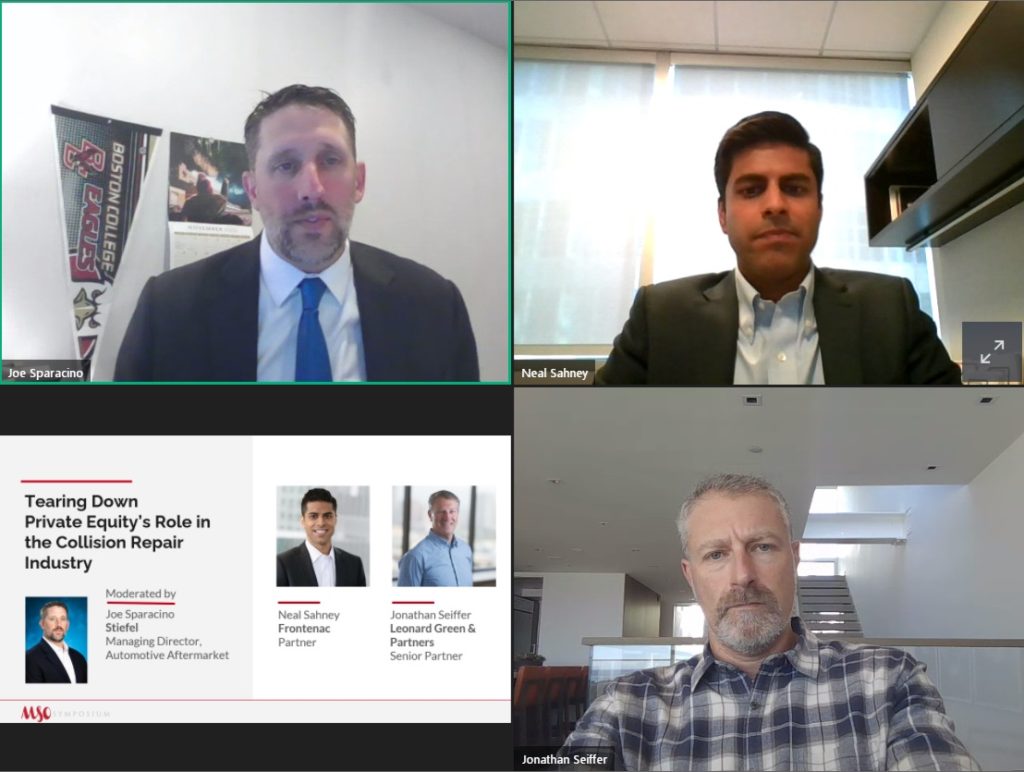 Building a shop? Know the site's history
Driven Brands Collision Group President Dean Fisher, who spoke on the Nov. 12, 2020, real estate panel, recalled buying a "beautiful piece of property" next to a mall. It was ultimately used to house a CARSTAR and Midas, he said.
The "beautiful" site turned out to contain a barrow pit, which was backfilled with "junk" after being stripped of "a lot of all the good dirt — all the clay, and all the good stuff," Fisher said with a chuckle.
"I had a crane at one time digging to China" to establish the necessary pads for the buildings, he said, chuckling. Securing the soil for the pads left him with a "really awesome retention pond that was three times the size I needed it," he said.
"It was a classic example of doing your research, man, and understanding what went on on that property," Fisher said.
Building a shop? Consider getting a developer
Some shop construction issues might be less of a headache if the company goes through a developer, according to Ben Hidalgo, principal of Net Lease Development.
Hidalgo told the Nov. 12 real estate panel that he was dealing with a contractor going bankrupt on a project mid-construction — costing his company about $700,000.
"That's happening today," he said. Net Lease fired the old contractor, hired someone else, and finished the project — and it "doesn't cost the tenant another dollar."
That's the value of hiring a developer: The issue "becomes our problem," not the tenant's, he said.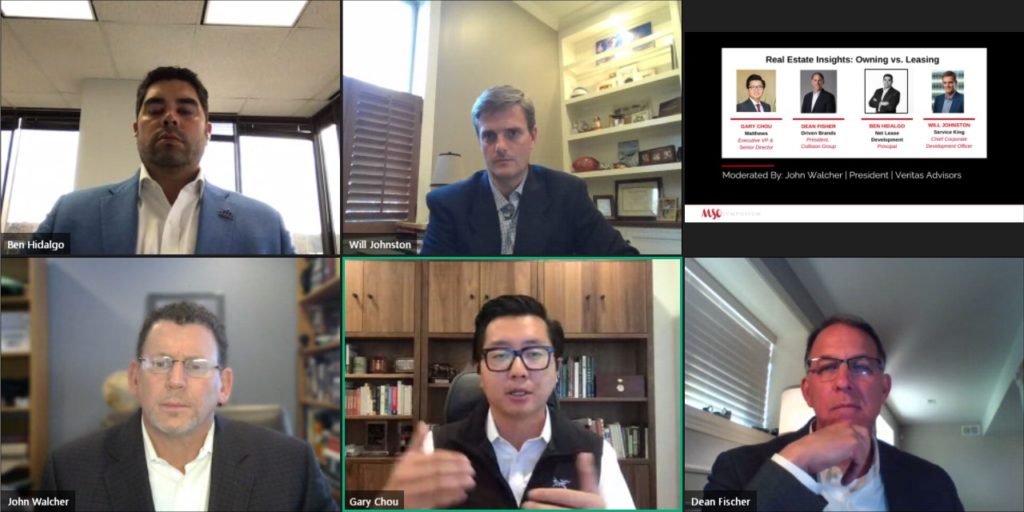 Buying/selling a shop? Check the acquisition's existing loan terms
Service King Chief Corporate Development Officer Will Johnston observed that nearly all businesses needed some form of lending, particularly when buying real estate. The structure of that lending becomes "pretty material" when an owner wishes to sell, he told the real estate panel.
A business owner's tendency is "set it and forget it" when it comes to mortgages, according to Johnston. When they finally look to sell, it might not be thought of until "very late in the process" that a payoff letter or subordination nondisturbence agreement is necessary.
Service King has experienced "a couple horror stories" with this process, Johnston said.
The Small Business Administration or another lender might cut a loan based upon the recipient being an owner-operator, according to Johnston. "Banks like that," he said.
But when the owner-operator tries to sell the business, it can be "very tough."
Service King had cut a deal and had already been counting work in process and brought trainers to the site, Johnston said. "We were ecstatic," he said.
Then it realized that the SBA, which had cut a loan to the acquired shop, had shut down for a month, he said. Service King couldn't set up subordination and nondisturbance for the loan to be paid down.
The MSO had to scramble and secure letters of credit, and "it just became really tough to unwind that," he said.
Johnston advised ascertaining such an issue early in the process and recognizing that debt-financing real estate might be "collateralized" with the operations or a particular owner-operator. If that owner-operator no longer would be present, lenders "may want that paid down somewhat," he said.
Selling a shop? Get the experts in early
Gary Chou, senior director and executive vice president of real estate brokerage firm Matthews, recalled a situation where a 7- or 8-shop MSO client was selling to someone larger.
He said Matthews wasn't actually brought in until "right after the fact." Terms had essentially been settled, and it was "awkward" to change anything, Chou said.
Unfortunately, rather than use an adviser in the space, the repairer appeared to be using someone along the lines of a "family friend attorney." The resulting lease was written "about as poorly as you could've set them up," Chou said.
The plan was to sell the business and then sell the real estate after 3-4 years as a landlord, according to Chou. The focus was on maximizing business value, Chou said. But while the rent levels were good, the sellers hurt themselves on real estate value, according to Chou. Ultimately, they "left millions on the table," he said.
By the time his company was brought in, it was too late to change the terms, he said. Chou said it doesn't cost his company more or less to be brought in earlier, and so he advised sellers to do so sooner. He likened it to a voice in one's ear helping guide a seller.
Images:
Service King Chief Corporate Development Officer Will Johnston, bottom, participates in a Nov. 12, 2020, MSO Symposium discussion on real estate. (Screenshot from MSO Symposium)
Clockwise from top left; Joe Sparacino, Stifel automotive aftermarket managing director; Frontenac partner Neal Sahney; Jonathan Sieffer, senior partner for Leonard Green & Partners, participate in a Nov. 13, 2020, MSO Symposium discussion on private equity. (Screenshot from MSO Symposium)
Ben Hidalgo, principal of Net Lease Development; Service King Chief Corporate Development Officer Will Johnston; Driven Brands Collision Group President Dean Fisher; Gary Chou, senior director and executive vice president of Matthews; and John Walcher, Veritas Advisors president, participate in a Nov. 12, 2020, MSO Symposium discussion on real estate. (Screenshot from MSO Symposium)
Share This: