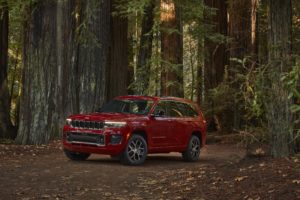 FCA on Thursday announced a seven-seater 2021 Jeep Grand Cherokee L with a "more robust and innovative body structure" derived from third-generation high-strength steels.
FCA didn't provide exact tensile strengths in its news release Thursday, but third-generation steels typically deliver the gigapascal-level performance of second-generation ultra-high-strength steel. However, they're easier for automakers to shape, which can unlock new engineering possibilities.
"To help meet weight, impact and to improve durability, the Grand Cherokee L body structure employs the latest grades of Generation 3 steel," FCA wrote in a news release. "The next-generation steel gave engineering and design teams the ability to cold stamp complex parts from higher strength materials, which was not possible in the past, creating a more robust and innovative body structure."
Overall, the unibody vehicle "is composed of more than 60 percent advanced high-strength steel to aid in ductility, usability and energy absorption," FCA wrote in a news release.
FCA lightweighted the SUV with other metals as well. The OEM said it incorporated aluminum shock towers, aluminum engine mounts and steering gear, "a solid-mounted aluminum front cradle," and an aluminum hood and tailgate. The Grand Cherokee L also carries a magnesium "cross-car beam," which appears to be a reference to the instrument panel beam.
FCA said it also cut mass by mounting the axle to the engine.
"An all-new architecture and sculpted aerodynamic body style combine to improve vehicle performance, safety and reliability, while significantly reducing vehicle weight, noise, vibration and harshness," FCA wrote.
FCA said the axle's direct attachment to the engine improves NVH and driving dynamics, as can active engine mounts able to stiffen at higher speeds and loosen for vibration absorption while idle.
Other NVH features include acoustic glass, door seals, a "double-dash body," and an active noise cancellation system.
Both the front and rear suspensions of the Jeep Grand Cherokee L are independent. The front suspension includes a front virtual ball joint, and the rear suspension is multi-link. An air suspension is an option.
"An enhanced engine box with a shock-to-shock tower brace improves local lateral stiffness by 125 percent," FCA wrote.
One other structural fun fact: The body has 6,500 welds, FCA said.
Moving to the exterior, the Grand Cherokee L features several other details relevant to collision repair.
Perhaps most notable of these will be the front fascia. According to FCA, it "conceals an all-new, long-range radar component" and active grille shutters.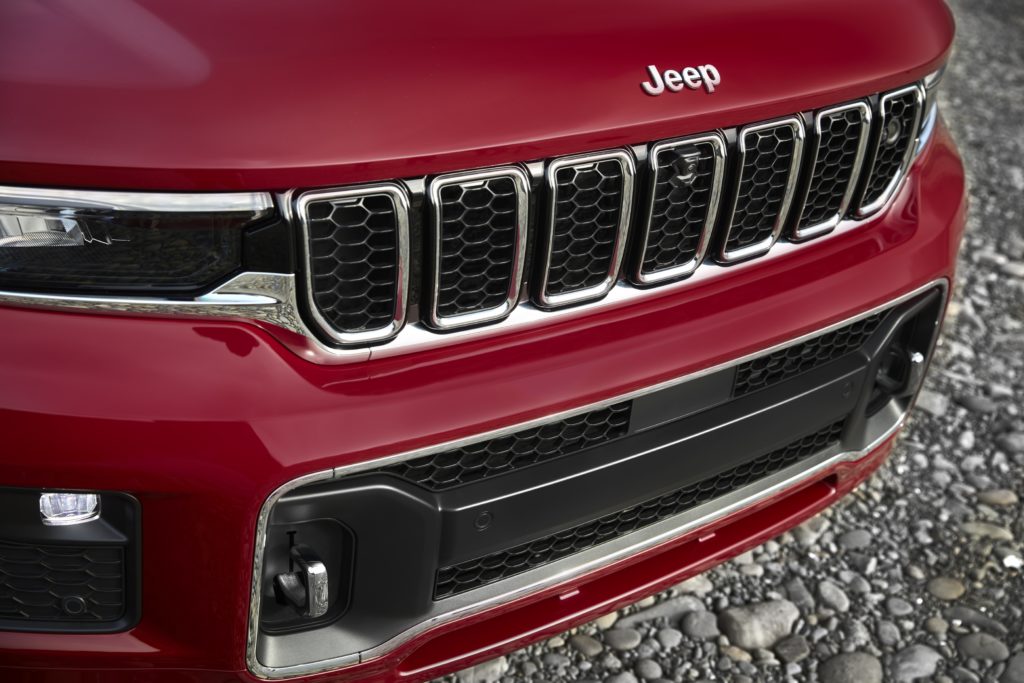 Over on the side, repairers will note an interesting molding design that starts in the mirrors and then proceeds up and over the side. They'll also encounter wheel flares "pulled tautly" around the tires, which are flush with the body "to showcase signature trapezoidal wheel arches."
Above this rests a roof which will come standard in a Gloss Black color on Summit trims and might have been selected as an option on Jeep Grand Cherokee L Overlands.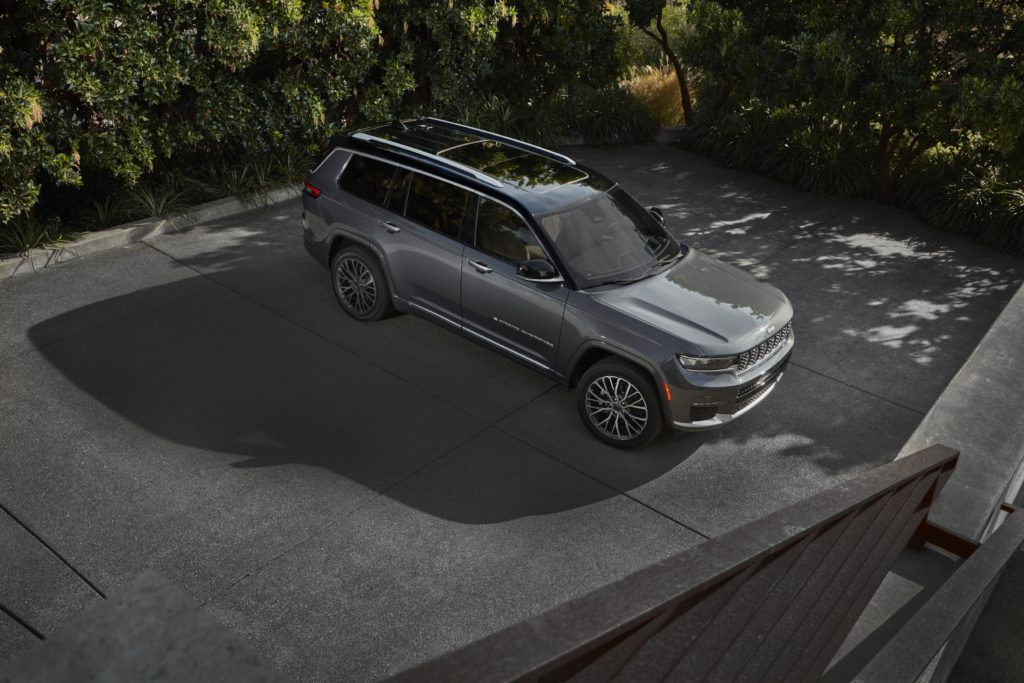 The rear includes vertical-pillar spoilers on the tailgate (which cut down on drag) and a tailgate spoiler which contains the rearview camera and washer as well as an LED brake lamp. There's also a character line which connects up to the side molding.
"Other rear elements, including a standard integrated tow hitch cover and fascia-mounted exhaust tips, provide a finished, custom look," FCA wrote.
Other aspects of the vehicle design might be simplified from a repairer's perspective.
"A new roof rack design consists of a singular side rail cap to create a seamless appearance," FCA wrote. "Body cladding and bright work have been kept to a minimum to align with the vehicle's modern tailored aesthetic."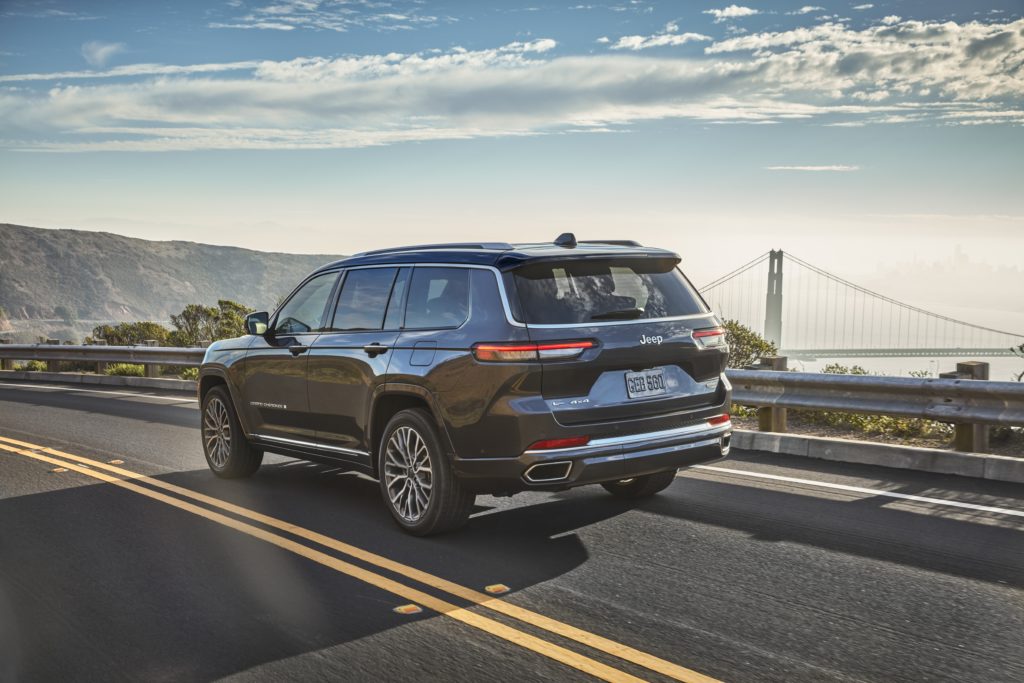 "The Jeep design team envisioned a modern aesthetic for the all-new 2021 Grand Cherokee L – they worked to sculpt it down and gave it a clean and updated premium appearance tailored for today's customer," said Mark Allen, Head of Jeep Exterior Design, FCA. "The design for the first-ever three-row Grand Cherokee pays respect to its heritage and honors its utilitarian roots. The results reflect its premium characteristics, contemporary style and legendary capability that has defined the Grand Cherokee since its inception."
Repairers might also need to bring their "A" game to replicate what FCA says will be machine-scrutinized precision on fit and finish.
FCA said the new factory assigned the Grand Cherokee L "features a measurement cell that combines laser light with radar to check body-panel geometry. Every vehicle built at the new site passes through this cell, which helps ensure fit and finish that is precise and uniform."
The OEM has used the technology before in its body shop, but this will be the first time such "gap and flush" inspections will be enacted at the end of an assembly line.
"The technology affords greater repeatability and accuracy than conventional camera-based measuring systems," FCA said. "As a result, the distinctive silhouette of each and every Grand Cherokee L mirrors the thoughtful vision of Jeep designers."
The Grand Cherokee L will go on sale next quarter.
More information:
"All-new 2021 Jeep® Grand Cherokee Breaks New Ground in the Full-size SUV Segment"
FCA, Jan. 7, 2021
Images:
The 2021 Jeep Grand Cherokee L Overland is shown. (Provided by Jeep)
The 2021 Jeep Grand Cherokee L Summit Reserve is shown. Summit trims will offer a Gloss Black roof standard. (Provided by Jeep)
The 2021 Jeep Grand Cherokee L Summit Reserve is shown. (Provided by Jeep)
Share This: