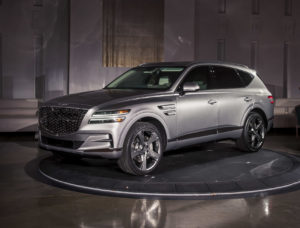 The brand-new 2021 Genesis GV80 SUV recently released to dealerships will incorporate higher-strength steels but also feature an aluminum hood and tailgate and aluminum doors, according to Hyundai.
This strategic aluminum usage by a manufacturer with its own automotive steel operation highlights the potential for any given modern vehicle to feature a mixed-material design. It demonstrates the need to look up the metallurgy of a given part before proceeding with collision repair work.
"Structural components combine four types of steel and extensive use of aluminum – all placed in exactly the right place to leverage their unique material properties," Hyundai wrote in September 2020.
Hyundai said each aluminum door weighed 55 pounds less than a comparable steel version, while the hood and tailgate represented 20- and 15-pound savings, respectively.
Steel will still serve as an important metal in the GV80's body.
"(Y)ou will find 5 different types of advanced high strength steel and new adhesive methods such as hot stamping to help improve structural rigidity and driving dynamics," Genesis spokesman Jarred Pellat wrote in an email Friday. "As you've noted, we are the only automotive manufacturer that owns a steel factory and develops steel specifically for use in our own automobiles."
"Classified as a Light Duty Truck (LDT), the GV80 was specifically engineered for optimum crash safety and overall body stiffness," Hyundai wrote in September. "Structural components combine four types of steel and extensive use of aluminum – all placed in exactly the right place to leverage their unique material properties. Key panels use hot-stamped and ultra high-strength steel for maximum rigidity, an important factor when it comes to protecting drivers and passengers in case of a collision. The resulting body stiffness also ensures the best balance between crisp handling and ride comfort."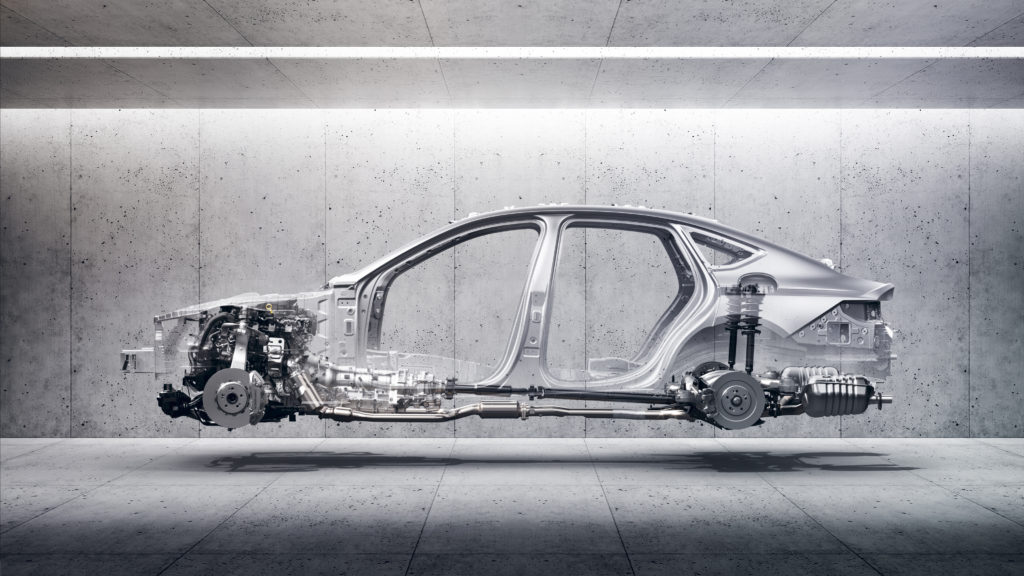 The 2021 GV80 was slated to have reached the U.S. last fall and should be on sale now. The vehicle rides on the same M3 rear-wheel drive platform as the next-generation 2021 G80, and so repairers might notice similarities between the two.
"When you're given a big challenge, the best thing to do is to start from a clean sheet of paper," Hyundai research and development division head said Albert Biermann said in a statement. "The development of an all-new platform set us up for great success, influencing everything from the expansive space of the interior to the striking design proportions."
Other GV80 body and technology details potentially of interest to collision repairers:
• Genesis says "sophisticating lighting technology" permits the "Quad Lamps" — two parallel, thin headlight displays on each side of the grille.
"The Quad Lamp graphic will become the most recognizable, unique signature of Genesis design, as the simplest of lines communicate a distinct identity," Hyundai Chief Design Officer Luc Donckerwolke said in a statement in January 2020. "Two lines will come to define Genesis."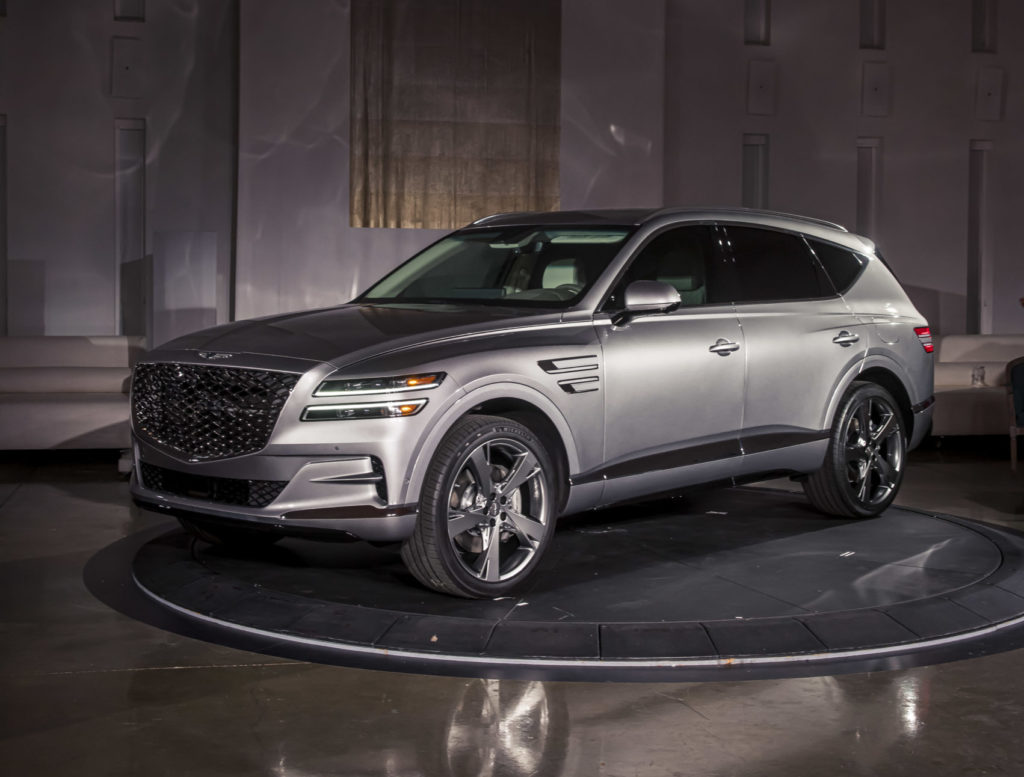 • A "'Parabolic Line' runs smoothly along the side with precise execution, accentuated by power lines above each wheel emphasizing stance and presence."
• The SUV has 10 airbags, "including a center-mounted airbag between the front occupants to mitigate interior impact," Genesis wrote in January 2020.
• Genesis will use active noise cancellation to quiet the GV80. The SUV's technology "generates sound waves of opposite phases in 0.002 second by analyzing road noise in real time, dramatically reducing irregular, simultaneous road noise."
• Smart Cruise Control with Machine Learning will use artificial intelligence to both control the vehilce and to "to independently learn the driving characteristics of its drivers and implement autonomous driving similar to that of human drivers."
• Steering angle, position in the lane and steering torque will be among the inputs used to monitor a driver for inattention within the Driver Attention Alert Warning ADAS. The AI also watches the driver with a camera and sounds alerts if they seem sleepy or aren't looking straight ahead enough.
More information:
"GENESIS GV80 SUV DEBUTS IN NORTH AMERICA"
Genesis, Jan. 30, 2020
"ALL-NEW LUXURY, ALL-NEW PLATFORM – THE 2021 GENESIS G80 & GV80 – LUXURY BEGINS WITH THE RIGHT FOUNDATION"
Genesis, Sept. 16, 2020
GenesisTechInfo.com OEM procedures site
HyundaiTechInfo.com OEM procedures site
Images:
The 2021 Genesis GV80 is shown. (Provided by Genesis)
Hyundai's M3 platform appears on the rear-wheel-drive 2021 Genesis G80 sedan (pictured) and the 2021 Genesis GV80 SUV. (Provided by Genesis)
Share This: