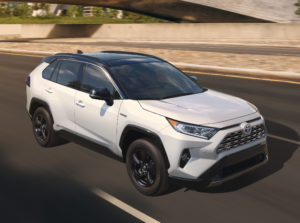 A new study by DuckerFrontier for the Aluminum Association estimates automakers will incorporate 514 pounds of aluminum into the average vehicle by 2026, a 12 percent increase from today.
The expansion has significant ramifications for collision repair, as several common bodywork components are predicted to make significant shifts to aluminum.
By 2026, it's going to be nearly certain that a hood is aluminum, and close to even money that a liftgate or tailgate will be, according to DuckerFrontier. You've got about a 1-in-3 chance that any fender or door on a new-car dealership lot will be aluminum.
And that's not even getting into changes to structural components intended to produce greater efficiency in gas-powered vehicles or to manage the batteries of electrified models.
"As consumer pressures and environmental challenges increase—so too does the use of automotive aluminum. This demand is accelerating as low carbon, high-strength aluminum is helping automakers adapt to new mobility trends, and we're bullish on the growth potential of the metal in the fast-emerging electric vehicle segment," Aluminum Transportation Group Chairman Ganesh Panneer (Novelis) said in a statement Aug. 12. "Automotive aluminum market penetration enjoyed year over year growth the past five decades and that expansion is expected to continue as far down the road as can be projected today. As electric vehicles become more widely available, greater aluminum use to extend range and help offset battery weight and cost will ensure consumers will still be able to choose high performing cars and trucks that are safe, fun to drive and better for the protection of the environment."
DuckerFrontier said the average vehicle in 2020 should have about 459 pounds of aluminum, "vehicle due to the increase in use of auto body sheet ( ABS), and aluminum castings and extrusions, at the expense of conventional grades of steel."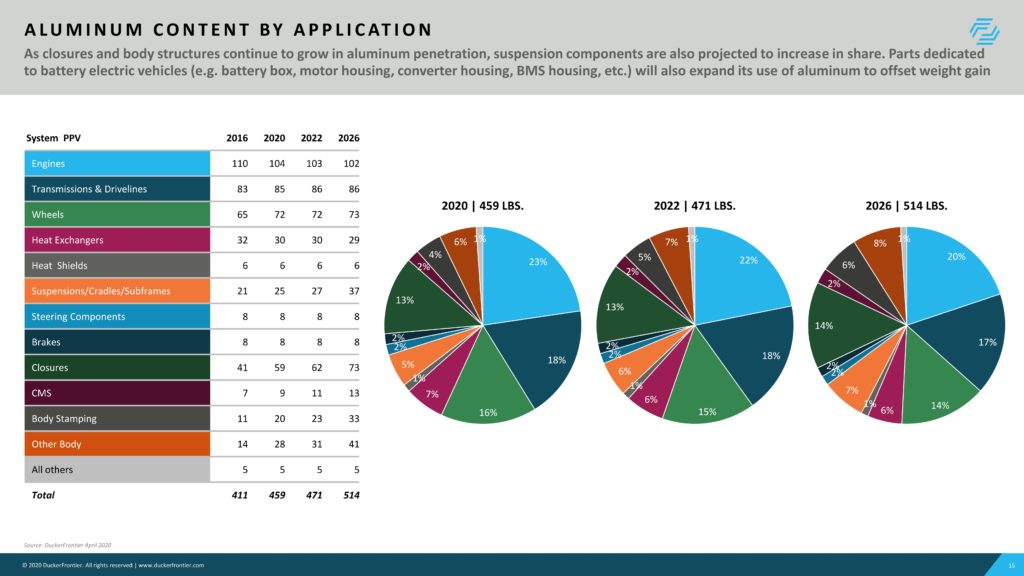 Hoods already are 63 percent aluminum today, DuckerFrontier estimates. By 2026, 81 percent will be.
Aluminum liftgates and decklids can be found on about 28 percent of models today. In 2026, DuckerFrontier predicts they'll be covering the trunks of 44 percent of the fleet.
Aluminum front and rear doors will grow from 21 percent of the market today to 30 percent of it. (Technically, only 29 percent of rear doors will be aluminum, compared to 30 percent of front doors.)
"Doors represent the single highest net growth application of aluminum content per vehicle with penetration reaching 30% by 2026," the Aluminum Association wrote.
"Other than the Tesla Model S, there were essentially no aluminum doors in North American produced vehicles prior to 2014," DuckerFrontier observed in 2017. Less than 5 percent of all doors were aluminum in 2015, it said then.
More than a third of fenders (34 percent) will be aluminum in 2026. Right now, it's less than one in five (19 percent).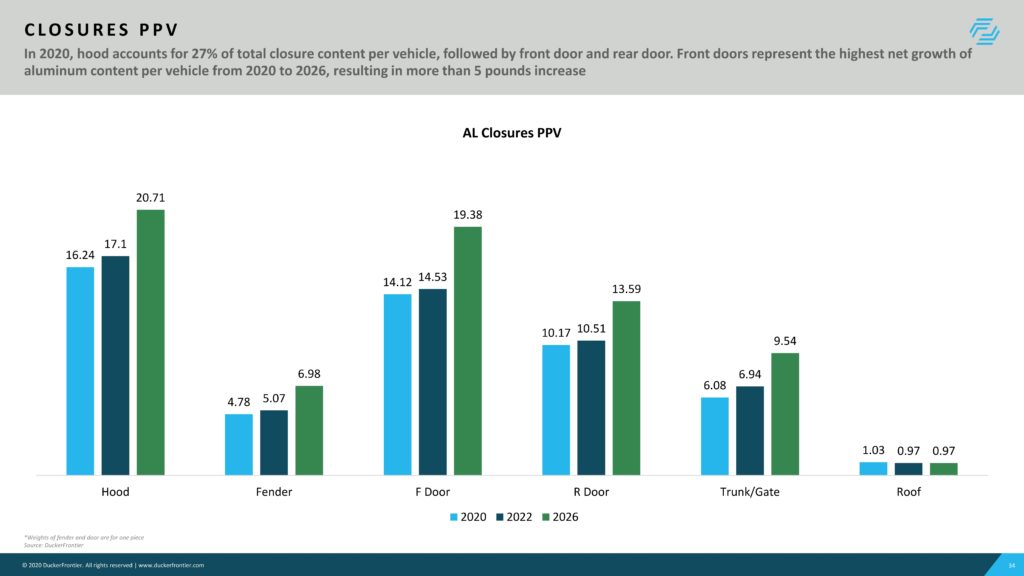 The latest versions of the three most popular vehicles in America (the Ford F-150, Ram 1500, and Chevrolet Silverado/GMC Sierra) already sport a bunch of aluminum. So repairers already should be equipped with the necessary training and equipment and dedicated tooling and space to manage the metal.
But it'll be interesting to see if repairers need to expand their aluminum infrastructure and capabilities to manage the logistics of so many new nonferrous body parts.
Insurers might also have to deal with a greater number of parts billed at an aluminum rate as opposed to general body labor.
Ironically, despite all the other aluminum sheet projected to burst onto the U.S. fleet, nobody's adding aluminum roofs. "Roof penetration in 2020 is at 7% with no expectation to change," DuckerFrontier wrote.
A prior DuckerFrontier study projected slighter faster aluminum growth, but they were in the ballpark. In 2017, they estimated 71 percent of hoods and "slightly over 25%" of doors would be aluminum in 2020, and they projected the average vehicle would carry 466 pounds of the nonferrous metal. The real tallies, as noted above, were 63 percent, 21 percent, and 459 pounds.
DuckerFrontier shared some insight into other materials as well with a prediction of what the typical vehicle would look like in 2022 compared to 2015. Basically, OEMs will have continued to drop mild steel in favor of higher strength steels, aluminum, composites and the weight of an electric vehicle battery itself.
This is likely to mean a different mix of repair methods than repairers and insurers were encountering just seven years prior.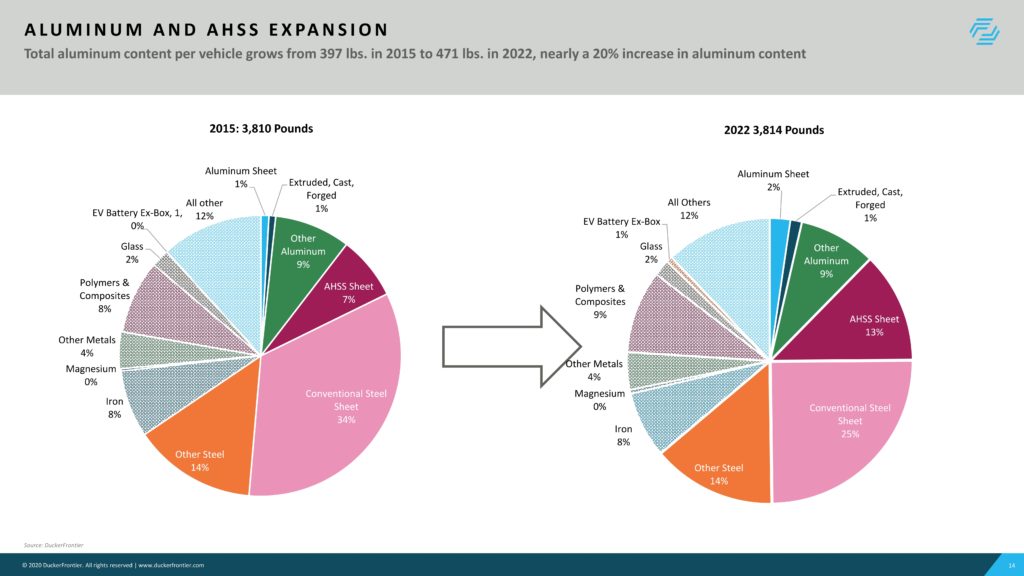 DuckerFrontier also tried to offer a variety of predictions based on the uncertainty around what the Environmental Protection Agency and California Air Resources Board's battle over the Trump Administration's plan to cut emissions 1.5 percent a year instead of the 5 percent originally planned. DuckerFrontier describes CARB's plan — which has been endorsed by some automakers — as 2.7 percent a year.
Their projections suggest that repairers should expect to see more lightweighting regardless of how this all shakes out.
If the 1.5 percent plan stands, OEMs will need to cut 89 grams per mile. DuckerFrontier thinks they can accomplish most of this by adjusting elements of the powertrain or switching vehicles over to more electrified formats. A remaining 6.7 percent of the savings (6 grams) will need to be achieved by lightweighting, DuckerFrontier estimated.
If CARB wins, 14.8 percent of what would be a 108 g/mi reduction would require lightweighting, according to DuckerFrontier. If one splits the difference and assumes a 98.5 m/mi target, 9.6 percent of the savings would require lightweighting.
More information:
"Survey Reveals Aluminum Remains Fastest Growing Automotive Material, Emerging as a Preferred Metal for Electric Vehicles"
Aluminum Association, Aug. 12, 2020
"2020 NORTH AMERICA LIGHT VEHICLE ALUMINUM CONTENT AND OUTLOOK" summary
DuckerFrontier for the Aluminum Association, July 2020
Images:
DuckerFrontier projects some common bodywork components are predicted to make significant shifts to aluminum between 2020 and 2026, and aluminum weight overall on vehicles is expected to grow. (Provided by DuckerFrontier via Aluminum Association)
The 2019 RAV4 has aluminum fenders and an aluminum hood and liftgate from Novelis. (Provided by Toyota)
Share This: