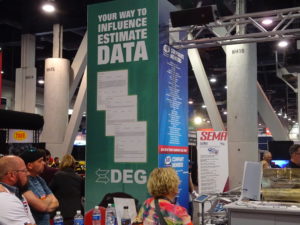 The Database Enhancement Gateway, which allows repairers and insurers to make inquiries and suggestions of the estimating providers at no cost, offers weekly tips for repairers on the Audatex, Mitchell and CCC programs online and through the Society of Collision Repair Specialists' email list.
If you haven't used the free service before to submit questions about estimating collision repair work or just browse responses to other carrier and shop questions, check it out. It's a good way to find information provider best practices and help write the most accurate estimates or appraisals possible.
Here's our latest monthly roundup of areas spotlighted as tip-worthy by the DEG. To receive the tips as soon as the DEG releases them, like/follow the DEG's Facebook and Twitter feeds. (It also posts videos to a YouTube channel once in a while.) Or just browse the more than 17,000 inquiries and responses in the database and see what else you learn.
Duplicate operations only counted once
The DEG in a tip tweeted Nov. 16, 2020, explained that some operations a body shop might have to repeat are only counted once within each of the three estimating systems' times.
"If duplicate r/I or fitting operations are done, this would be an on the spot evaluation for additional time needed," the DEG wrote.
It gave the example of loosening a headliner to get to an antenna located atop the roof. "The time to temporarily raise and re lower the headliner while the vehicle is being moved in various repair stages is NOT INCLUDED," the DEG wrote. "Published Labor times are based on 1 continuous operation and does not account for variables in the repair process."
CCC clarifies trim in body panels
Another tip last year alerted users to CCC's definition of trim in the context of the "Rear Compartment Trim (as necessary)" footnote.
The clarification arose in the context of a Nov. 9, 2020, inquiry regarding a 2017 Volvo XC60.
A user had wondered what interior trim was included in CCC for "insulation of rear body panel."
"CCC guide says 'Rear compartment trim (as necessary) ' the system allows for the time to be added, insurance company is interpreting this to be an included operation," the user wrote.
CCC replied that "Rear Compartment Trim (as necessary)" was listed as included under its P-Page "Rear Body – Lower Body Panel" section. CCC called "Rear Compartment Trim (as necessary)" the "general description used to describe any 'Trim' that directly attaches to the inside of the 'Rear Body Panel'."
The DEG said this meant that trim "may NOT be included" in instances "where Rear Body compartment trims do not touch the rear body panel." It said users could seek specific guidance in the footnotes or CCC P-Pages.
"When a repairer runs across a rear body panel replacement where the rear body trim not touching the rear body panel is still showing included with NO footnotes, please submit a DEG Inquiry for research of the concern," the DEG wrote. (Emphasis added.)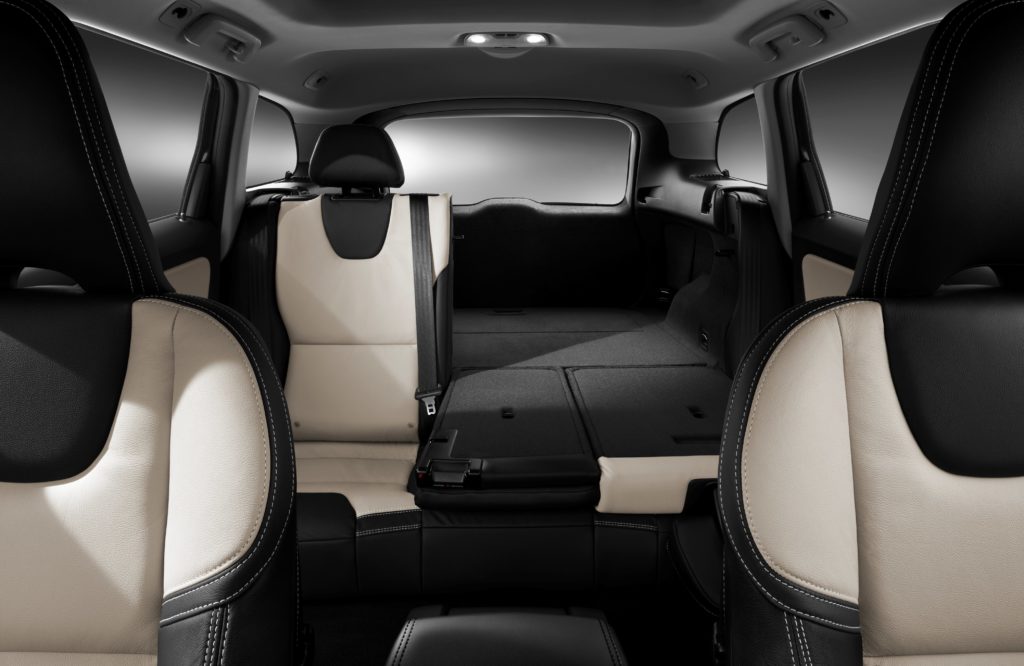 Watch for 'important information' in notes
And speaking of footnotes, the DEG tweeted out a tip Nov. 30, 2020, reminding repairers that CCC's H Notes and Mitchell's Labor Notes could have "important information to consider when repair planning."
The DEG provided examples of "critical" safety information that might be found there: BMW and Mercedes alerts related to steering gear replacement after a crash.
"M/B requires replacement of steering gear if any front suspension components are permanently deformed," a CCC Headnote shared by the DEG states, referring the estimator to a specific Mercedes service bulletin.
A Mitchell Labor Note warns that BMW "has provided specific guidelines for the replacement of the Steering Gear due to accident damage." It too directs the user to a specific OEM document.
The DEG also warned shops to still use the OEM repair procedures to confirm any information found in the estimating systems. (Third-party aggregation options might not always reflect the most current OEM information.)
"Always verify using OEM repair information for the latest information on the vehicle you are repairing," the DEG also wrote.
Masking within a perimeter not included in Mitchell
Mitchell includes up to 3 feet (36 inches) of perimeter masking — but it doesn't count a second masking operation within that area.
"An example of masking within perimeter of a panel where masking may not be included is fuel door pocket, Quarter glass openings, door openings, vents and various holes within a panel," the DEG wrote in the tip it tweeted out Dec. 7, 2020. "This would be an on the spot evaluation."
A DEG user had asked about the topic in a Nov. 23, 2020, inquiry about a 2014 Honda Civic Coupe.
"WHEN REFINISH IS ADDED ON LEFT QUARTER AND REFINISH IS ALSO ADDED TO FUEL DOOR , FUEL DOOR REFINISH SHOWS INCLUDED IN QUARTER PANEL," the user wrote. "REGARDLESS IF THE FUEL DOOR IS REFINISHED ON OR OFF THE CAR, THE ADDITIONAL LABOR IT REQUIRES TO MASK THE POCKET PROPERLY TAKES MORE TIME. IS THIS CONSIDERED INCLUDED ?"
Mitchell said no. "Perimeter masking is included up to 36 inches, areas requiring masking within the perimeter have not been factored into the refinish allowance," the information provider wrote.
The DEG also reminded users that Mitchell's P-pages have an entry for situations in which a shop needs to mask large exposed openings, such as when a door has been been removed. It also pointed out that materials aren't part of labor times.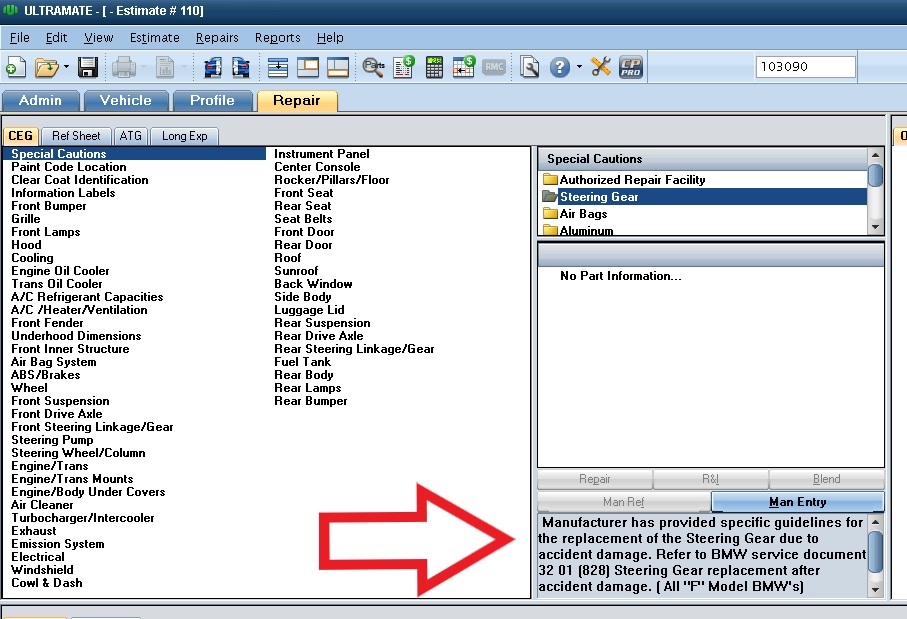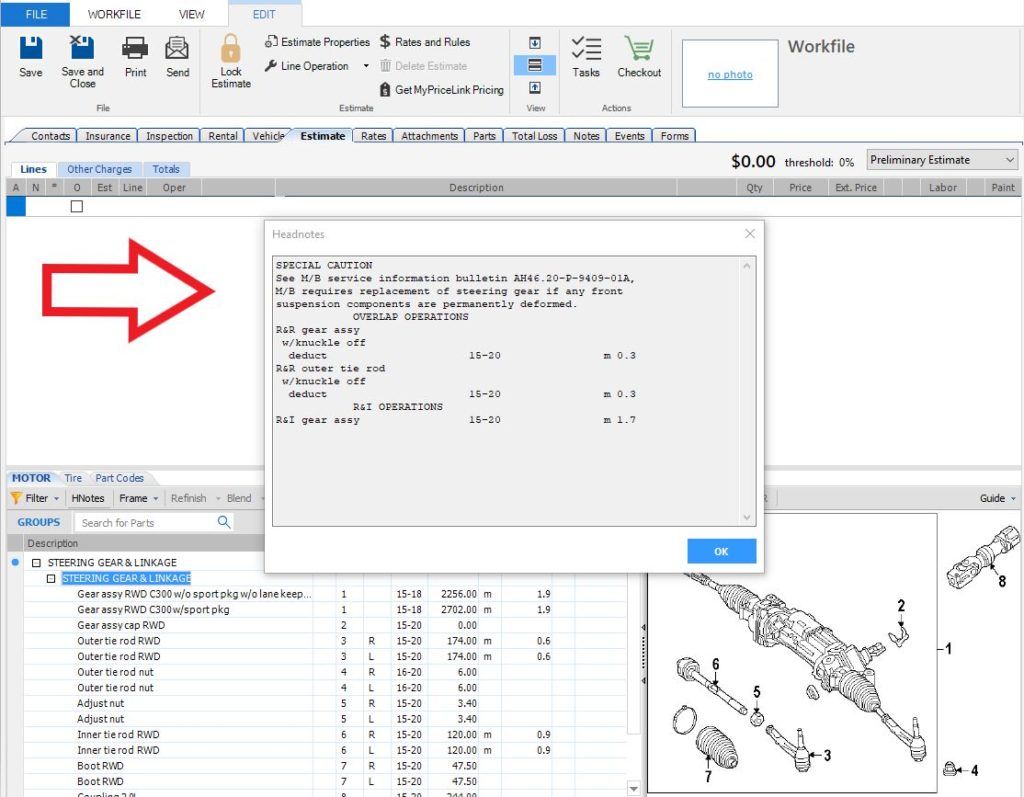 Wire harnesses: Audatex, Nissan
The DEG was on a wire harness kick in December 2020, tweeting out consecutive tips related to the components.
The first, disseminated on Twitter on Dec. 14, 2020, reminded users that Audatex doesn't count wire harnesses in its time to overhaul bumpers.
Audatex confirmed this in a Dec. 2, 2020, inquiry by a user apparently trying to writ an estimate on a 2020 Lexus NX300.
"When overhauling rear bumper, Park sensor option was selected to account for the sensors attached to the bumper," the user wrote. "When adding the R/I of the harness, NO Time is allowed and shown in 0. Please confirm if the Harness for the rear bumper is a manual judgement time from Section 4-2 labor exclusions."
Audatex's Database Reference Manual P-Pages' Section 4-2 lists "R&I of wiring harness, fuse box, and relay box" among the information provider's labor exclusions.
"We have reviewed your inquiry regarding time allowance for harnesses," Audatex wrote. "We do not allow time on any harness in accordance with Database Reference Manual Section 4-2 Labor Exclusions. No change is warranted at this time."
The DEG said that if a user was replacing or disassembling a bumper cover with an additional harness, "Labor to un route and re route the harness is NOT included and would be an on the spot evaluation."
In other harness news: If repairers need to fix a wiring harness on a Nissan, they can order one on the official Nissan Tech-Mate Tools and Equipment website, according to a tip the DEG tweeted Dec. 21, 2020.
Body shops "can easily identify connector type using images to ensure the correct OEM part number is being ordered," the DEG wrote.
Obviously, first check with the Nissan repair procedures to confirm whatever harness work you're planning is permitted by the OEM.
Have a question?
Have a question about AudaExplore, Mitchell or CCC? Submit inquiries to the DEG here. Inquiries and responses are free.
More information:
Images:
The rear of a 2014 Volvo XC60. The 2017 XC60 is similar, being of the same design generation and following the 2014 refresh. (Provided by Volvo)
An example of a Labor Note within Mitchell. (Mitchell screenshot provided by the Database Enhancement Gateway; emphasis DEG's)
An example of a Headnote within CCC. (CCC screenshot provided by the Database Enhancement Gateway; emphasis DEG's)
The Society of Collision Repair Specialists booth at SEMA 2019 promotes the Database Enhancement Gateway. (chat9780/iStock)
Share This: