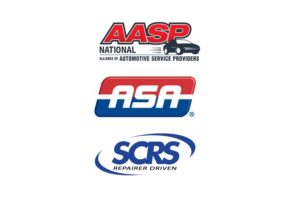 The three national collision repair trade groups on Friday released a position statement narrowly defining both the scanning operation and what constitutes a "qualified scan tool."
The document by the Alliance of Automotive Service Providers, Automotive Service Association and Society of Collision Repair specialists also describes what the operation would look like on an estimate and outlines knowledge that "Qualified Scanning Personnel" should have.
Scanning is simply "A mechanical operation to connect a qualified diagnostic scan tool into an OBD-II port or other communication ports in order to retrieve all Diagnostic Trouble Codes (DTC)s using the most current, available OEM information to ensure a proper and safe repair."
Period. Everything else is separate, according to the trade groups.
"All other procedures necessary to correctly and safely identify and address a vehicle's electronic system faults or Diagnostic Trouble Codes (DTC)s are considered additional operations and not included in the scanning operation," AASP, ASA and SCRS wrote. (Emphasis original.)
"ADAS Calibrations"; "Prepping the vehicle for a scan"; "Researching, Verifying and Documenting Manufacturers' Data"; "Systems Initialization"; "Systems Programming"; "Test driving"; and "Vehicle Diagnostics" were among the items which would be separate operations, according to the three trade groups.
From an estimating perspective, the act of scanning represents a "necessary and not-included operation" which could appear on a repair order "with either a fixed cost, in labor hours and/or set dollar amount." Either type of line item would involve "(a) reasonable and necessary amount that may vary depending on year/make/model and scan tool used."
The position also holds that only "OEM approved" scan tools count as qualified ones.
Some OEMs will approve tools other than their factory devices, while others only permit their own technology to be used on their vehicles. It's also important to note that OEM approval of a tool might only qualify under specific parameters, such as the device running the automaker's official software.
Under the AASP, ASA and SCRS position statement, a qualified scan tool is "A device approved by the vehicle's manufacturer (OEM) to provide a repair technician access to the status of the vehicle's sub-systems.  OEM approved scan tools are specific to each OEM and have the complete suite of capabilities as determined by their service engineering groups. …
"Scan tools are manufactured in a variety of hardware and software configurations, including PC/Laptop based software application tools connected with a vehicle's communication interface, to handheld (embedded) tools with built in interfaces and software."
SCRS Executive Director Aaron Schulenburg later in the spring explained the document held that usage of other, unqualified scan tools in the market was not grounds to refuse compensation for shops using qualified scan tools.
Qualified devices would be "Used to query, display and document all vehicles' control system networks (through Security Gateways if applicable)" and must identify all diagnostic trouble codes and electronic control units. The tool must also produce a report.
As far as the person doing the scanning, the position statement says a qualified worker "should be familiar with:
• Scan tool operation
• Vehicle specific set-up operations
• Adding battery support
• Researching vehicle manufacturer repair procedures
• Diagnostic Code Interpretation (Minor formatting edits.)
"We feel that we hit the mark and with the valued input and support of SCRS and AASP," ASA Collision Division Director Mike LeVasseur said in a statement. "This should prove to bring a more united clarity when writing, negotiating and repairing the complex safety systems in today's vehicles."
More information:
Alliance of Automotive Service Providers, Automotive Service Association, Society of Collision Repair Specialists joint position statement on scanning
ASA, March 5, 2021
I-CAR Repairability Technical Support portal to official OEM repair procedure websites
Featured image: The Alliance of Automotive Service Providers, Automotive Service Association and Society of Collision Repair Specialists' logos are shown. (Provided by AASP, ASA, SCRS)
Share This: