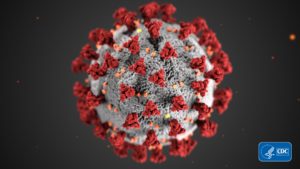 NJM Insurance on Tuesday said it discarded its March 31 deadline for COVID-19 vehicle cleaning charges and instead would reimburse the operation "for the foreseeable future."
The insurer as late as Friday was declaring it would not pay for the work effective April 1.
"Effective 4/1/2021, NJM will no longer be accepting the charges for COVID-19 clean-up/sanitizing," NJM general claims division administrator Joseph Pindar wrote in a Friday email, a copy of which was provided to Repairer Driven News.
We reached out to NJM Insurance Monday morning and early Monday evening for comment on the rationale for the cutoff.
Early Tuesday evening, the insurer responded and said it would continue to pay such charges.
"NJM has always paid a fee to have vehicles cleaned upon the completion of repairs," NJM said in a statement Tuesday. "Over the past 12 months, NJM has been paying an additional cleaning fee related to COVID-19. After further consideration, NJM has decided to continue paying the additional COVID-19 vehicle cleaning fee for the foreseeable future."
NJM's comments follow confirmation by USAA — the nation's fifth-largest auto insurer — that it would extend reimbursement for COVID-19 cleaning through June 30.
USAA had like NJM made plans simply to cover those costs through Wednesday, March 31.
"Miscellaneous expenses (e.g., manual entries for scan fees, calibration fees, and other sublet fees) have grown from 5.7 percent of the overall (repair cost) spend in CY 2013 to 8 percent in CY 2020," CCC wrote in its 2021 "Crash Course." "COVID-19 introduced a new fee associated with disinfecting the vehicle — a fee often entered as a manual line and therefore also rolled up into the 'Miscellaneous Amt.' In Q1 2020, only 1.1 percent of all appraisals included a fee — by Q4 2020 it was over 30 percent. The average fee from March 2020 to December 2020 fell gradually, averaging $46 per appraisal over that time."
The White House has declared a goal of "getting the nation closer to normal by July 4th" and plans to have enough vaccine for every American adult by the end of spring.
Democratic President Joe Biden on Thursday announced a goal of 200 million vaccine shots in his first 100 days in office.
"With 200 million shots in the first 100 days, more than half of all adult Americans will have gotten at least one shot by April 29th," White House COVID-19 coordinator Jeff Zients said Friday, according to a White House transcript. The COVID-19 vaccines often require a two-shot regimen.
Zients said that "by the end of May we will have enough vaccine for every adult in the U.S.," according to the transcript.
The main COVID-19 threat is "respiratory droplets generated when people cough, sneeze, sing, talk, or breathe," according to the CDC, which continues to advise everyone to wear a mask at their workplace.
"Spread from touching surfaces is not thought to be a common way that COVID-19 spreads," according to the CDC.
Nevertheless, the agency still advises workplaces to routinely sanitize surfaces to avoid the risk of COVID-19. It also has issued a separate set of cleaning and disinfecting guidelines when someone has been sick. This includes using items from the Environmental Protection Agency "List N" of approved COVID-19 disinfecting products.
"Respiratory droplets can also land on surfaces and objects," the CDC writes. "It is possible that a person could get COVID-19 by touching a surface or object that has the virus on it and then touching their own mouth, nose, or eyes."
NJM does business in New Jersey, Connecticut, Ohio and Pennsylvania. It was New Jersey's No. 2 private passenger auto insurance carrier in 2019 with a 13.2 market share, according to the Insurance Information Institute.
New Jersey had 4,378 new confirmed COVID-19 cases and 1,071 new probable cases as of about 9 p.m. Tuesday. It registered 22 hospital-reported deaths in the past 24 hours.
More information:
Centers for Disease Control COVID-19 "Workplaces and Businesses" webpage
COVID-19 "Cleaning and Disinfecting Your Facility" webpage
CDC COVID-19 guidance on "What Mail and Parcel Delivery Drivers Need to Know about COVID-19" (Discusses vehicle cleaning a little.)
CDC COVID-19 guidance for "What Rideshare, Taxi, Limo, and other Passenger Drivers-for-Hire Need to Know about COVID-19" (Discusses vehicle cleaning a little.)
Environmental Protection Agency "List N" of approved COVID-19 disinfecting products
Featured image: This Centers for Disease Control and Prevention image depicts a coronavirus. The novel coronavirus "Severe Acute Respiratory Syndrome coronavirus 2" (SARS-CoV-2) is linked to a respiratory illness first detected in Wuhan, China. The medical condition has been named "coronavirus disease 2019" (COVID-19). (Alissa Eckert and Dan Higgins/CDC)
Share This: