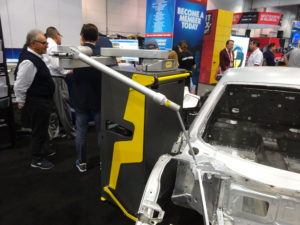 Calling it "one of the most unique membership drives of SCRS' history," the Society of Collision Repair Specialists announced Wednesday it and Spanesi would raffle off a Touch to one of the organization's members.
The Spanesi Touch measuring system will come with a free year of vehicle data. SCRS said the package has an MSRP above $31,000.
"Repair diagnostics can be performed on any lift, bench, or surface," Spanesi's Touch webpage states.
"Detailed pre-repair documentation shows the extent of the damage and the structural operations necessary to return the vehicle to OEM specifications …
"The Touch provides a complete set of post-repair documents. The technician and customer can be confident that the vehicle has been returned to OEM specifications."
Spanesi said the tool can also be used for real-time measuring during pulling.
The winner will be announced at SCRS' July 20, 2021, open board meeting in Cleveland, Ohio.
"We can never stress enough that the success Spanesi has enjoyed over the past 50+ years has been a result of both our innovative solutions for the marketplace and the collision repairers who were bold enough to seek out innovation for their businesses," Spanesi Americas Chief Operating Officer Timothy Morgan said in a statement. "This industry needs collision repairers who prioritize safe and proper repairs and who make it a part of their culture to surround themselves with the people and the information necessary to accomplish those endeavors. We have been a longtime supporter of SCRS because we believe that associations like this do just that for the industry. This initiative is a way to spotlight an organization we believe is doing a tremendous amount of work supporting the collision repair industry and helping them give back to the membership they represent, whether they are long-tenured veterans of the association or new members bringing fresh perspectives and ideas."
Companies must be paid active General or Platinum SCRS members as of 5 p.m. ET June 30 to qualify for the drawing, according to the giveaway rules. Each General Member will receive an entry for each year of their membership (up to 20 years worth of entries), and Platinum members will snag two entries for every year of membership (up to 30 years worth).
"When Spanesi approached us with the idea to give back in this manner, we were truly honored," SCRS Chairman Brett Bailey (A&B) said in a statement. "Giving back to this industry is just a fundamental part of our mission and what we do as an organization; and we couldn't be more thrilled that our members, and our objectives have inspired this kind of thoughtful support. We truly hope that it serves as a way to recognize those who have been a part of the association for many decades, and equally inspires new businesses to come to the table and take part in member programs we've developed. There has never been a better or more important time to be part of this group, and we are honored every day that a new collision repair business joins and tells us it is because our work bringing information, education and advocacy to the industry resonates with their business."
SCRS represents 6,000 collision repairers and 58,500 industry professionals through its direct membership and 40 affiliates. For more information about SCRS, call 877-841-0660, email info@scrs.com, or visit www.scrs.com.
Though the drawing winner won't be announced until the subsequent board meeting in July, repairers might also wish to check out the SCRS open board meeting next month in Arizona.
Everyone — members and nonmembers alike — is welcome to attend the meeting from 8:30-11 a.m. Wednesday, April 21, at the Pointe Hilton Tapatio Cliffs Resort in Phoenix, Ariz. The event is free. Attendees are asked to RSVP to info@scrs.com "so that we can set the room appropriately to accommodate for social distancing during the meeting," the organization explained.
The election, which will occur after the close of the open board meeting, will involve four board seats and is open to current designated members of SCRS member businesses. Per SCRS bylaws, voters must be present to cast a ballot. Sign up as a member now, and you'll be eligible to vote in the April election and participate in the Spanesi raffle in July!
More information:
"SCRS and Spanesi to give HUGE prize package to SCRS Members"
Society of Collision Repair Specialists, March 31, 2021
Featured image: A Spanesi Touch can be seen at the SCRS booth during SEMA 2019. Spanesi founder Orazio Spanesi is at left. (John Huetter/Repairer Driven News)
Share This: