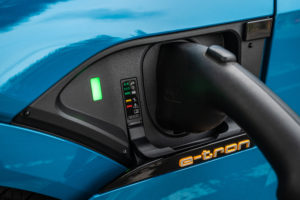 A much greater danger arises when vehicle systems reach or exceed 48 volts, Audi explained last year in a presentation focusing heavily on electric vehicle safety.
Audi has expressed bullishness on electric vehicles and dove into the space in 2019 with the launch of the fully electric e-tron. It sold 5,369 of the luxury midsize SUV in 2019 and 5,919 last year. However, sales in just the first three months of 2021 soared 103 percent to 3,474 e-trons (and another 850 e-tron Sportbacks).
So your shop needs to be ready to work on these and other electric vehicles efficiently, correctly — and safely.
In a virtual OEM Collision Repairer Technology Summit session released in November 2020, Audi collision program manager Mark Allen said the OEM had to train and equip 315 Audi dealers to support the e-tron at launch. (The Audi video and more than a dozen other Society of Collision Repair Specialists' virtual Repairer Driven Education courses are available for replay through Aug. 31.)
Allen said Audi required everyone at the dealerships to be High-Voltage Aware, and the OEM mandated the training as well for all 204 certified Audi body shops.
This represented the minimal level of training and included customer awareness, Allen said. Some staff within the facilities were trained as High-Voltage Technicians, educated about concepts like battery theory, diagnosis, de-energization and re-energization — but not to handle anything high-voltage beyond that.
For anything more extensive, a "High Voltage Expert" is required. Those personnel are able to disassemble, repair, and reinstall batterie.
Allen said battery removal is "at minimum" a task for a High Voltage Technician.
"This is not something you should do in your shops," he said.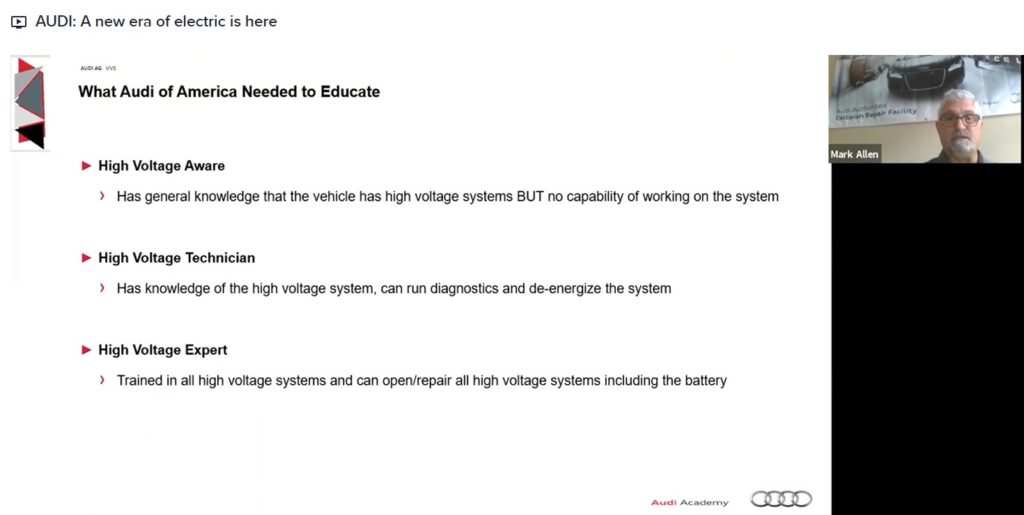 Allen showed why an OEM might require this additional training.
"We are very good conductors of electricity," Allen said while displaying a slide of the human body's electrical resistance. He said the iron in human blood "just loves to transfer electricity," which can produce "disastrous consequences."
Allen said Audi also warns about accessories including piercings, jewelry and belt buckles. Implanted medical devices like insulin pumps and pacemakers are also a concern, he said.
"If you have any of that, you should not work on high voltage," Allen said. Avoid exposure, "even if protected," he warned.
Allen said Audi found itself often reminding people to remove accessories during electric vehicle-related training. "This is something that has to become habit," he said.
Such obliviousness is why Audi only permits true high-voltage work at dealerships, according to Allen. "It's really for your protection," he said.
Accessories and medical devices cease to be an issue after the battery has been de-energized, according to Allen. "The concerns of attire, jewelry, piercings, implanted medical devices etc. is only when the battery and HV systems are at power, not when they are de-energized," he wrote in an email Feb. 5.
Allen showed another diagram of electrical shock severity which he said illustrated the "very, very slim margin between life and death."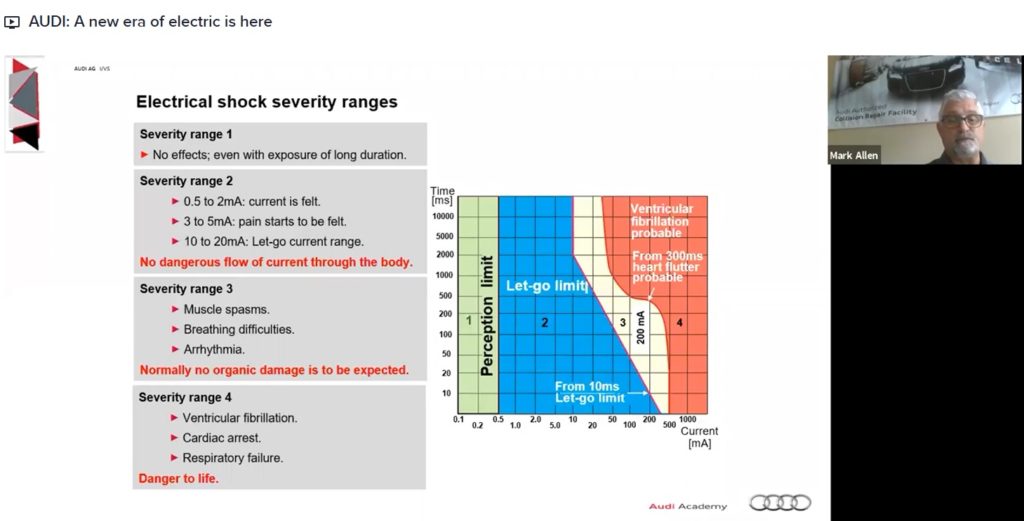 It's possible for contact with an electrical object to produce an insidious little physiological reaction: The current locks your muscles and you can't let go of the thing shocking you. Very quickly, you reach the "death zone," Allen said.
"It becomes very, very bad" for the party exposed to the electricity at the higher severity levels depending on whether the current was AC or DC, Allen said. (Audi starts its current as DC and uses transformers to convert it into AC, according to Allen, who called AC more efficient for the motor.)
The difference comes down to "I can either boil your blood" or "some very gross things like body parts shooting off," Allen said.
Repairers must be trained and equipped with the proper personal protection equipment, he said.
Take the necessary precautions, and "it's all still pretty easy" to perform auto body work, according to Allen.
A slide from his presentation described three safety precautions before body work on an electric Audi. A High-Voltage Technician would de-energize the vehicle, make sure it doesn't restart, and check that the voltage is truly absent.
Allen showed a chart of a number of repair procedures which could require de-energization. He said these requirements change, and repairers must look at the Audi repair procedures.
Any welding, grinding or sanding near the battery required de-energizing, according to Allen. For body work, "you have to refer" to the procedures, Allen said. Sometimes, the Audi can be mounted on a bench without requiring battery removal — but the vehicle must still be de-energized first, he said. An Audi self-study guide warns against any e-tron pulling.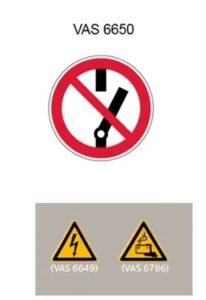 Allen also drew repairer attention to three placards which should accompany a vehicle brought to one's body shop, depicted in the slide seen at right. VAS 6650 indicates the battery was de-energized, and "you're safe to go."
VAS 6649 would be placed on a battery removed from a vehicle. (That battery would also be "cordoned off," Allen said.) VAS 6786 indicates a disconnected 12-volt system — but it doesn't confirm the de-energization of the high-voltage system.
Allen offered a couple of other important safety tidbits:
• Nothing grounds to the chassis on the e-tron; instead, Audi grounds the vehicle using circuitry, Allen said.
A fault can cause an internal leakage to ground, Allen said. The e-tron will display a yellow warning symbol, but "the car will still run." However, a second fault will prevent the car from running and display a red alert — and "this is where you need to be careful" as a body shop or insurer.
If this situation existed, Allen instructed shops to call their Audi dealer rather than handle the vehicle. It's possible for the voltage to go to ground and send current through one's body.
• Allen also showed a slide depicting the 500-volt battery in the Audi e-tron 55, but observed "we're also coming to market with a bunch of hybrids."
He warned shops that 48- to 60-volt direct current represents a "pivotal time" for the "let-go area" where a repairer could "really get severe damage and/or death." Repairers needed to understand if a vehicle is fully electric or a plug-in hybrid, he said.
48-volt systems like those found in Audi hybrids have wiring with a "purpleish" type of color, another "instant reminder" helping alert shops that "you're dealing with high voltage," Allen said. (Orange wiring also signals high voltage, according to a slide.)
• Speaking of wiring, Allen said high-voltage connectors carry more protection than a 12-volt system, and one must "work very hard" to trigger an arc. However, a body shop still would need to leave these items alone and delegate any relevant work to a High-Voltage Technician at a dealership.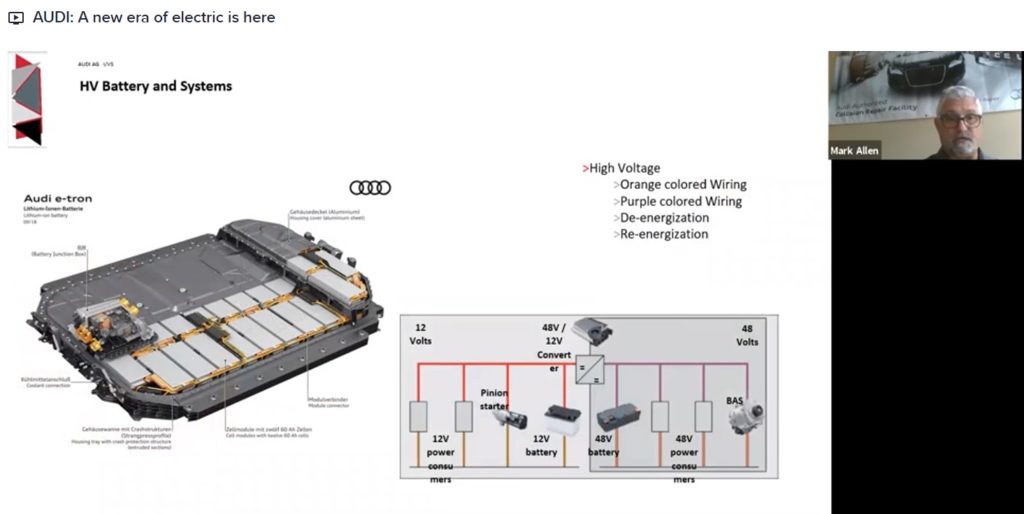 More information:
"A new era of electric is here" featuring Audi (replayable through Aug. 31, 2021)
Society of Collision Repair Specialists, November 2020
Audi Body-Collision eSelf Study Program 200193
Images:
Audi collision program manager Mark Allen, right, presented this slide on the different designations related to employees interacting with electric vehicles during an SCRS OEM Collision Repairer Technology Summit session released in November 2020. (Provided by Audi)
Audi collision program manager Mark Allen, right, presented this data on the risk from high-voltage contact during an SCRS OEM Collision Repairer Technology Summit session released in November 2020. (Provided by Audi)
Audi collision program manager Mark Allen, right, presented this slide depicting warning symbols for Audi electrical vehicle repair during an SCRS OEM Collision Repairer Technology Summit session released in November 2020. (Provided by Audi)
Audi collision program manager Mark Allen, right, presented this slide showing the purple and orange wires associated with higher-voltage transmission during an SCRS OEM Collision Repairer Technology Summit session released in November 2020. (Provided by Audi)
Share This: