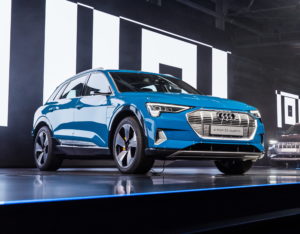 Deliveries of the all-electric 2019 Audi e-tron are scheduled in the U.S. this month — which means the first 2019 e-tron collision repairs could be required just as quickly.
Audi last month shared some of its electric vehicle advice and warnings for body shops and first responders. These documents provide a look at what might be necessary for the vehicle and demonstrate why repairers will absolutely need to research Audi's dynamic, official instructions on erWin before doing anything on the e-tron or other electrified vehicles.
One big caution: A shop can't perform some common repair procedures near the e-tron high-voltage system without it being "de-energized."
"When performing welding, sanding or cutting procedures near the high-voltage components, the system must be de-energized by a high-voltage technician," Audi wrote in procedures for the 2019 e-tron. (Emphasis Audi's.)
"The system must be de-energized by a high-voltage technician if using the straightening rack for body procedures.
"Procedures after de-energizing may only be done by technicians trained in electrical systems."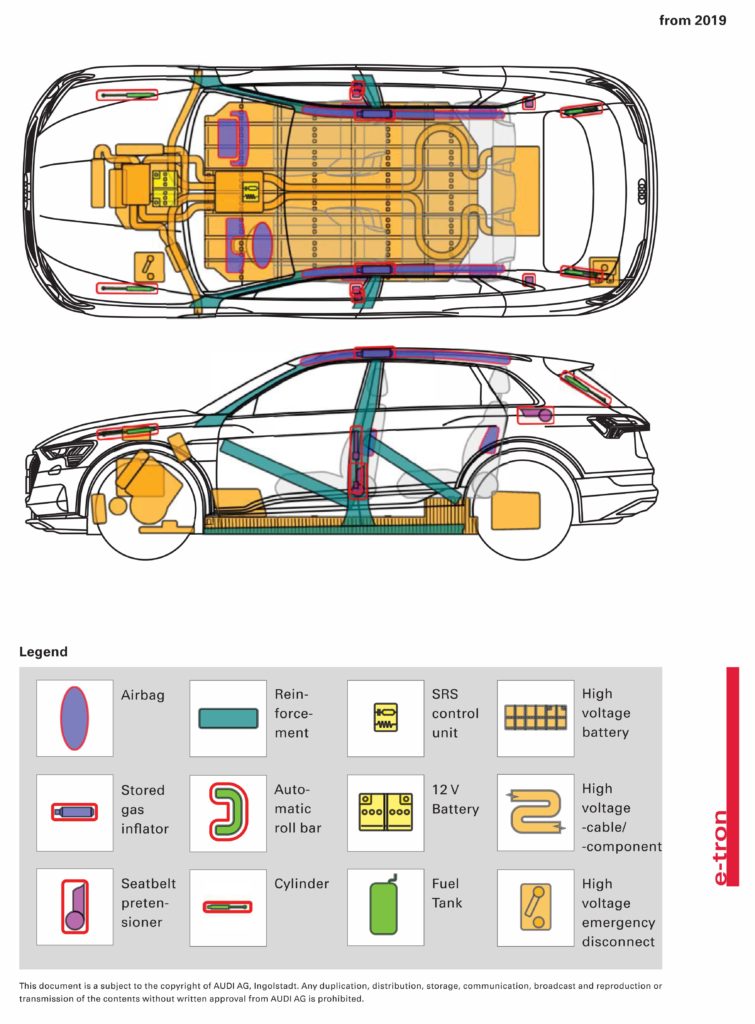 Asked if the high-voltage technician could be a trained employee of the collision center, Audi collision programs manager Mark Allen said no.
"Right now, we are only allowing the dealers and our trained field staff to work on this drive line," Allen wrote in an email. "In the next couple of years we can revisit, but for now our process is to provide as perfect a launch and product support as possible."
A high-voltage technician and potentially even a "high-voltage expert" might be needed to respectively monitor and transport a battery prior to body work on "Faulty or Accident-Damaged High-Voltage Vehicles," according to procedures for a plug-in hybrid version of the 2017 Audi A3. Audi provided the document as another example of what to expect for the fully electric e-tron.
Audi also provided a warning against getting the e-tron battery too hot. Temperatures warmer than 70 Celsius (158 Fahrenheit) aren't permitted, nor is leaving the vehicle in a forced drying paint booth for more than an hour.
The 2019 e-tron starts at $74,800. The more advanced Prestige trim starts at $81,800 and includes the optional Driver Assistance Package.
Fun fact: The e-tron GT concept recently appeared in "Avengers: Endgame" driven by Robert Downey Jr.'s Tony Stark, and another e-tron appeared in this bit featuring Brie Larson's Captain Marvel.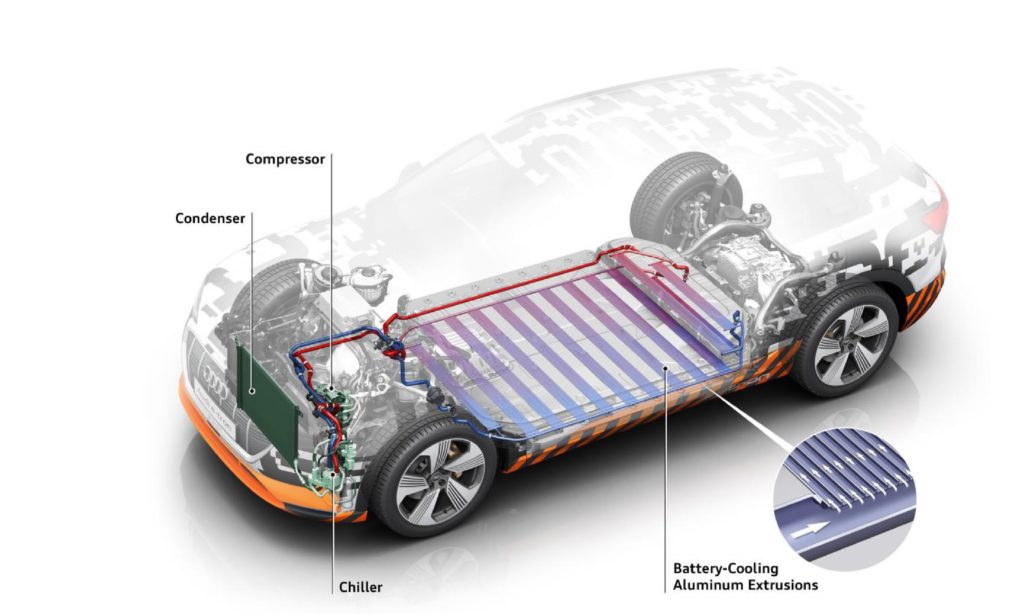 More information:
Audi OEM repair procedures site erWin (works well on Internet Explorer)
Images:
The 2019 Audi e-tron electric SUV. (Provided by Audi)
This first responder guide image depicts elements of the 2019 Audi e-tron. (Provided by Audi)
Elements of the 2019 e-tron electric SUV's powertrain are shown. (Provided by Audi)
Share This: