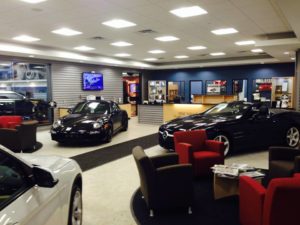 A New York auto body shop's win over State Farm regarding a lien on a 2015 Nissan Armada examined but ultimately did not hinge on the "reasonableness" of the facility's $120 an hour labor rate.
The vehicle owner, after all, had already agreed to the rate and the prospect of being liable for any portion of Mid Island Collision's bill not covered by State Farm. Under New York lien law, it was a no-brainer, based on Nassau County Supreme Court Jack Libert's ruling in State Farm v. M.V.B. Collision. (M.V.B. Collision does business as Mid Island.)
Libert quoted the New York Appeals Court's ruling inMatter of Santander Consumer USA, Inc. v A-1 Towing Inc. (which in turn quotes a 1995 case):
To assert a valid lien on a motor vehicle for the cost of towing, repairing or storing that vehicle, a garagekeeper must establish that "(1) the garage is the bailee of a motor vehicle; (2) it has performed garage services or stored the vehicle with the vehicle owner's consent; (3) there was an agreed-upon price or, if no agreement on price had been reached, the charges are reasonable for the services supplied; and (4) the garage is a duly registered motor vehicle repair shop as required under article 12-A of the Vehicle and Traffic Law"
"The fact that the price is disputed between the insurer and MVB does not negate the fact that 'an agreement upon price was reached' between the vehicle owner and MVB," Libert wrote after noting that nobody disputed the shop satisfied Conditions 1-3. "The lien is on its face valid."
Nevertheless, attorney Alexander Klein (Barket Epstein) also presented evidence to support reasonableness during the December 2018 hearing, and in doing so provided other body shops with a potential playbook to evaluate their own rates. The testimony depicts a business behaving like a business to calculate a rate rather than coming up with an arbitrary value.
Here's some highlights from the testimony of Mid Island general manager Brian McGauvran, taken from the court transcript:
(KLEIN). … How was the $120 an hour labor rate determined?
(MCGAUVRAN). Back in 2011 we hired a forensic accountant to break down our expenses and our employees and our parking, our overhead, the size of the property, all the inside spots, outside spots, and he helped us determine the value of the storage inside and out, and the value of the labor and the labor rates.
Q. And it was determined that $120 an hour was what?
A. Would be a good base labor rate.
Q. Given the expenses?
A. The expenses, the employees, the facility, the overhead.
(Technically, Mid Island testified its door rate was $175, though it negotiates it.)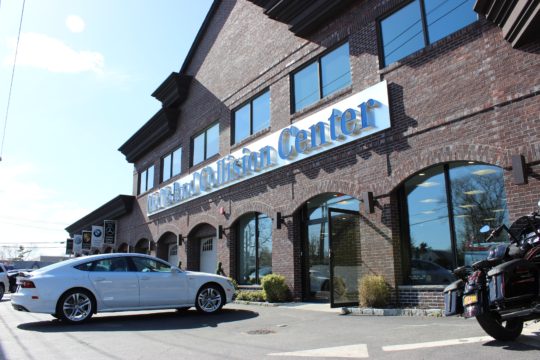 Klein also discussed rate calculations with Larry Montanez, co-owner of P&L Consultants, who appeared as an expert witness for Mid Island.
(KLEIN). Mr. Montanez, could you describe some of the discussions that led to the $120 an hour labor rate determination at that meeting?
(MONTANEZ). I was asked to find out what the investment is for the equipment within Mid Island Collision for not only steel or to operate a steel, predominantly steel repair facility but also what it would cost to operate an aluminum intensive vehicle repair facility. Additionally, I had to find out the cost of the spray booths. I had to come up with the cost of what the paint on average costs per all the vehicles they work on in the shop. I had to also call up Mr. Jesberger's hazardous waste companies that come in to retrieve oils, dry hazardous waste and even wet hazardous waste, calculate that. Also, I had to take into account the training that they have to go through for each one of the programs, come up with an average cost for this OEM training that they have to go to multiple times throughout the year, and a lot of that was what I used to write a white paper for the aluminum association was actually all derived from the investigation I did for the team for Mr. Jesberger to calculate what this labor rate would need to be or what a break even point would be and what his profitability area would have to be to have his labor rate at.
Q. Okay, based upon those discussions, what was your understanding of whether Mid Island Collision could charge $49 an hour for labor?
MR. TOMSKY: Same objection.
THE COURT: Overruled.
A. We found that — I believe the number was ($)86.75 was a break even, I basically can be open but be broke and not make a dime, so it would be out of the goodness of his heart he would just keep the store open and not make a dollar off of it. So there had to be a profitability built into that along with we had to take into account technicians, what they cost the shop working there, and that became a little surprising, when they found out what the tech actually cost when you include their uniform allowance, some tool allowance, the vacations, health insurance, sick days, and then of course the loss of the employee when they have to go away for a week to two weeks for this intensive OEM training.
…
Q. Mr. Montanez, just a few more questions. Please describe the difference with some specificity in the type of work performed on a car by Mid Island versus a car — type of work that would be performed at a shop that charges $49 and hour?
MR. TOMSKY: I will object to that as well.
THE COURT: I'm going to allow it.
A. What I've seen on average is when you have less of a labor rate, and this goes to not only hourly paid employees but also the commission based or what they call flat rate where a technician gets a portion of the labor rate to repair the car, corners are cut, they try and rush it through, because, obviously, if you're on a flat rate, the more work you get through the more money you get paid, you get paid on commission, so if I can jockey around or move around stuff, I can actually, you know, get more — get paid more money and I have to cut corners someplace.
With a lower labor rate, obviously the shop has an hourly rate shop. Let's say they're paying their technicians a certain amount of money every hour to be there. They're going to try and force more work out of the shop to, obviously, make more profit, which is what we're seeing nowadays. We are teaching a lot or speaking a lot at meetings, it's the busy but broke idea, meaning I have a lot of work moving in and out of the shop, I have money moving in and out but the second work slows up I realize I'm broke because that money isn't flowing through anymore, bills are catching up to me, so it does become an issue. Money or labor rate per hour does relate to how much time I can put into the vehicle which leads to quality.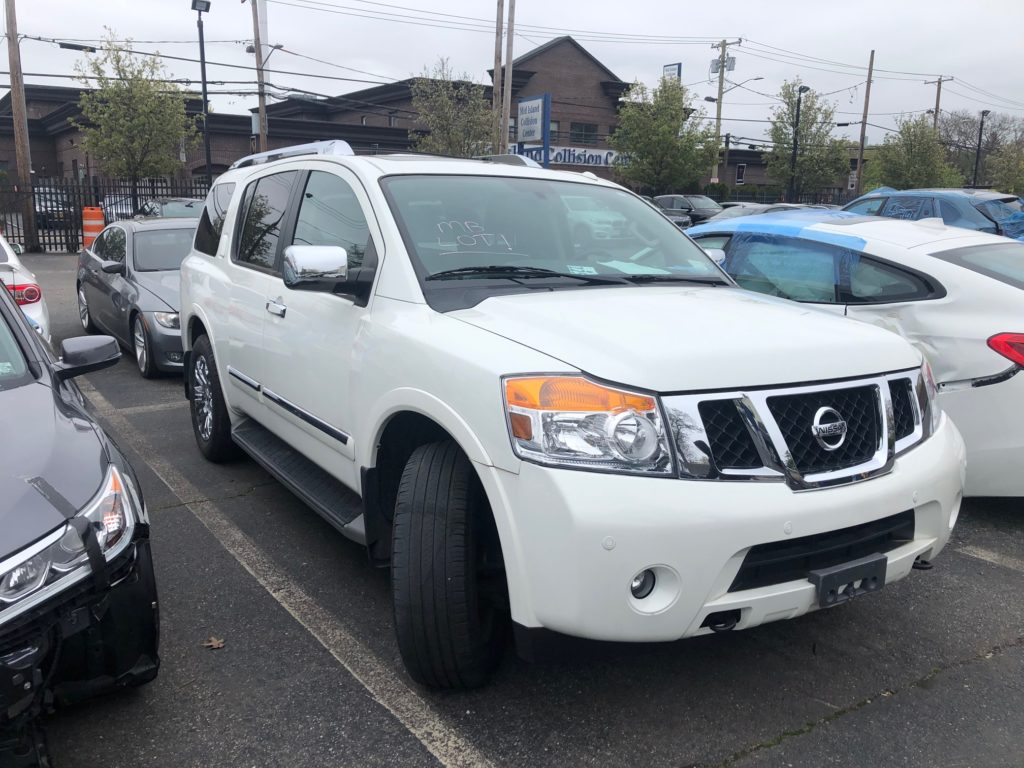 The hearing also featured Nissan service director Joe Maruca, whose dealership has a door rate of $150 but charged $125 for the work it did on the Armada. (Ironically, the first estimate from State Farm, dated March 31, 2017, proposed a mechanical rate of $49.) Maruca testified body work was much more difficult than mechanical work and perhaps should pay more:
(KLEIN). What was the work performed by Nissan on the Nissan Armada that is reflected in Exhibit L?
(MARUCA). Exhibit L?
Q. Yeah.
A. It looks like he did a basic setting reset which, you know, check the computers on a car and cleared them. Then he also aimed the headlights, he did a wheel alignment and also did a default, a readiness set on the computer. …
Q And as you review — in your experience, forty years in the industry, can you offer an opinion as to what work was more difficult between the work performed at Mid Island and the work performed at the dealership?
A. Well —
MR. TOMSKY: I'm going to object to that, your Honor. I think more difficult is a subjective thing. I understand he's a fact witness talking about his experience, but —
THE COURT: I understand the question. I'm going to allow it. He's really asking which requires more work or more time. We'll let the witness elaborate on it.
A. Well, you know, bodywork is definitely more complicated than mechanical repair work especially in these two instances. This is just a reset, a wheel alignment.
Q. And where's the bodywork performed, to be clear?
A. Where was it performed?
Q. Yes.
A. Mid Island Collision.
Q. And is that generally what you see in your experience that the more difficult work is performed at the body shop rather than the dealership?
MR. TOMSKY: Objection.
THE COURT: Again, I'm going to allow it. I understand the question. I think your objection is probably correct, but in the context of a bench trial, I'm okay with it.
A. The body repairs are definitely more difficult than
mechanical repairs.
Q. And you mentioned —
THE COURT: I'm sorry, I'm going to clarify. When you say more difficult, what do you mean by that?
THE WITNESS: I mean there's measurements involved for chassis damage you have to measure it. You have to weld. Mechanical repairs in this day and age now, you know, more replace the alternator, replace the starter. We're not rebuilding them. The manufacturer now has you replace items instead of, you know, repair them and weld them.
THE COURT: Sort of plug and play?
THE WITNESS: There you go, plug and play.
THE COURT: Thank you. Okay. …
Q. You're familiar that Mid Island Collision charges $120 an hour for labor?
A. Yes.
Q. Is that reasonable?
A. I thought they would get a little more, you know, would get a little more than 120 for body repairs. Because it's definitely more difficult than mechanical repairs.
State Farm argued in a post-hearing memorandum that its labor rates of $49 ($51 for frame) were accepted by everyone in the market, including by Nissan-certified shops.
"While MVB's witnesses spent considerable time describing the cost to run MVB, those expenses are the cost of doing business for the repair shop and do not change the insurance companies obligations," State Farm wrote. "It is not State Farm's responsibility to make MVB profitable."
It also said the repairs weren't complicated enough to warrant more than the proffered rates.
CCC's 2019 "Crash Course" reports the average national body labor rate on its repairable vehicle estimates rose from $48.87 in 2017 to $50.27 in 2018.

Other lawsuit
Mid Island and State Farm will probably continue to fight out the reasonableness of the rates in a separate lawsuit in which the shop will stand in the shoes of the Armada's owner as the assignee of her benefits. They're suing State Farm for allegedly breaking her policy contract by failing to pay for the loss.
"That the policy of insurance provided to Plaintiff's assignor … by Defendant, STATE FARM INSURANCE COMPANY, in 'Physical Damage Coverages, (3) Collision Coverage,' provided in pertinent part, that: 'We will pay for loss caused by collision to a covered vehicle,' M.V.B Collision v. State Farm states.
"That no enumerated exemptions or exclusions listed in the policy of insurance apply to the facts of this matter.
"That in failing to pay the full cost of the repairs to (the owner's) motor vehicle, Defendant, STATE FARM INSURANCE COMPANY, acted in breach of the aforementioned physical damage collision coverage provision of the insurance policy purchased by her and caused Plaintiff, M.V.B. COLLISION INC., and its assignor … to incur economic damages.
"That the amount offered by Defendant, STATE FARM INSURANCE COMPANY, to repair the motor vehicle owned by Plaintiff's assignor … was not sufficient to restore said motor vehicle to its condition at the time of the loss and, as such, Defendant, STATE FARM INSURANCE COMPANY, was and is in breach of the insurance policy issued to Plaintiff's assignor."
Images:
Mid Island Collision is shown. (Provided by Mid Island Collision)
Mid Island Collision had repaired this 2015 Nissan Armada before State Farm declared it a total loss. The body shop has been given approval by the Nassau County Supreme Court that it could conduct a lien sale on it. (Provided by Mid Island Collision)
Collision repair data from CCC's 2019 "Crash Course." (Provided by CCC)
Share This: