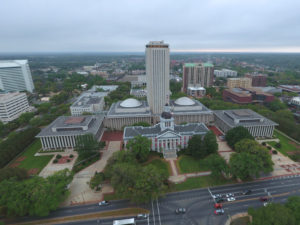 The Florida Senate on Wednesday approved a bill enacting assignment of benefits restrictions — including the right to sell policies forbidding AOBs — for homeowner insurance but joined the House in declining to set new rules for auto windshield policyholders.
Despite glass being excluded, the law is definitely worth watching by all auto body repairers who engage in AOBs.
House Bill 7065 will now go to Republican Gov. Ron DeSantis, who's likely to sign what he called "this meaningful legislation."
The House passed the measure 96-20 on April 11, and the Senate Rules Committee had approved what seemed to be virtually identical language for Senate Bill 122 on April 17. The full Senate ultimately set its own bill aside and just voted on HB 7065 on Wednesday, approving it 25-14.
Prior to the Rules Committee's action April 17, Senate Bill 122 had contained language affecting auto windshield providers. HB 7065 at one point did so as well, but that language was stricken by the House Judiciary Committee earlier in the spring.
"While the CPC celebrates today's victory, it is disappointed auto glass provisions were not included in the bill and encourages lawmakers to address auto glass in future AOB reforms," the Consumer Product Coalition of insurer and other business trade groups said in a statement Wednesday. "Thousands of Floridians have unknowingly become the subject of litigation over their windshield replacement claims without their knowledge or consent. This practice must stop.

Florida law holds that any policyholder who sues an insurer and wins obtains "reasonable" attorney's fees. Critics say this has led to an explosion of assignment of benefits lawsuits and AOB abuses by glass and home repair providers, conveniently ignoring the fact that the assignee had to prevail — i.e., the insurer was wrong — to collect those fees.
In fairness, not all the critics of Florida's AOB landscape are insurers. Home repair trade groups and Safelite also are part of the CPC. The Florida Office of Insurance Regulation has praised both SB 122 and the House's passage of HB 7065.
Auto glass
Florida Politics reported on the auto glass exclusion in an interesting article April 17.
Jeff Johnston, lobbyist for the Florida Independent Glass Association, told the news outlet carriers were only paying independent shops as little as 50 percent of what they charged. He said they had to sue — and they usually win, Florida Politics reported.
Johnston told Florida Politics he offered some insurers a halt to AOB lawsuits if they would agree to pay the prevailing rate, but was told no. This revelation convinced lawmakers to remove glass from the legislation, Johnston said, according to Florida Politics.
The South Florida Sun Sentinel reported that glass litigation had fallen when the first half of 2017 and 2018 were compared:
Brian Motroni, attorney for one of the largest independent glass repair shops in the state, Auto Glass America, says lawsuits by independent glass shops are decreasing because more insurers have entered into pricing agreements with the shops after courts ruled the insurers improperly based reimbursement rates on deeply discounted prices available from industry giant Safelite.
A similar dispute certainly exists within the collision repair industry regarding collision repairers who charge more hourly and for more operations than an insurer would like to pay — but not necessarily more than what's reasonable or dictated by OEM procedures.
Those body shops have three options. Option 1 would be to eat the cost. Option 2: Bill the customer out-of-pocket and let them pursue the difference from their carrier or the at-fault party (and their insurer, if they have one).
The final option would be for the shop to receive an assignment of benefits and take action as a "stand-in" for the consumer. In the eyes of the court, the repairer would be the policyholder.
And that's why shops in Florida and beyond need to pay close attention to efforts to reform AOB this and future sessions.
It's a safe bet, for example, that auto glass AOB legislation will reappear.
"It's been seven years of hard work, but today's passage of assignment of benefits reform legislation in Florida is a major victory for consumers," National Association of Mutual Insurance Companies Southeast regional Vice President Liz Reynolds said in a statement Wednesday. "We are thrilled to see Florida legislators put policyholders first, something that as mutual insurers, NAMIC members have done for generations. This legislation is an important step toward curbing the explosion of lawsuits stemming from unscrupulous contractors and attorneys preying on consumers that has driven up the cost of residential insurance for everyone. While it's upsetting that the final bill did not include auto glass AOB reform, we will not give up the fight for those important consumers protections in the next legislative session."
A law on the books for one form of insurance could easily be extended by lawmakers to another line of coverage, and repairers must ensure doing so wouldn't inadvertently or intentionally kill or neuter one of the tools to pursue fair compensation. After all, who's to say when the insurance industry or a group like the CPC will deem the number of collision repair AOB lawsuits excessive and urge lawmakers to copy-and-paste existing law in to address it?
Restrictions on homeowner's insurance AOB
All that said, let's look at what the homeowner AOB law would do.
The policyholder must have the option to take back the assignment within 14 days, "at least 30 days after the date work on the property is scheduled to commence if the assignee has not substantially performed, or at least 30 days after the execution of the agreement if the agreement does not contain a commencement date and the assignee has not begun substantial work on the property," according to HB 7065.
The consumer is liable for any work done prior to the take-back. It's unclear if they could submit a bill to their carrier to be reimbursed for it, but presumably so.
The assignment contract must have in "18-point uppercase and boldfaced type" (something to consider for states' collision repair-related notifications which only require 10-point plain text):
YOU ARE AGREEING TO GIVE UP CERTAIN RIGHTS YOU HAVE UNDER YOUR INSURANCE POLICY TO A THIRD PARTY, WHICH MAY RESULT IN LITIGATION AGAINST YOUR INSURER. PLEASE READ AND UNDERSTAND THIS DOCUMENT BEFORE SIGNING IT. YOU HAVE THE RIGHT TO CANCEL THIS AGREEMENT WITHOUT PENALTY WITHIN 14 DAYS AFTER THE DATE THIS AGREEMENT IS EXECUTED, AT LEAST 30 DAYS AFTER THE DATE WORK ON THE PROPERTY IS SCHEDULED TO COMMENCE IF THE ASSIGNEE HAS NOT SUBSTANTIALLY PERFORMED, OR AT LEAST 30 DAYS AFTER THE EXECUTION OF THE AGREEMENT IF THE AGREEMENT DOES NOT CONTAIN A COMMENCEMENT DATE AND THE ASSIGNEE HAS NOT BEGUN SUBSTANTIAL WORK ON THE PROPERTY. HOWEVER, YOU ARE OBLIGATED FOR PAYMENT OF ANY CONTRACTED WORK PERFORMED BEFORE THE AGREEMENT IS RESCINDED. THIS AGREEMENT DOES NOT CHANGE YOUR OBLIGATION TO PERFORM THE DUTIES REQUIRED UNDER YOUR PROPERTY INSURANCE POLICY.
The assignor policyholder doesn't owe the assignee repairer anything, including attorney fees, if it turns out their policy prohibits assignment of benefits.
The repairer in filing an assignment claim "has the burden to demonstrate that the insurer is not prejudiced" by the assignee's failure to:
(a) Maintain records of all services provided under the assignment agreement.
(b) Cooperate with the insurer in the claim investigation.
(c) Provide the insurer with requested records and documents related to the services provided, and permit the insurer to make copies of such records and documents.
This seems to give an insurer a lot of power to drown a home repairer in requests for information or declare noncooperation as a pretext for denying claims.
After the assignee repairer seeks to initiate litigation, they must first notify the assignor, insurer and policyholder 10 business days before filing suit and offer a "presuit settlement demand."
The insurer gets 10 days to respond in writing by "making a presuit settlement offer or requiring the assignee to participate in appraisal or other method of alternative dispute resolution under the policy. "
If the homebuilder with the assignment sues and wins, they will have to pay the insurer's attorney's fees in some circumstances:
(a) If the difference between the judgment obtained by the assignee and the presuit settlement offer is:
1. Less than 25 percent of the disputed amount, the insurer is entitled to an award of reasonable attorney fees.
2. At least 25 percent but less than 50 percent of the disputed amount, no party is entitled to an award of attorney fees.
3. At least 50 percent of the disputed amount, the assignee is entitled to an award of reasonable attorney fees.
It seems the Florida Legislature has just handed unscrupulous homeowner's insurers a license to offer 75.1 percent of the disputed amount presuit and be rewarded with their own legal costs back when they lose. Considering the volume of claims an insurer incurs, that could really add up to quite a savings.
Unethical insurers could even offer a smaller fraction secure in the knowledge that they'll never have to pay the homeowner's assignee's legal fees. Offer 50.1 percent of the disputed amount, plan on mounting the cheapest defense possible if the contractor does sue, and batter them into submission by forcing them to eat their own legal fees. If the contractor doesn't sue, then pocket the money.
Finally, the bill allows insurers to write a policy "that restricts in whole or in part an insured's right to execute an assignment agreement" so long as they offer a policy that doesn't restrict that right. A policy restricting part of an assignment right must be cheaper than a policy allowing assignments, and a policy completely barring assignments must be cheaper still.
An 18-point notification of the loss of rights is required on the policy, and the insurer must annually tell the policyholder of their options.
Be heard: Florida lawmaker contact information can be found here and here. Gov. DeSantis can be reached here.
More information:
"Advocates say auto glass, home repair AOB are 'apples and oranges'"
Florida Politics, April 17, 2019
"Consumer Protection Coalition applauds passage of AOB reform bill"
Consumer Protection Coalition, April 24, 2019
"Windshield lawsuits drop statewide; now barely a blip in South Florida"
South Florida Sun Sentinel, July 6, 2018
Featured image: Florida's Old and New Capitol Buildings are shown in Tallahassee. (felixmizioznikov/iStock)
Share This: