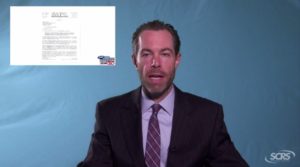 A Connecticut attorney last fall said it can be necessary during short-pay litigation to rebut the idea that the insurer estimate carries the same weight as the shop's invoice.
"Those two things are very different documents," Buckley Wynne & Parese partner John Parese told the virtual "Litigating and Winning Short Pay Claims" audience. (Parese's class and more than a dozen other virtual SCRS Repairer Driven Education sessions released November 2020 remain replayable through Aug. 31, 2021.)
Parese said he's even had judges ask why a body shop doesn't work off of the insurer's estimate and declare "'the shop needs to get permission from the insurance company'" to deviate from it. This means a plaintiff must explain "why that's backwards," Parese said.
"Inevitably," parties such as consumers, laymen and judges don't appreciate the distinction between a insurer's estimate and a collision repairer's, Parese said during the virtual course. The class mostly focused on short-pay small-claims court lawsuits involving an auto body shop which carried an assignment of benefits from a first- or third-party claimant.
(Note: Parese's comments and this article are for informational purposes and not intended as legal advice. Consult with qualified counsel licensed in your jurisdiction before taking any action.)
Parese said he created a letter for the Auto Body Association of Connecticut explaining the difference between an insurer and shop estimate, and it can be submitted to the court to function "almost like a legal brief." (He said audience members could contact him for a copy.)
"Not all courts will let me put this in," Parese said. However, most permit it to be introduced, he said.
The letter responds to the question: "What is the role and legal significance of an insurance estimate in the context of an auto body repair; and can an insurance estimate be utilized for dictating how a vehicle should be repaired or as evidence of the true cost of repair?"
"That's a central issue that we gotta confront," Parese said.
The document states:
It goes without saying that insurance companies are not trained, equipped or licensed to fix vehicles. This is, in part, why insurers always elect to pay property loss claims in money.
Since insurers are obligated to pay for losses in money, they utilize insurance estimates to help asses their indemnity exposure. An "estimate" is an approximate judgment or calculation; a statement of the insurer's opinion as to the  approximate charge for work to be done. Insurance estimates by their very nature (i.e. an approximation before repairs commence) and authorship (i.e. written by an insurance representative not licensed to perform repairs) cannot be utilized as evidence of the actual cost of repair or as a blueprint for repair. …
What is more, since most insurance estimates are done without the benefit of vehicle disassembly, they often require significant correction due to subsequently discovered damages.
Reinforcing the last point here, we should also point out that initial estimates are incomplete the majority of the time. CCC data found 60.9 percent of repairable vehicle claims in 2020 had supplements, typically representing 18.7 percent of the repair cost. The average repair bill was $3,421, which means the initial estimate on average missed $640 worth of damage.
Parese also points out that under Connecticut law, only licensed repairers regulated by the Department of Motor Vehicles can fix vehicles, and insurers have "no legal authority, experience, training or oversight in the business of auto repair. …
"What is more, as the licensed repairer is the one ultimately liable for the soundness of a repair, it would be inapposite and unethical for that trained auto repair expert to surrender his or her judgment for that of someone in the insurance business."
Should the court read the document, "It will advance your cause dramatically," Parese said.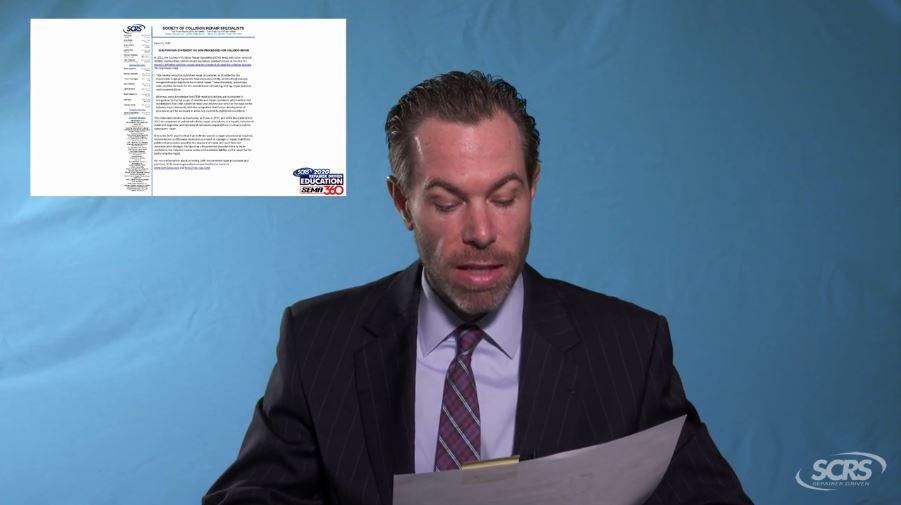 Another document
Parese said he also liked to introduce the Society of Collision Repair Specialists' declaration that OEM repair procedures are the industry standard of care.
The original landmark SCRS-ASA-AASP-Assured Performance 2011 position is located here; Parese's presentation appeared to feature the 2017 SCRS position reiterating the stance and confirming it includes diagnostic and mechanical procedures.
"(W)e hereby recognize published repair procedures, as provided by the Automobile Original Equipment Manufacturers (OEM), as the official industry recognized 'Repair Standards' for collision repair," the trade groups wrote in 2011. "These standards, where they exist, shall be the basis for the establishment of training, testing, repair practices, and documentations.
"Whereas, we acknowledge that OEM repair procedures are incomplete in comparison to the full scope of vehicles and repair operations which exist in the marketplace; the OEM published repair procedures shall serve as the baseline for industry repair standards, with the recognition that further development of procedures will be necessary in areas not covered by published procedures."
Parese called it a "great piece of evidence."
He asked the audience: If a body shop can demonstrate it followed automaker procedures and the OEM is the standard, then how could an insurer not licensed to perform repairs override the industry standard?
"They can't," Parese said. "Case over."
More information:
"Litigating and Winning Short Pay Claims"
Society of Collision Repair Specialists, released November 2020
Virtual Repairer Driven Education courses (replayable through Aug. 31, 2021)
SCRS open letter on OEM procedures
SCRS, June 27, 2017
AASP, ASA, SCRS, Assured Performance 2011 declaration of OEM repair procedures as standard of care
Images:
Buckley Wynne & Parese partner John Parese is seen during the virtual "Litigating and Winning Short Pay Claims" virtual 2020 SCRS Repairer Driven Education course. At left is a copy of a letter he says he likes to introduce into court to rebut the idea that the insurer's estimate is on par with the repairer's. (Screenshot from SCRS video)
Buckley Wynne & Parese partner John Parese is seen during the virtual "Litigating and Winning Short Pay Claims" virtual 2020 SCRS Repairer Driven Education course. At left is a copy of a 2017 SCRS position statement reiterating the organization's 2011 position on OEM repair procedures. (Screenshot from SCRS video)
Share This: