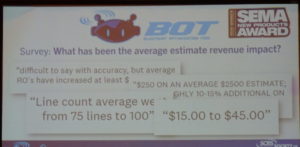 Despite the software's potential to produce higher repair bills by reminding body shops about operations, insurers have expressed pleasure at the consistency the Blueprint Optimization Tool brings to auto body estimates, the Society of Collision Repair Specialists said last week.
An external industry expert told the trade group he'd observed the same response from carriers.
SCRS board member Robert Grieve told an open board meeting Wednesday that an organization survey found a wide variety of BOT users in the industry. They include direct repair program, non-DRP facilities, OEM-certified repairers and uncertified shops, he said. Some facilities average more than $9,000 per repair order, while others average $3,000, he said.
The BOT software allows a collision repairer to automatically apply the "SCRS Guide to Complete Repair Planning" document to an estimate and identify work the shop would be performing but had not included on the sheet. The free "Guide to Complete Repair Planning" includes more than 1,000 suggested line items. Grieve said SCRS plans to add an additional 500 to the BOT soon.
On the whole, shops in 38 states have added more than 20,000 flagged operations since the BOT's launch, according to Grieve.
Vehicle Collision Experts CEO Mark Olson said his company has begun to interview insurers about which shops they like and why. According to Olson, the BOT has actually improved insurer-shop relations.
"There's been a shift," Olson told the open board meeting audience. Insurers reported calling certain shops "'hard to deal with.'" However the insurers told VECO their opinion of those repairers changed following the shops' BOT usage: "'Now they're so consistent, they're easy to deal with.'"
"I didn't expect that," Olson said.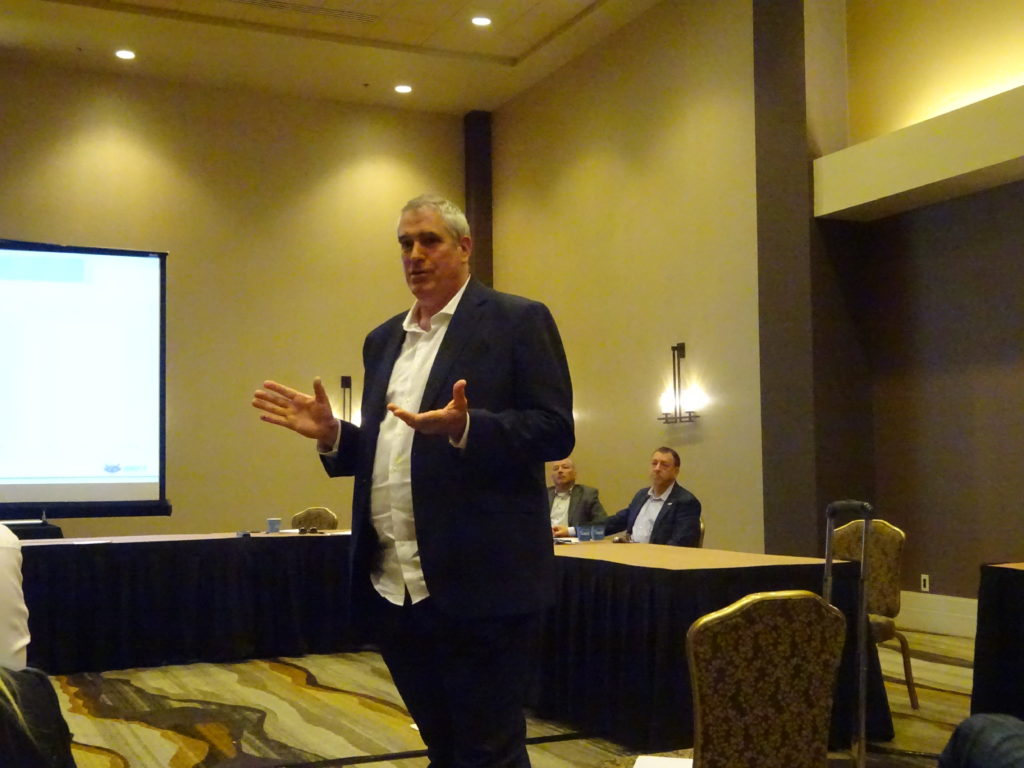 Society of Collision Repair Specialists Executive Director Schulenburg called Olson's account consistent with what the trade group had heard from insurers, "even at regional and national levels." The carriers find the software produces "'impressive'" consistency in estimators,
Schulenburg said. He said one survey respondent also reported "that consistency breeds credibility" with insurers.
Olson said he was mostly referring to shops which weren't even DRP facilities. Insurers found it easier to work with shops that weren't even their business partners. "It's a real benefit for both," Olson said.
Grieve (Nylund's Collision Center) said even DRP facilities say they're not encountering "the pushback that you would expect."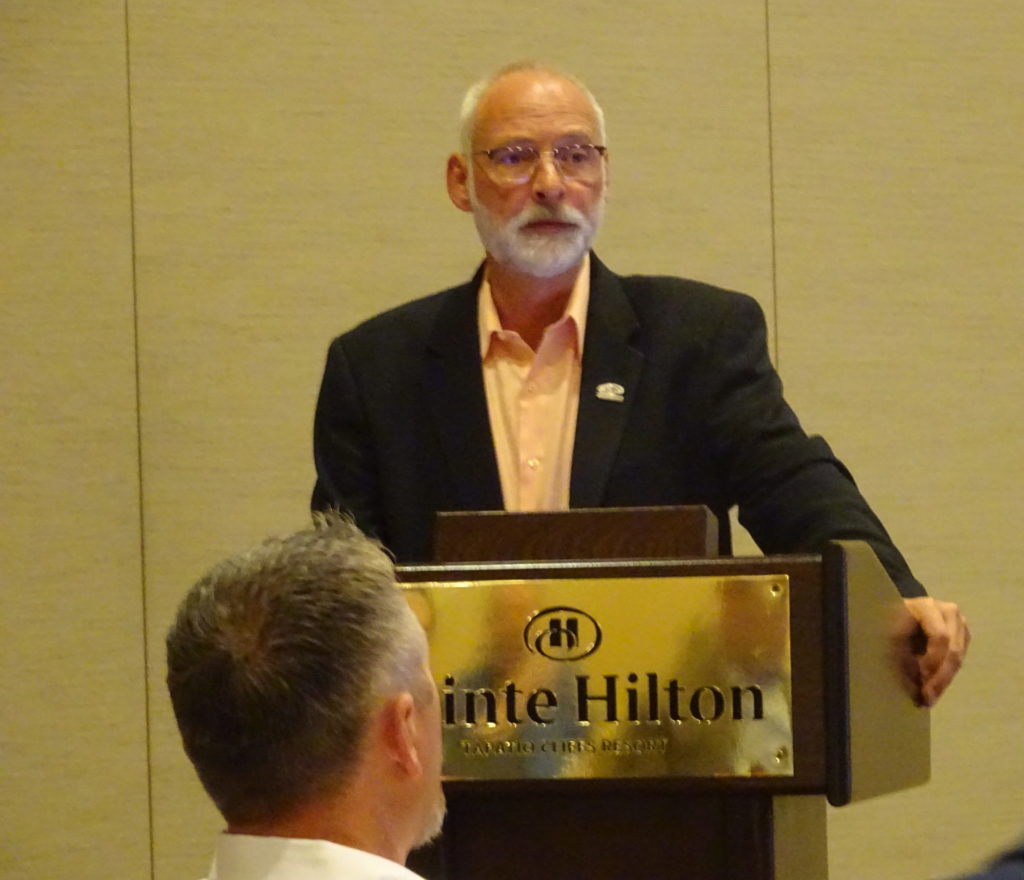 Repairers are finding a financial benefit from the BOT's reminders about legitimate repair work the shop had failed to add to the estimate. A promotional video from OEConnection, whose subsidiary NuGen IT developed the BOT for SCRS, said repairers who effectively use the software recognize an 8:1 return on investment.
SCRS charges members $99 per month for a single estimating terminal (nonmembers pay $139) and an additional $21.75 ($29 for nonmembers) for each additional terminal.
Executive Director Aaron Schulenburg pointed out the "immediate ROI" for a member shop able to add $150 to a repair order or increase a $2,500 estimate by 10-15 percent, successes that real-world BOT users have reported. Another shop recognized a $15-$45 revenue gain per estimate, which Schulenburg noted would still pay off a BOT subscription quickly even at $15 more per RO.
One audience member observed that her shop's "lowest week" since deploying the BOT saw the software flagging an additional $800 in overlooked sales. The record so far was an additional $1,500 per week contributed by the BOT, she said.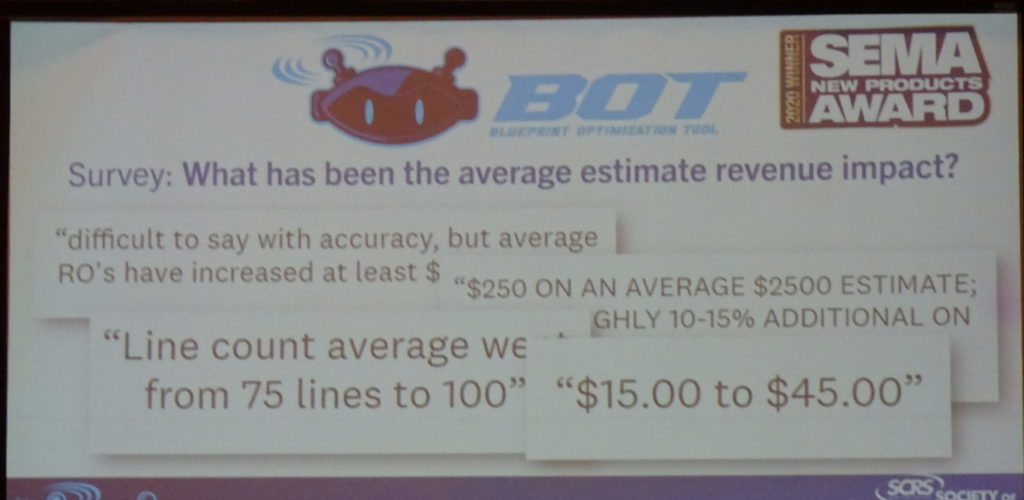 One BOT adopter was found to have 16 licensed users, according to Grieve. He noted that deploying the BOT would produce consistency in a situation where 16 estimators were spread out across multiple locations in a chain.
SCRS board member Tim Ronak (AkzoNobel) said consistency among employees had "real value." He gave the example of a shop with three estimators with skills ranging from weak to excellent.
"This helps build a consistency among all of them," Ronak said. He said this meant credibility for vendors or customers as everyone examines the vehicle on the "same level playing field." This represented "real underlying value," he asid.
Audience member Domenic Martino, co-owner of Chicago, Ill.-based Gold Coast Auto Body (and later that day elected as an SCRS trustee), noted that his shop had a new blueprinter who was already a "savvy estimator" but could be elevated to an even higher level with the BOT. Ronak said the BOT could be customized to suggest new items after estimators grow more consistent writing for an initial set of operations the BOT had been told to flag.
More information:
SCRS Blueprint Optimization Tool webpage
Images:
A slide during the Society of Collision Repair Specialists' April 21, 2021, open board meeting shares survey responses to the trade group's Blueprint Optimization Tool for estimators. (SCRS slide; photo by John Huetter/Repairer Driven News)
Vehicle Collision Experts CEO Mark Olson discusses the Blueprint Optimization Tool during the Society of Collision Repair Specialists' April 21, 2021, open board meeting. (John Huetter/Repairer Driven News)
SCRS board member Robert Grieve (Nylund's Collision Center) discusses the Blueprint Optimization Tool during the Society of Collision Repair Specialists' April 21, 2021, open board meeting. (John Huetter/Repairer Driven News)
Share This: