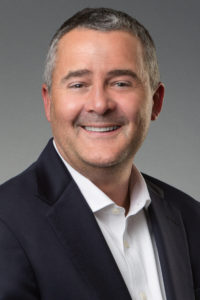 Driven Brands last week announced same-store sales in its Paint, Collision & Glass segment including CARSTAR, Fix Auto USA, ABRA, Maaco and Uniban fell 9.4 percent compared to the first quarter of 2020.
However, CEO Jonathan Fitzpatrick told an April 28 earnings call that compared to industry metrics, "you can see that we're sort of 500 basis points better than the industry." This would suggest competitors in the auto body, paint and glass industry are down 14.4 percent for the quarter compared to 2020. (Special thanks to Seeking Alpha, whose transcript of the call helped us identify speakers and quotes.)
Chief Financial Officer Tiffany Mason said Driven Brands had expected the Paint, Collision & Glass group to show a "sequential deceleration" between the fourth quarter of 2020 and the first quarter of 2021 because of the prior year's statistics and COVID-19 lockdowns, particularly in Canada.
"However, PC&G performed better than we expected, and outperformed the competition, according to industry data," she said.
Nevertheless, Paint, Collision and Glass was the only Driven Brands segment to post a same-store sales decline last quarter. (Driven Brands' vehicle maintenance segment saw sales rise 16.5 percent, in case those of you performing mechanical service and repair in-house were curious.)
"This segment lags the others in terms of COVID recovery," Mason said of Paint, Collision & Glass. She attributed this to less congestion and fewer collisions.
"This is a unique challenge for PC&G," Mason said. However, as miles driven increased, "so too will the pace of this segment's recovery." She said an increase has begun.
"Said simply, as consumers drive more, Driven wins," Fitzpatrick said. "And we are already seeing more of our customers take to the road." He said studies found 40 percent of consumers having booked or planning trips — and two-thirds of them planning to travel by car.
"This is good for Driven," he said.
Paint, Collision & Glass is an interesting animal within Driven Brands. It accounts for more than half of the company's sales ($542.4 million in Q1), but it works out to less than 15 percent of the company's actual revenue ($43.9 million), "because it's effectively all franchised" with a lower royalty payment, according to Mason.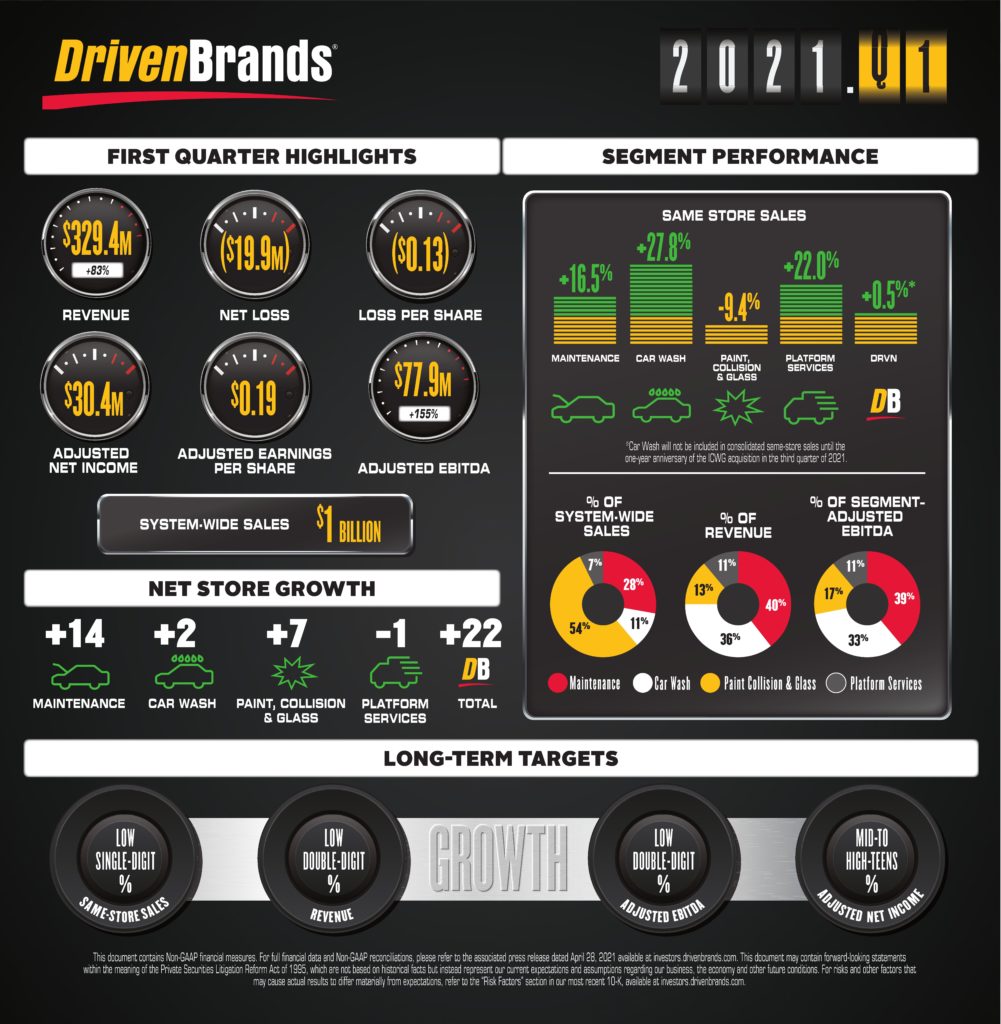 Market share and insurers
Asked if miles driven needed to show a year-over-year increase for collision sales to grow year-over-year, Fitzpatrick said not necessarily.
It could also be done by claiming more market share — and that would be Driven Brands' strategy, according to Fitzpatrick.
"We're not so focused on miles driven, but we're focused on share gains," he characterized the company's five-year plan.
He called 2020 an "inflection point" where having conducted hundreds of millions of dollars worth of repairs for "insurance carriers and our partners … they now absolutely see the benefit of doing business with fewer scale providers."
"Our insurance partners continue to place increased value on doing business with fewer scale providers that can service their customers better," Fitzpatrick said earlier in the earnings call. "The DRPs we added in 2020 continue to add more cars into 2021."
Asked to elaborate on repeat commercial customer business, Fitzpatrick said, "We have a very dedicated team that focuses on delivering great service to our insurance partners."
As insurers see a franchisee's capabilities, "they give us more business, right?" he said. "So that's how we win more business. It's a really meritocratic system."
Mason called Driven Brands "very well-positioned with our insurance partners as the reopening begins to take shape across the markets we serve. In fact, estimate counts are up, which is a great leading indicator."
More information:
"Driven Brands Holdings Inc. Reports First Quarter Results"
Driven Brands, April 28, 2021
Driven Brands first-quarter 2021 earnings call
Driven Brands, April 28, 2021
Seeking Alpha transcript of Driven Brands first-quarter 2021 earnings call
Seeking Alpha, May 1, 2021
Images:
Driven Brands CEO Jonathan Fitzpatrick is shown. (Provided by Driven Brands)
Highlights from Driven Brands' first-quarter 2020 performance are shown. (Provided by Driven Brands)
Share This: