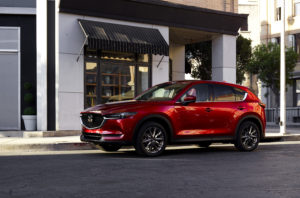 Mazda has launched a Mazda Collision Network with Mitchell serving as administrator, the information provider announced Tuesday.
"Our customers are at the heart of everything we do," Mazda North America aftersales and technical services division Vice President Rob Milne said in a statement. "Through our collaboration with Mitchell, we can extend the Mazda experience to collision repair—supporting customers at every stage of the vehicle lifecycle, from purchasing a new car to properly restoring it following an accident."
The program is open to independent body shops as well as internal dealership facilities. Neither Mazda nor Mitchell describe a dealer sponsorship requirement. Multi-shop operators are permitted to sublet certain operations, but they can't share gear with each other.
"Each repair facility location must have access to all tools and equipment required, with a trained technician capable of properly using the equipment," Mazda wrote in a FAQ.
Shops can learn more about the program and apply to join it through the Mitchell webpage here.
Mitchell said Mazda's certified auto body repair network would feature a "metrics-driven approach."
"Participants must meet leading industry standards for business operations, training, tools and equipment," Mitchell wrote in a news release. "Ongoing, systematic monitoring of each job tracks facilities' continued compliance with program requirements for safe repair, cycle time and customer satisfaction."
Mazda said in the FAQ it would reveal the metrics in "late 2021."
Mitchell reports shops will be judged on repair quality criteria including using Mazda repair procedures, submitting repair information and pre- and post-repair scanning all vehicles. Mazda wrote in the FAQ that shops are expected to fix every Mazda correctly, regardless of age.
"All Mazda vehicles repaired at collision network facilities are to be processed as program repairs," Mazda wrote in the FAQ. "The expectation is that Network facilities will repair 100% of Mazda vehicles using the program standards for proper, safe repair."

Shops will need to meet equipment and tooling requirements to qualify for the program, and initial and annual virtual Mitchell audits will check to confirm the existence of the gear. The OEM said facilities must also hold I-CAR Gold Class status "or demonstrate that they are working to meet I-CAR Gold Status."
Highlights from Mazda's equipment list include a 220-volt, 180-amp MIG/MAG welder (a pulse welder is also acceptable); a squeeze-type resistance spot welder able to generate 10,000 amps and 600 foot-pounds of force, "(s)teel dent removal/pulling system with stud welder/pins and pulling attachments," an electronic or fixture bench system with accuracy within 1 mm, a paint booth "capable of low bake" and a dedicated mixing room.
Shops will also note that Mazda appears to be taking test welds very seriously. A repairer must have a "workstation that includes work bench with a stationary vise, a set of Vernier calipers, a shunting clamp, test weld samples/coupons and the ability to perform overhead and vertical test welds," according to Mazda.
Mazda also will require certified shops to pre- and post-repair scan all vehicles. It deems a variety of scan tools besides its own acceptable for the program; including the AirPro; an unspecified Opus scan tool; and the Mitchell MD-200, MD-350, MD-500 and MD-OEM. Mazda also approved the asTech device, which connects vehicles to official Mazda scan tools housed remotely.
Mazda didn't specify if the AirPro and Opus devices must be running official Mazda software through the J-2534 standard or if they could run aftermarket scan tool software. Mazda's approval of the entire Mitchell scan tool portfolio is interesting in that some of those tools only run aftermarket software. General Motors approved a similar set of brands — but only tools which could run GM software on the J-2534 standard.
Though Mazda's equipment benchmarks mention the welder must have access to 100 percent argon gas "for CuSi Mig brazing and aluminum," the OEM also wrote in the FAQ that a shop doesn't need "aluminum tools."
"Mazda does not allow the repair of aluminum panels," the OEM wrote in the FAQ.
Finally, repairers must write estimates using Mitchell Cloud Estimating with Integrated Repair Procedures.  Mitchell will handle the compliance audits and key performance indicator tracking for Mazda.
"We look forward to supporting Mazda and its efforts to deliver an exceptional repair experience," Mitchell auto physical damage Executive Vice President and general manager Debbie Day said in a statement. "Collision repairers are facing unprecedented challenges due, in large part, to rapid advancements in vehicle technology. The Mazda Collision Network provides them with the tools and technology they need to meet these challenges head on."
Shops will pay a $1,195 fee to join the program and $996 annually to re-enroll.
In return for joining the program and complying with its requirements, Mazda certified shops will be promoted on a facility locator and on the www.mazdausa.com website.
"Once the online locator is available, Mazda will also promote the Network through its Customer Experience Center by directing Mazda customers to the shop locator and answering consumer FAQs," Mazda wrote in the FAQ. "Additionally, participating shops that are 'Active' in the Network can highlight their involvement on their websites and at their facilities using the Mazda-provided digital logo and printed Network member certificate." Repairers are permitted to market themselves as a Mazda-certified shop.
Mazda said it won't be promoting shops at the moment a crash is detected — at least not yet.
"As vehicle connectivity increases, a process will be considered," the OEM wrote.
Neither Mazda nor Mitchell mention parts restrictions, an element of some other OEM certification programs. The OEM's only reference to parts in the FAQ simply states, "Today, part conquest is offered to collision repair facilities through OEConnection. Network facilities are encouraged to use OEConnection when procuring Genuine Mazda Parts."
Mazda sold 279,076 vehicles last year, which represented an 0.5 percent increase despite the COVID-19 economy.
More information:
"Mitchell Teams With Mazda North American Operations to Launch U.S. Collision Repair Network"
Mitchell, May 4, 2021
Mazda core certified program requirements
Mazda Collision Network information and applications
Mazda Collision Network brochure
Images:
A 2021 Mazda CX-5 is shown. (Provided by Mazda)
Mazda is launching a certified auto body repair program. (Provided by Mitchell)
Share This: