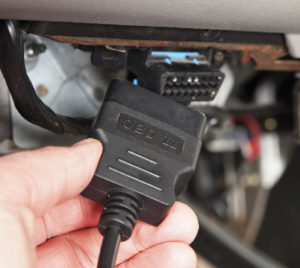 2020 "Who Pays for What?" scanning data found collision repairers frequently conducting pre- and post-repair scanning vehicles and using a variety of tools to do so.
Collision Advice CEO Mike Anderson presented statistics Tuesday to a Dave Luehr's Elite Body Shop Academy webinar indicating that 37 percent of shops ran a diagnostic check before every repair, and 41 percent did so "most" of the time. Post-repair scans were more common, with 47 percent of respondents telling survey authors CRASH Network and Collision Advice that their shop ran the checks on every vehicle. Another 43 percent said they conducted post-repair scans "most" of the time.
The most common reason collision repairers gave for opting against either scan was the vehicle's age.
Anderson said that when a shop says it doesn't scan a vehicle due to its age, it's stating "'I'm smarter than an engineer.'"
"… I love you all, but ladies and gentlemen, you've got to get educated."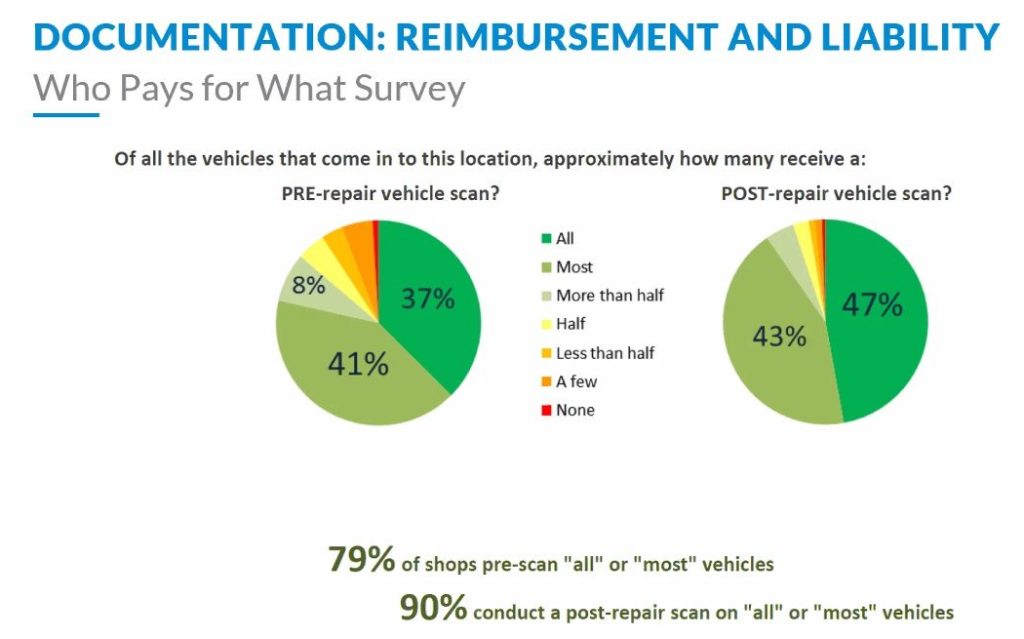 The OBD-II port itself dates back to the 1990s, and other diagnostic technology predates it. In fact, asTech OEM and industry technical relations director Jake Rodenroth told the webinar audience he owns a 1977 Volkswagen Rabbit with a diagnostic port.
Or look at it this way: Multiple OEMs mention ranges of model years in their scanning position statements. Ford mentions the narrowest span of years out of all of them. But even Ford demands shops scan everything going back to model year 2010, and the OEM doesn't rule out the possibility that repair procedures on pre-2010 Fords and Lincolns will demand scans.
Model year 2010 represents an 11-year-old vehicle today. The latest CCC data on insurance claims indicates the average vehicle would already have been declared a total loss before its 10th birthday (9.68 years). The average repairable vehicle in 2020 was only 6.17 years old.
Meanwhile, the average vehicle on the road last year was 11.9 years old, according to IHS Markit. Next year, even that would be a 2010 model.
Other common reasons not to scan cited by "Who Pays?" respondents included the sentiment that the damage didn't warrant one and the sense that the vehicle lacked "any high-tech systems." The study also found more than 10 percent of shops declined to pre- or post-scan vehicles on the grounds that insurers wouldn't cover the operation.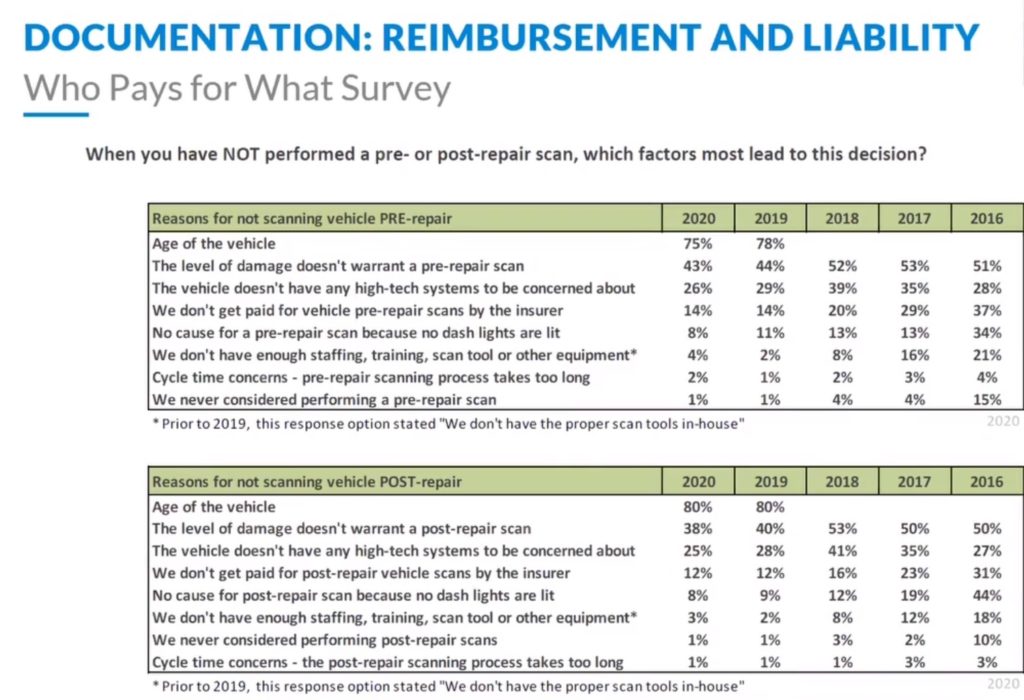 Scan tools
The "Who Pays for What?" study also asked shops to identify all of the scanning methods they used, and the data indicated at least some repairers were alternating between different tools.
67 percent of respondents said they used aftermarket scanning equipment in-house at least some of the time. This represented an increase over 2018, but was lower than a few years ago. (The survey didn't ask the question in 2019.)
However, the proportions of auto body shops also relying on dealers, using OEM scan tools and remote diagnostics providers also grew between 2018 and 2020, though the proportion of shops using dealers was higher back in 2016.
Fifty-three percent of shops relied on remote scanning providers, compared to 42 percent in 2018. Forty percent sent vehicles to dealerships in 2020, while just 25 percent did two years prior. The percentage of shops using OEM scan tools in-house rose 11 percentage points to 28 percent of the industry.
As noted above, shops could — and did — select multiple scanning methodologies. A separate question asked which method represented their most common way of scanning a vehicle.
Aftermarket scan tools in-house were the most popular here as well, with 48 percent of respondents calling it their most prevalent scan technique. Remote scanning services proved the second most common practice, and operating OEM factory scan tools in house ranked third.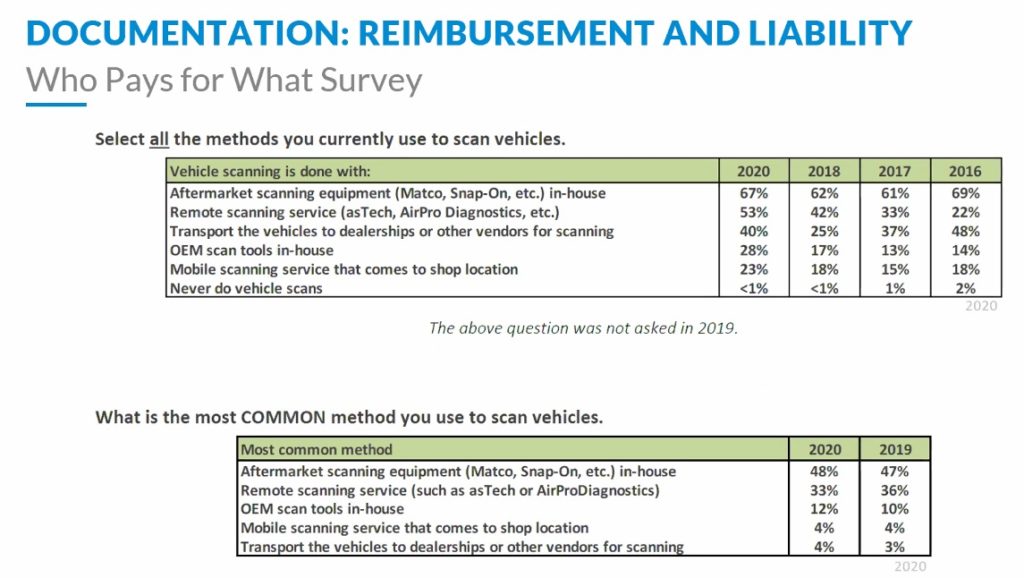 The Society of Collision Repair Specialists, Automotive Service Association and Alliance of Automotive Service Providers recently issued a position statement related to repairers' choice of scanning methodology.
"On behalf of the combined efforts from Industry Associations, collision repair professionals, scan tool providers and various subject matter experts, the Automotive Service Associated (ASA), the Society of Collision Repair Specialist (SCRS) and the Alliance of Automotive Service Providers (AASP) acknowledges the act of scanning a vehicle using a qualified scan tool as a necessary and not-included operation that is legitimately expressed on a repair order with either a fixed cost, in labor hours and/or set dollar amount," the organizations wrote.
The trade groups defined qualified scan tools as "OEM approved" devices.
In presenting the position statement to the April Collision Industry Conference, SCRS Executive Director Aaron Schulenburg explained that the document doesn't tell repairers which tools to use. "This is not a technical document," he said.
Rather, the position recognizes that if a repairer chooses to use a "qualified tool … an alternative solution to that should not be a reason that you don't get recognized for the appropriate costs of using the right tool," Schulenburg said.
Schulenburg said body shops trying to fix vehicles correctly using the right tools face "a great deal of downward pressure" in the field. He said the trade groups' action represented a resource to show "they're not alone" in seeking a "proper repair" using the "proper tools."
"Repairs, or processes, or tools that don't meet those same specifications should not be a reason that those repairers should not bill for those operations appropriately," Schulenburg said.
In a similar vein, CCC and Mitchell have cited such a variety of scanning methodologies as a reason why no labor time exists for scanning. Audatex issues some scanning labor times but says they only apply to a narrowly defined process using only "an OEM or OEM equivalent scan tool utilizing the SAE J2534 interface."
More information:
Dave Luehr's Elite Body Shop Academy, April 27, 2021
Alliance of Automotive Service Providers, Automotive Service Association, Society of Collision Repair Specialists joint position statement on scanning
SCRS March 5, 2021
I-CAR Repairability Technical Support portal links to official OEM repair procedure websites
Images:
It's important to scan vehicles, OEM position statements state. (BanksPhotos/iStock)
A 2020 "Who Pays for What?" survey found vehicle pre- and post-repair scanning to be quite common. (Provided by Collision Advice and CRASH Network)
A 2020 "Who Pays for What?" survey found vehicle age to be the main reason cited for not scanning vehicles. (Provided by Collision Advice and CRASH Network)
A 2020 "Who Pays for What?" survey found a variety of scan methodologies in use in the collision repair industry. (Provided by Collision Advice and CRASH Network)
Share This: