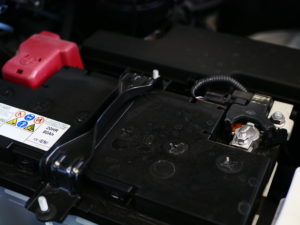 Two presentations this week highlighted how issues with a battery can affect collision repair diagnostic scanning.
Collision Advice CEO Mike Anderson told an April 28 Dave Luehr's Elite Body Shop Academy webinar that about 20 percent of vehicles need a completely new battery "before you ever touch the vehicle."
A dying battery can lead to diagnostic trouble codes thrown over lost communications with electronics, according to Anderson.
"That percentage could be even higher" if the shop is located somewhere particularly hot or cold, Anderson said.
Anderson didn't cite the source of the 20 percent statistic. However, another collision repair video also recently mentioned the potential for a dud battery to appear and create a different headache for a body shop.
Society of Collision Repair Specialists board member Michael Bradshaw said his shop, K&M Collision, had instituted a standard operating procedure of battery testing at intake.
Otherwise, the battery might not be revealed as insufficient until a shop attempts to restart the vehicle electrical system late in the repair, Bradshaw said during an SCRS "Kool Tools" video posted earlier in April. The shop must contact the customer at the last minute and inform them a new battery is needed.
"It just creates a lot of chaos," Bradshaw said of such scenarios.
Battery support
A day after Anderson's comments on the Luehr webinar, asTech OEM and industry technical relations director Jake Rodenroth advocated using a battery maintainer for vehicle diagnostics.
Rodenroth described to an April 29 Collision Hub "World Fair" audience how a scan on a 2019 Nissan Sentra without battery support showed the battery running at 9 volts.
Following application of a battery maintainer, the system showed 13.3 volts.
At 9 volts, "I was actually missing controllers" during the vehicle scan, Rodenroth said.
He said vehicles are "smart enough" in a lower-voltage situation to shut off controllers which weren't germane to starting the car. Systems like navigation and air conditioning are typically among the first to be sacrificed by the vehicle, he said.
Rodenroth called it a "diagnostics best practice" to run battery support.
"A jump box is not battery support," Anderson cautioned during the Luehr webinar. He said a trickle box also wouldn't work.
Chris Arcudi, co-owner of Dents and Dings, asked during the Luehr webinar if battery support could be connected to a vehicle power post. Rodenroth, who also appeared in that broadcast, said he personally felt it was better to still use the battery.
"A lot of these vehicles, especially vehicles with start-stop technology, have battery load sensors on the positive cable," Rodenroth said.
He said he felt that sticking to the source would be better than using the jump point.
"A jump point wasn't really intended to stabilize a vehicle's current," Rodenroth said.
More information:
Dave Luehr's Elite Body Shop Academy, April 27, 2021
"Should Your Collision Repair Shop Perform In-House Diagnostics & Calibration"
Collision Hub, April 28, 2021
Featured image: A vehicle battery is shown. (Supersmario/iStock)
Share This: