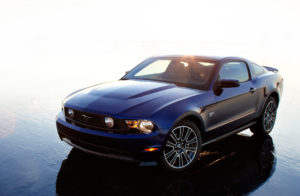 Ford on Monday released position statements declaring all Ford and Lincoln vehicles "from and including model year 2010 forward" to require both pre- and post-repair scans.
The two statements, which are virtually identical, define collisions as "damage that exceeds minor outer body panel cosmetic distortion."
"All Ford Motor Company vehicles from and including model year 2010 forward involved in a collision require a pre-repair diagnostic scan during the estimation phase of a collision repair to properly identify all required repairs," Ford continued in a statement mirrored in the Lincoln document. "During the repair process, certain modules and other system components may require calibration or initialization to properly complete the repair. Additionally, the vehicle must have a post-repair diagnostic scan completed after the vehicle has been repaired to verify that new faults have not been introduced in the course of the repair and to verify that the vehicle has been fully repaired."
Ford explained that scans matter because:
1. Preliminary diagnostic scans provide a baseline to the condition of the systems on the vehicle, and what concerns may need to be addressed during the vehicle repair plan development.
2. Not every malfunction will illuminate a malfunction warning light (MIL) or message center warning.
3. A system may require a certain number of drive or function cycles in order to set a warning light or manifest a concern.
4. Low battery voltage may allow for numerous Diagnostic Trouble Codes (DTCs) to set. (Emphasis Ford's. Minor formatting edits.)
The OEM recommended shops use the Integrated Diagnostic System or Ford Diagnostic and Repair System OEM software for all scans, calibrations and programming on Fords and Lincolns. The IDS requires Ford hardware; the FDRS is compatible with J-2534 devices as well as Ford hardware.
Asked about the 2010 date, Ford replied:
Collision Position Statements are released by Ford and Lincoln to provide an OEM stance and guidelines on collision repairs but do not provide specific repair procedures that are found in the workshop manual. All repair procedures that are part of the Ford and Lincoln OEM Workshop Manual should be followed completely during the course of a collision repair.
2010 was chosen for the Pre-Post Scan Position statement since it was the first year that a collision avoidance system was made available in a Ford or Lincoln vehicle. Collision Warning with Brake Support was released on the 2010 Lincoln MKS and kicked off the implementation of Collision Avoidance Technology and the start of Automated Driving Assist System (ADAS) technology that continues to be developed and  released in Ford and Lincoln vehicles today.
Diagnostic scans should be conducted as part of a vehicle repair plan when directed in the OEM Ford and Lincoln Workshop Manual on all pre-2010 Ford and Lincoln vehicles.
Essentially, repairers and insurers can't assume that pre-2010 Fords don't need a diagnostic check, only that 2010 to current Fords definitely do.
Ford's own IDS software, for example, scans Ford vehicles dating back to 1997. Big Sky Collision owner Matthew McDonnell has tracked pre-2010 Fords failing to display MIL lights yet revealing fault codes pre- and post-repair.

Ford also warns against using anything other than new OEM parts, noting they can even "cause erroneous DTCs."
Ford had been one of the holdouts in terms of providing a formal scanning position statement.
During the MSO Symposium at NACE 2017, Ford collision marketing manager Mark Mandl said that while Ford didn't have a position statement on pre- and post-repair scanning, "it's very clearly" in the OEM's repair procedures.
"It absolutely should be done," he said then.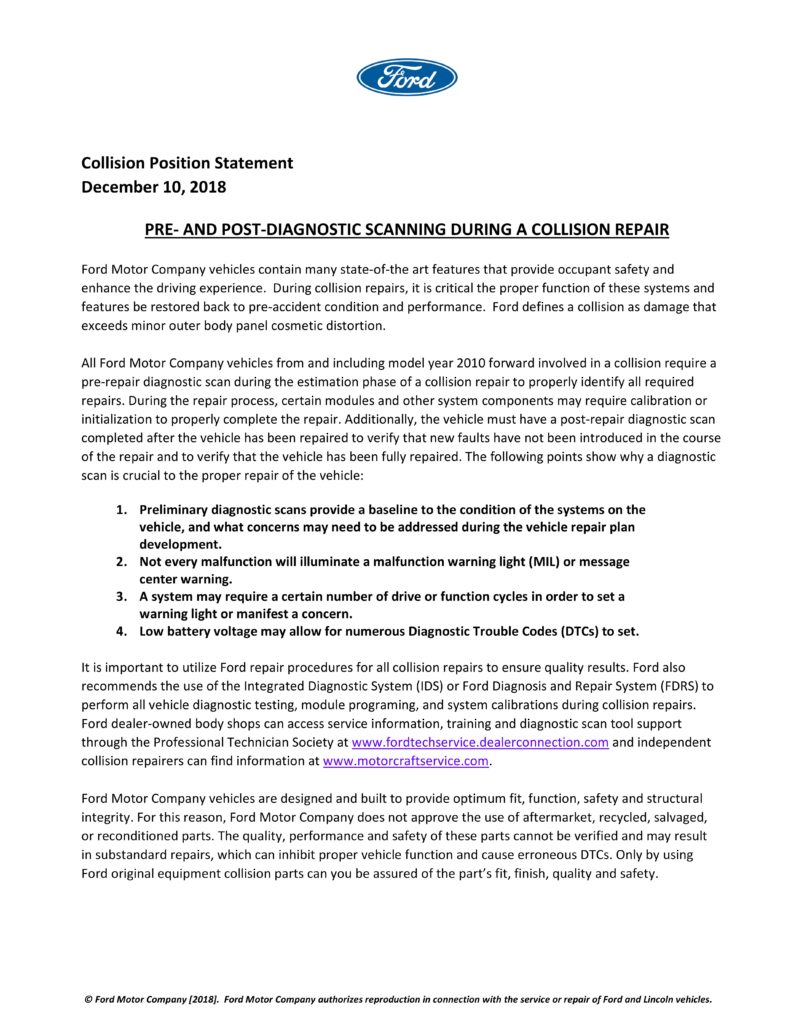 AsTech industry relations director Jake Rodenroth in February pointed out a document found within Lincoln repair procedures which helps make that point: the "Diagnostic Methods" section of the 2017 Lincoln Continental OEM repair procedures.  We found what appeared to be the same document in the opening pages of the repair procedures for the 2017 Ford F-150 and Escape, Ford's No. 1- and No. 2-selling vehicles last year.
The document implied that you would want to scan the vehicle before a repair:
Performing a network test is always recommended for analysis of electronic system concerns. Always solve network issues before addressing individual symptoms or DTCs. …
Generally, a good diagnostic strategy is to resolve all on-demand codes related to the system concern. Retrieving all continuous DTCs can also be beneficial to understand historic issues or issues outside of the suspect system that may be affecting your concern. On-demand testing should be done to ensure the fault represented by a continuous DTC is still present.
Ford global collision business and strategy manager Jennifer Boyer said scanning continues to be in the OEM repair procedures. However, in speaking with different stakeholders, "we felt it was appropriate" to issue a position statement as well.
She said it was tied to Ford's philosophy to produce "quality, safe" repairs.
The current Ford certification program under Assured Performance requires shops to "perform pre- and post-repair vehicle diagnostic scans and proof of calibrations." It doesn't specify an OEM scan tool per se, and Boyer said Ford wouldn't require shops to buy one when it launches the new version of its certification network in 2019.
Boyer said she had nothing to share at the moment regarding a possible Ford calibration position statement, but the OEM was keeping an eye on where it would be appropriate to issue statements.
More information:
"PRE- AND POST-DIAGNOSTIC SCANNING DURING A COLLISION REPAIR"
Ford, Dec. 10, 2018
"PRE- AND POST-DIAGNOSTIC SCANNING DURING A COLLISION REPAIR"
Lincoln, Dec. 10, 2018
Ford and Lincoln OEM repair procedures
Images:
The 2010 Ford Mustang GT is shown. Ford in 2018 said all vehicles dating back to 2010 must be pre- and post-scanned. (Provided by Ford)
Big Sky Collision owner Matthew McDonnell has tracked pre-2010 Fords failing to display MIL lights yet revealing fault codes pre- and post-repair. (Provided by Big Sky Collision)
Ford on Dec. 10, 2018, released position statements declaring all Ford vehicles "from and including model year 2010 forward" to require both pre- and post-repair scans. (Provided by Ford)
Share This: