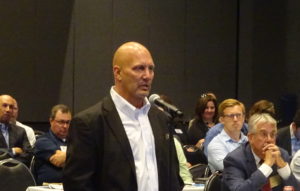 Collision Advice CEO Mike Anderson last month demonstrated how Subaru OEM repair procedures might prevent repairers from installing a recycled quarter panel.
During a webinar on accessing OEM repair procedures, he directed viewers to the instructions contained in an unspecified BS-style body manual. It's unclear which specific models and years the guidelines would encompass.
"For new spot welding, avoid previously welded locations," Subaru wrote. (Emphasis Subaru's.)
Installing a used quarter panel, "which we definitely think is a no-no," would require a repairer to weld it in the same place, Anderson said.
Anderson said "this statement, and this statement alone," should discourage repairers from using any welded recycled parts, including a quarter panel. (It's unclear if he was truly referring to all welded parts or just the subset of recycled parts with spot welding.)
This is yet another reason why both repairers and insurers need to consult repair procedures before preparing an estimate or selecting parts other than new OEM components.
Other OEMs might have similar cautions regarding where you can weld. For example, here's FCA in the free version of its 2018 Jeep Wrangler body manual (you'll need to consult the paid, dynamic manual on an actual repair, however):
FCA US LLC recommends the same quantity of welds as the original panel, but placement of the new weld should NOT be put directly on the original spot weld location. Placement of a new weld over an original weld location may lead to metal fatigue or poor weld quality. (Emphasis FCA's.)
Collision Hub's "Repair University Live" earlier this year also provided two other arguments against using recycled quarter panels.
In a March video, hosts Kristen Felder (Collision Hub), Larry Montanez (P&L Consultants) and Mark Olson (VECO Collision Experts) showed that science and logic prevent the operation and, even if that weren't the case, revising ones technique to make the donor part suitable would cost more than the price to install a new quarter.
More from Subaru on welding
The Subaru BS forward highlighted in Anderson's November webinar carried other warnings for repairers as well:
• After spot welding, inspect the welding locations, and if the weld appears to be insufficient, perform plug welding.
• Shape correction by heating and splice welding shall not be performed for components using 980 MPa class and 1500 MPa class high-strength tensile steel because this may decrease the strength of the material. (Emphasis Subaru's. Minor formatting edit.)

The document also described how wide plug holes should be on steels of less than 980 megapascals.
Part 2 of Anderson's Subaru repair procedure webinar series is scheduled for Thursday. Get registration details here.
More information:
"Subaru TechInfo Part 1 OEM Webinar Learn to Research, Research to Learn"
Collision Advice YouTube channel, Nov. 27, 2018
Subaru OEM repair procedures website
Featured image: Collision Advice CEO Mike Anderson speaks at the Aug. 7, 2018, Collision Industry Conference. (John Huetter/Repairer Driven News)
Share This: