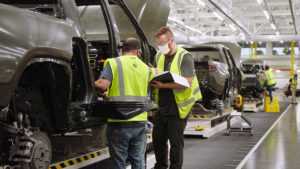 The Rivian R1T electric truck and R1S electric SUV reaching customers this summer will feature a mixed-material design including ultra-high-strength steel, aluminum and carbon fiber, and the truck — likely the first electric pickup reaching consumers — will carry a "structural composite" bed.
"Structures made from aluminum alloy, ultra high-strength steel and carbon fiber are designed for enhanced safety," Rivian wrote of both vehicles. "Our platform's low center of gravity helps prevent rollover and keeps you confidently planted."
The vehicles' platforms include the battery, lower body structure and four motors ("quad-motor drive"). The platform also contributes automatic ride leveling, active damping, and an "electro-hydraulic" anti-roll system instead of a mechanical bar as standard features. The R1S can automatically lower itself to 8.1 inches off the ground when you're parked.
It's unclear if the vehicle would be classified as body-on-frame, however; other OEMs employing a "skateboard" electric vehicle platform remain unibody. Rivian did not respond to a Friday request for more details on the body.
Photos posted on Rivian's website provide a sense of what certified shops and other collision repairers can expect from the bodies. If you've got a lot of wealthy outdoorsy types in your market, these vehicles could certainly be ones to watch.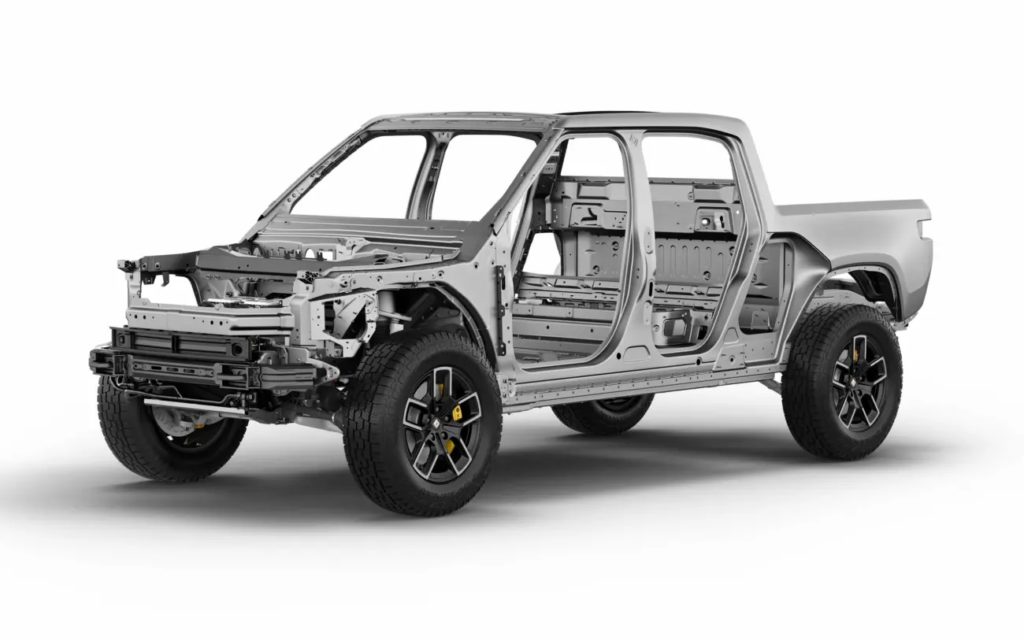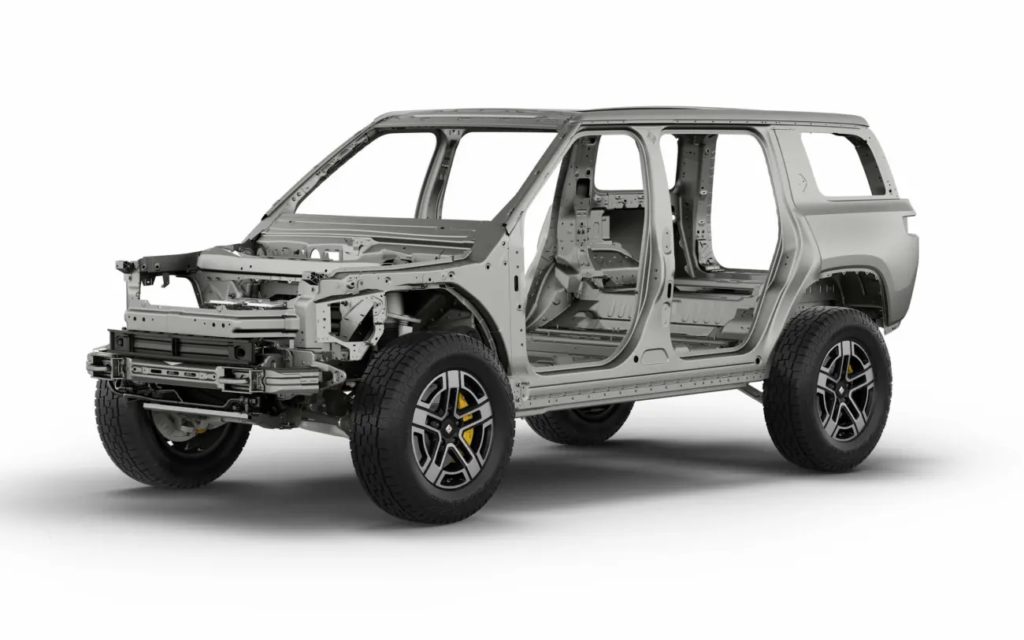 The Launch Edition versions of the R1S and R1T appearing this summer and the higher-trim, Adventure models coming in January 2022 both feature an "Off-Road Upgrade with reinforced underbody shield, dual front bumper tow hooks and air compressor" standard. They all cost $7,500 more than the base Explore edition.
"Protecting the underbody of our vehicle is a layered shield of high-strength steel, alloyed aluminum and carbon fiber composite," Rivian describes the platform in what might be a reference to the reinforced underbody shield of the higher-trim Rivians. "Engineered to absorb, deflect and distribute force from impacts, the shield is designed for maximum protection in the most extreme off-road conditions."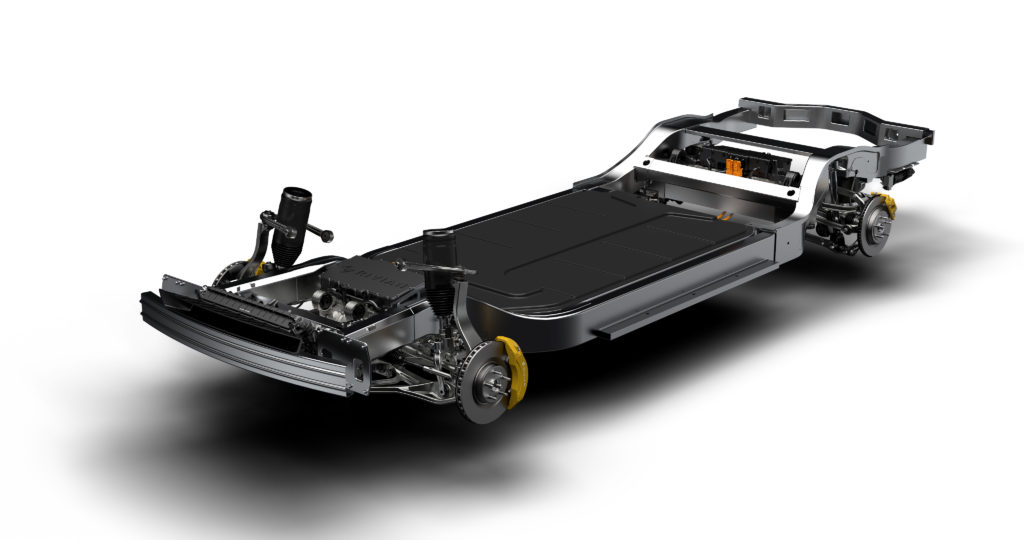 Other body elements might be a little different than what repairers find on a typical truck or SUV.
In addition to the composite truck bed, the R1T comes with either an optional removable four-panel bed cover or a powered retractable tonneau cover. It also has two 110-volt outlets and a storage compartment for an optional spare tire.
A Gear Tunnel behind the R1T's rear doors offers an additional 11 feet of space. Its doors open downward like a tailgate and can hold 300 pounds. ("Years struggling with rooftop racks drove us to turn the Gear Tunnel doors into platforms you can stand on," Rivian writes.)
The four bed cover panels would be stored in the Gear Tunnel normally if the customer didn't upgrade to the retractable tonneau cover. A modular, two-burner Camp Kitchen accessory for the R1T "slides in-and-out on our Rivian shuttle system, a platform that has been developed to support a range of future Gear Tunnel accessories."
The R1T and R1S have a glass panoramic roof. A removable roof option is planned for mid-2022.
There's a front trunk with hooks inside for shopping bags.
The SUV can tow up to 7,700 pounds, while the truck can tow up to 11,000 pounds. However, Rivian notes that the more than 300-mile battery range on the R1T will experience "around a 50% reduction."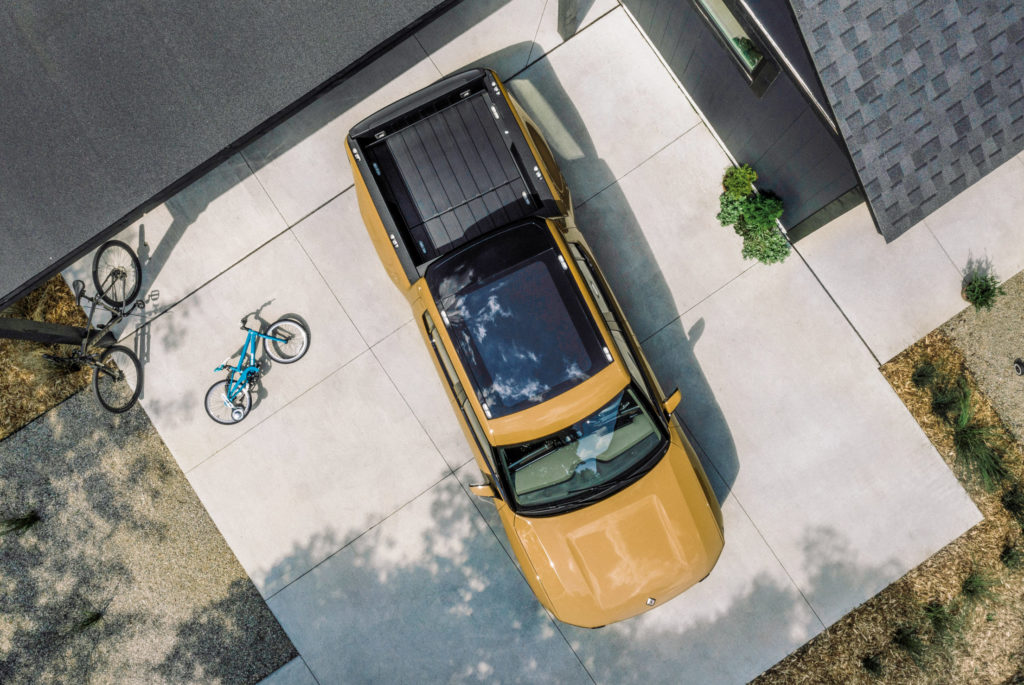 More information:
Images:
Early versions of Rivian R1Ts are shown in this 2018 photo. Actual deliveries begin in summer 2021. Note the "Gear Tunnel" behind the rear cab seat. (Provided by Rivian)
The body of a Rivian R1T is shown. (Provided by Rivian)
The body of a Rivian R1S is shown. (Provided by Rivian)
Rivian's electric vehicle platform for the R1T and R1S is shown. (Provided by Rivian)
Share This: