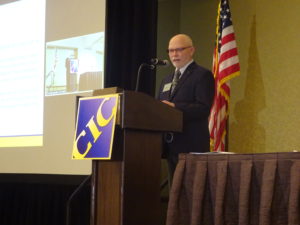 The Collision Industry Conference on Monday announced that the entire collision ecosystem can now show up in person to the July 15 summit in Cleveland, Ohio.
"Ohio COVID restrictions have lifted, and we can now allow ALL participants to register for In Person!" the CIC announced Monday.
However, the July CIC will still be streamed online and permit participation virtually, similar to the April hybrid CIC in Phoenix, Ariz.
Registration for either the in-person or virtual event costs $75. Register here.
The April summit had limited in-person attendance to Gold Pin members and allowed the rest of the industry to simultaneously view and participate in the event virtually.
This was the initial plan for the July CIC, though organizers had left open the idea of expanding in-person attendance if Ohio's COVID-19 rules changed.
Ohio Gov. Mike DeWine on May 12 said he asked the Ohio Department of Health to end most pandemic health rules June 2. He said this would give everyone who wants a vaccine enough time to get one first.
"Measures being removed will include facial covering protocols, social distancing guidelines, and capacity restrictions for indoor and outdoor events," his office wrote in a news release.
The city of Cleveland and Renaissance Cleveland Hotel might still have their own rules in place. However, the CIC described the event as fairly normal for vaccinated attendees. Organizers said the summit would still accommodate both the unvaccinated and people who "still desire their space."
"While restrictions have been lifted, we are offering a mix of seating to include socially distanced options for those who still desire their space!" the CIC wrote. "State guidelines also say that those who are fully vaccinated do not have to wear a mask. That said, we will be using the honor system for this protocol. Masks and hand sanitizer will be available at the registration desk."
The state mostly dropped its mask requirements June 2, but DeWine has encouraged all Ohio residents who aren't vaccinated to keep wearing them.
"It's important that those not fully vaccinated continue to wear masks indoors and follow other preventative measures to keep themselves as healthy as possible," DeWine said in a statement June 1.
The Centers for Disease Control said that as of Sunday, 52.8 percent of adults (age 18 or older) have been fully vaccinated. The CDC generally considers people fully vaccinated if it's been two weeks after the second dose in a two-dose treatment like Pfizer and Moderna's or two weeks after a single-dose vaccine like Johnson & Johnson's.
So come on out to Ohio! Discounted rooms are available at the Renaissance Cleveland Hotel venue (deadline is June 14). In addition to the CIC, which runs 8 a.m.- 5 p.m. Thursday, July 15, with a reception at 6:30 p.m. that day, the Collision Repair Education Foundation and Society of Collision Repair Specialists are also holding in-person events.
CREF will hold a golf outing Tuesday, July 13, at noon along with a reception Monday, July 12, at 6 p.m. SCRS will hold its affiliates conference from 8 a.m.-1 p.m. Wednesday, July 14, and an open board meeting 3-5 p.m. that day. Both members and non-members are welcome to attend the SCRS board meeting; SCRS just asks that you RSVP to info@scrs.com.
More information:
Collision Industry Conference July 15, 2021, meeting registration
Centers for Disease Control COVID-19 webpage
Featured image: Collision Industry Conference Chairman Darrell Amberson (LaMettry's Collision) addresses the in-person and virtual April 21, 2021, Collision Industry Conference. (John Huetter/Repairer Driven News)
Share This: