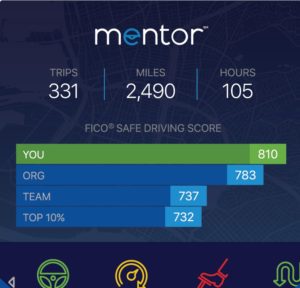 Solera on Wednesday announced it had bought eDriving, a smartphone telematics software provider allowing "many of the world's largest commercial fleets" to monitor and improve driver behavior.
"eDriving identifies and remediates risky commercial driver behavior," Solera wrote in a news release. "The company's flagship product, Mentor by eDrivingSM, provides a unique smart-phone-based driver safety solution that uses telematics to analyze operator behavior in real time, improving roadway safety. It also generates a FICO® Safe Driving Score to benchmark drivers against their peers and deploys safe-driving e-Learning programs in an easy-to-implement, highly secure environment."
Solera said eDriving "has helped organizations in 125 countries improve road safety and lower the total cost of fleet ownership."
Telematics technology matters to collision repairers, and Solera's reach with insurers and fleets might make this particular telematics product even more relevant to the industry.
"Solera is committed to advancing digital fleet management through cutting-edge technology and real time data that improves business outcomes," Solera CEO Darko Dejanovic said in a statement. "eDriving's suite of driver safety and risk reduction solutions will further enhance our existing products as well as uniquely bridge the gap between vehicle and driver performance on a global scale."
Repairers who do a lot of fleet business might see a little less of it if their customers' employees improve as drivers.
"From 2018-20, 240,000 drivers have driven in excess of 1.7 Billion miles and viewed 2.7M micro-training modules, and the results speak for themselves – 32% and 38% risk reduction among high-risk drivers over 6 and 15 months, respectively," eDriving boasts. (Emphasis eDriving's.)
Insurers who can offer telematics-based insurance actually know whether their customers are good or bad drivers — actuaries no longer have to apply generalizations to guesstimate the risk a particular customer. Such carriers therefore know who's a safe bet and can offer lower rates to lure away policyholders from rivals who lack such intelligence. Conversely, they can also charge more to customers whose employees are bad drivers and don't improve, potentially driving those clients to other insurers. All of this could have ramifications for commercial insurance direct repair programs.
eDriving says commercial auto premiums keep increasing but losses "have persisted for the past 7 years."
"Partner with eDriving to address the profitability issue from a different perspective, attacking the real issue – losses – head-on," the company's website tells insurers. "Risk Managed Insurance by eDriving (RMI) uses sophisticated techniques to identify the scope of the risk, and subsequently deploys state-of-the-art risk mitigation tools to reduce collisions, incidents, injuries and near-misses. The combination of clearly identified exposures and reduced losses, in conjunction with accurate pricing, can dramatically improve performance at both the customer and portfolio levels." (Emphasis eDriving's.)
Finally, telematics permits insurers to offer the same crash detection and repair shop recommendation feature as an OEM, which also has ramifications for DRP and non-DRP shops. eDriving's Driver Event Reporting tool doesn't appear to have this capability — instead, it coaches the driver on how to record and submit details on a claim — but this would be something to watch.
Asked if Solera had such a product already for private passenger auto insurance, it replied Friday: "Solera is the largest provider of driver monitoring solutions to U.S. P&C carriers today.  eDriving's complimentary product line, has the potential to greatly extend that capability."
The Audatex and Qapter parent company said it was indeed likely to apply eDriving to that market. This could have an even broader impact upon the collision industry.
"Yes, it makes sense to take advantage of our strong position in P&C and adapt portions of the eDriving product suite for use in Personal Auto," Solera wrote in an email.
"This is a strategic next-step in our long-standing partnership with Solera and creates tremendous global market opportunities for both companies," eDriving CEO Ed Dubens said in a statement. "New and existing customers will have access to innovative solutions that improve road safety and protect their employees."
In other Solera fleet news, the information provider on Monday announced it had closed on its purchase of the fleet management platform Omnitracs as well as on eDriving. It said it also had finished buying DealerSocket, which possesses a suite of products aimed at car dealerships, including dealer and customer management systems.
More information:
Solera, June 2, 2021
Share This: