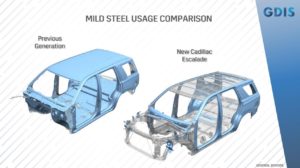 Collision repairers will find less mild steel and more higher-strength components with thinner gauges on the 2021 Cadillac Escalade, General Motors said late this spring.
GM lead upper structure engineer Jeff McCormick told the virtual 2021 Great Designs in Steel on May 19 that his OEM had replaced a prior-generation Escalade body made of 52 percent mild steel with a next-generation structure that was only 25 percent mild steel.
The roof and floor of the 2021 Escalade were "no longer mild steel," McCormick said. The low-strength metal was now limited to primarily the bodyside outer, the cowl and some inner panels, he said.
McCormick presented a slide showing how switching to higher-strength steels between the 2020 and 2021 generations yielded multiple parts less than 0.65 mm thick, the point at which he said he classified components as "lightweight panels."
The prior-generation Escalade had a handful of 0.65 mm panels and even reached the 0.60 mm point at a couple of points. But a large surface area on the 2021 model reaches those thin measurements, based on the slide.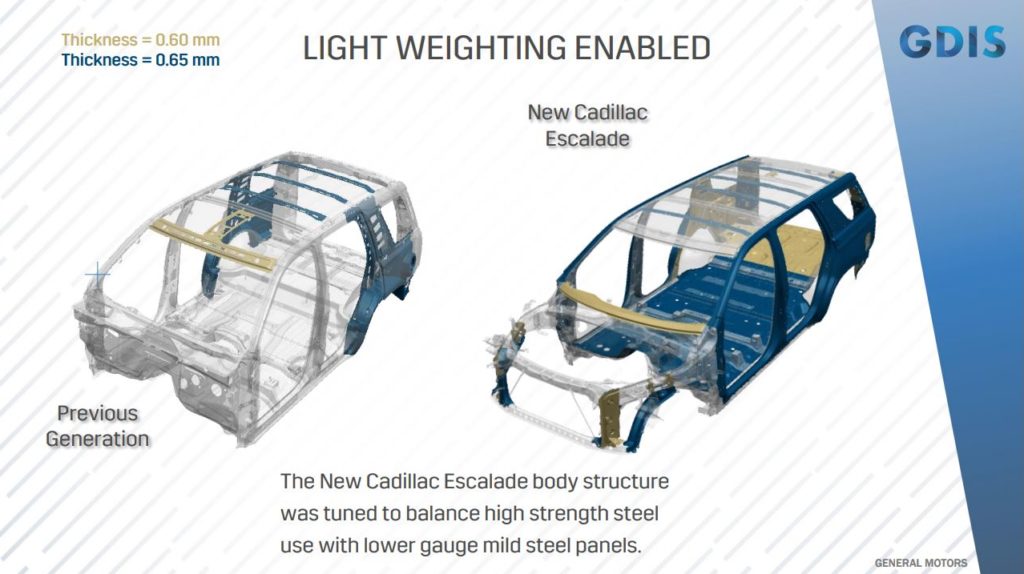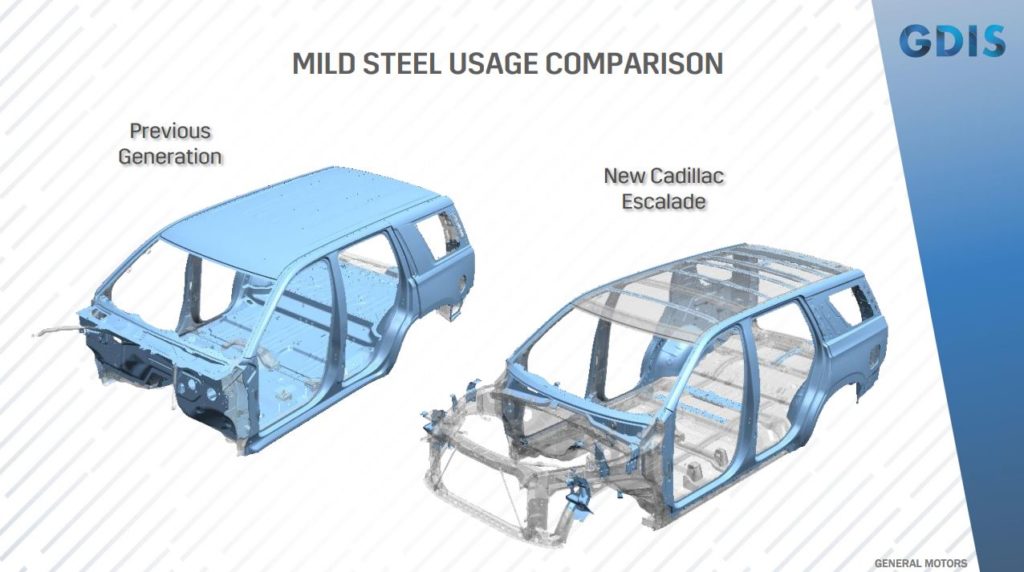 High-strength steel content rises from 33 percent of the Escalade body to 39 percent.
Cadillac built the 2021 Escalade's roof out of bake-hard steel, permitting a lower gauge that still met criteria for factors like hail damage, according to McCormick. He said the floor was high-strength, low-alloy 340 steel and weighed less than the old Escalade floor — despite being longer.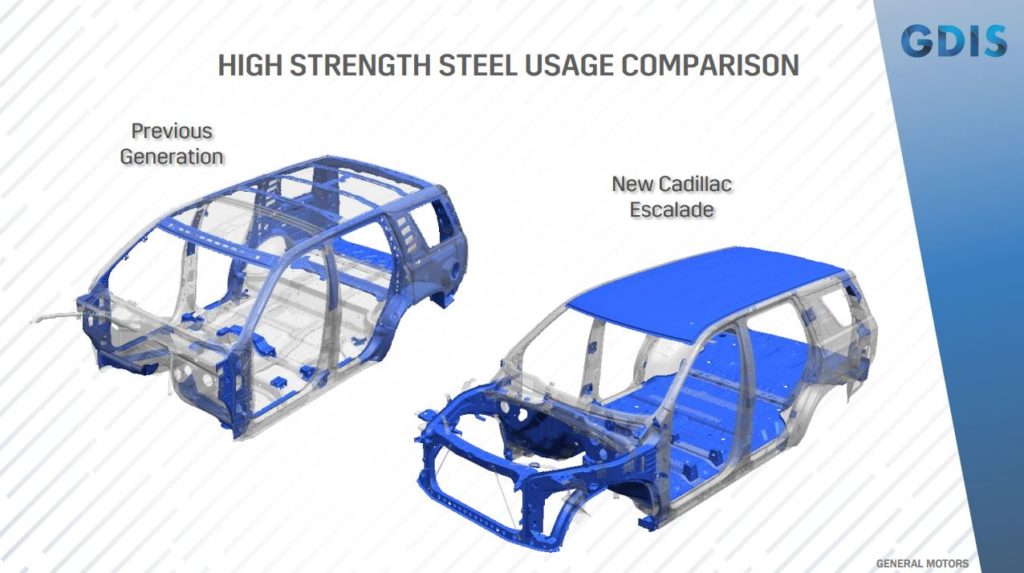 Switching to high-strength steel shrank the front part of the floor to 0.65 mm and the rear of the floorpan to 0.6 mm, shedding 13.2 pounds from the vehicle's weight, according to McCormick. "Some really good savings there," he said.
Advanced high-strength steel usage grew from 6 percent of the 2020 Escalade's body to 19 percent of the 2021 edition's structure. Altogether, 36 percent of the 2021 Escalade is advanced high-strength steel or stronger. Based on GM's general steel repairability matrix, this growth means more areas of the body might be subject to repair and/or sectioning restrictions.
McCormick said repairers would find advanced high-strength deployed "a lot" for cross-vehicle components, noting how nearly all crossmembers along the floorpan featured the metal. He said that the advanced high-strength parts, improved sections, and better alignment of mounts boosted floorplan stiffness without additional mass.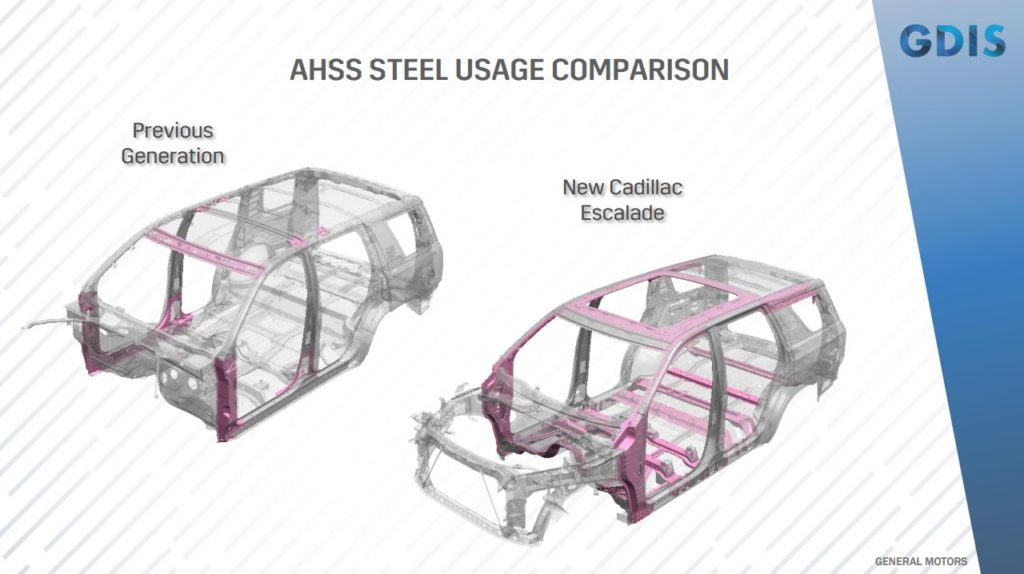 Ultra-high-strength steel also skyrocketed from 2 percent of the old body to 12 percent of the new one.
It primarily existed in the rocker, McCormick said. The inner was Martensitic 1500 steel, while the outer was Grade 12 multiphase Martensitic 1180 steel, he said. The B-pillar inner and B-pillar roof bow also are comprised of UHSS, which McCormick said helped mitigate roof crush and side impacts.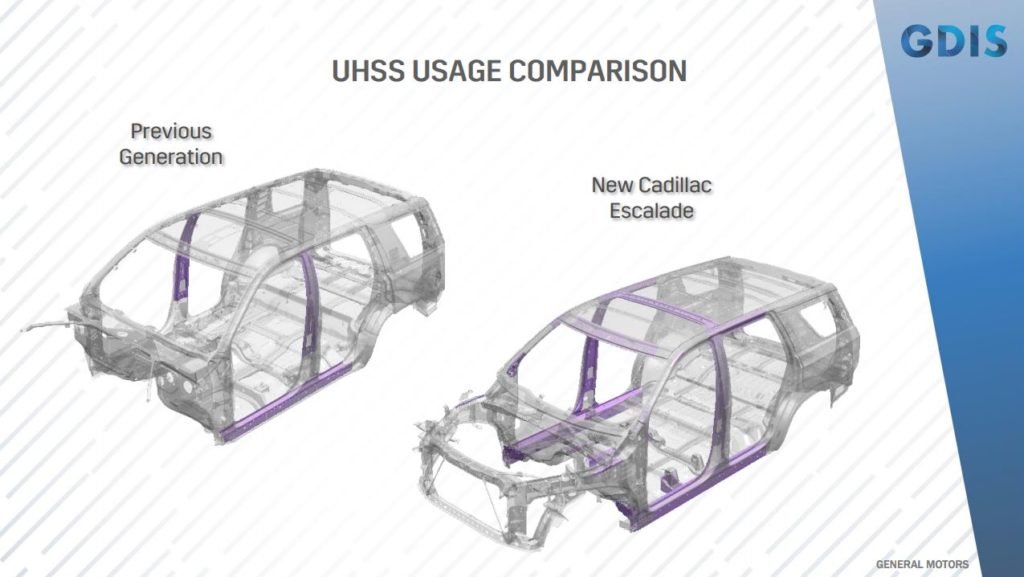 The roof bow had been press-hardened steel in the Escalade's predecessor, McCormick said. Otherwise, press-hardened steel's locations remained similar to the prior-gen Escalade, based on one of his presentation slides. PHS content shrank from 7 percent of the vehicle to 5 percent of the Escalade body, according to a GM slide.
McCormick did note that the press-hardened B-pillar outer changed its method of production between generations. The new part was a tailor-rolled blank, which allowed Cadillac to create it with a lower weight than the prior PHS version, he said.
Altogether, the 2021 Escalade's B-pillar assembly saved 0.44 pounds but reached a roof crush target set "quite a bit higher" — 50 percent more — than the 2020 model, according to McCormick. This all represented "a nice win for us there," he said.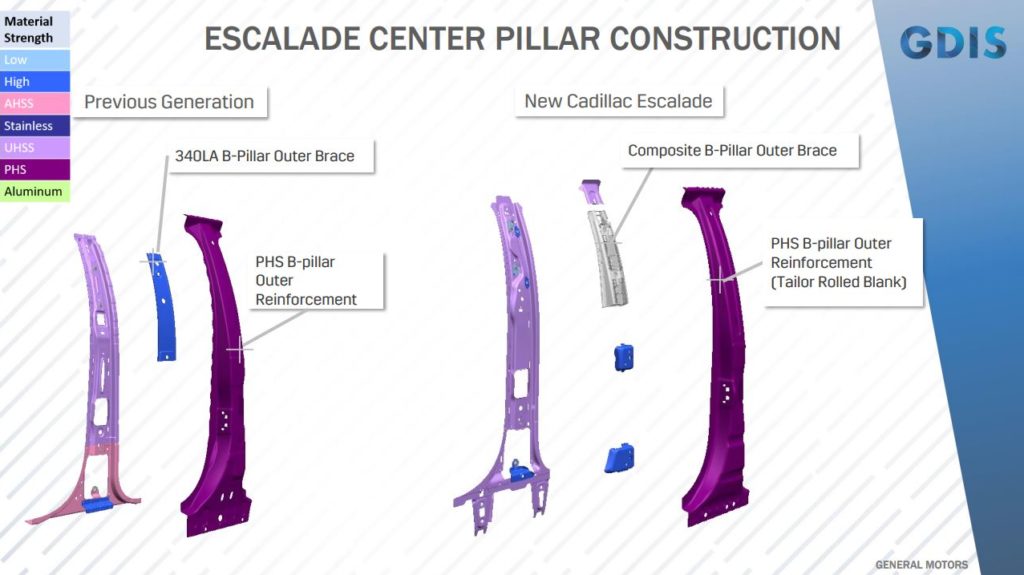 GM also dipped into third-generation steels for the Escalade. This new family of high-strength steels delivers light weight and high strength but also permits a greater level of formability.
"We were able to use that," McCormick said of Gen 3 steel. It can be found in the Escalade's inner roof rail, a part McCormick said offered a "good opportunity to apply this steel" and take advantage of its malleability and strength. GM attached brackets to it using the OEM's patented spiral laser welding technique, he said.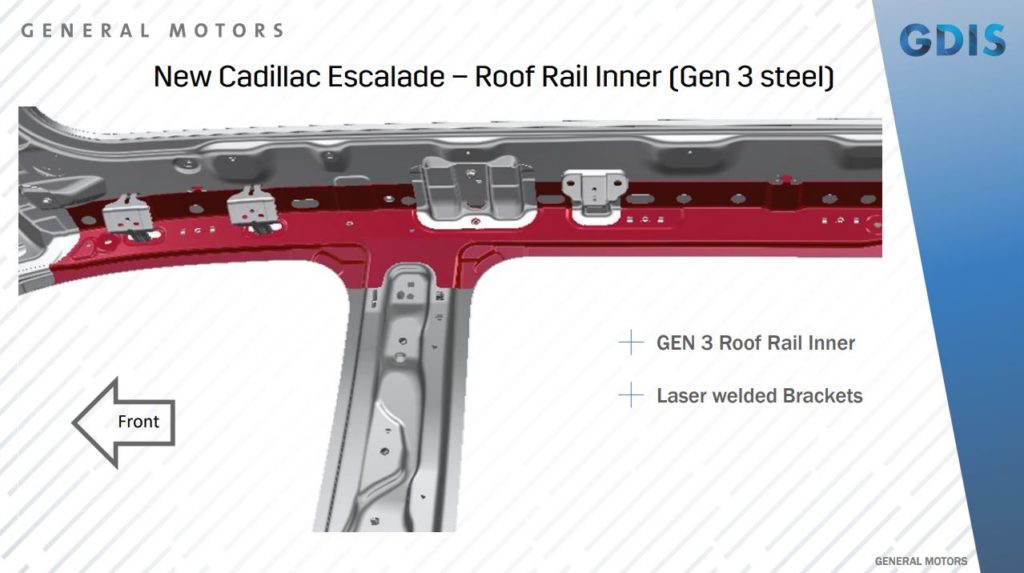 Other materials of note: Cadillac switched out a HSLA 340 steel B-pillar upper reinforcement for a composite nylon one first developed for GM's truck platform, according to McCormick. The OEM also deployed an aluminum cowl panel, he said.
An audience member referenced the thin bodyside outer and asked if GM used any patch reinforcements to prevent denting.
"Not so much to prevent denting," McCormick said. He said a patch on the passenger-side sail panel might be necessary for local stiffness. He said GM sometimes adds such patches to combat door ring noise. But denting hasn't been too much of an issue, he said.
More information:
General Motors at Great Designs in Steel, May 19, 2021
"2021 CADILLAC ESCALADE STRUCTURE REVIEW"
General Motors at Great Designs in Steel, May 19, 2021
Official GM OEM repair procedures
Images:
Mild steel content plummets dramatically between the 2020 and next-generation 2021 Cadillac Escalade. (General Motors slide provided by Great Designs in Steel)
The 2021 Cadillac Escalade has more thin parts at or below 0.65 mm and 0.6 mm, according to General Motors. (General Motors slide provided by Great Designs in Steel)
Mild steel content plummets dramatically between the 2020 and next-generation 2021 Cadillac Escalade. However, higher-strength steel concentrations increased between generations. (General Motors slide provided by Great Designs in Steel)
High-strength steel content increased between the 2020 and next-generation 2021 Cadillac Escalade bodies. (General Motors slide provided by Great Designs in Steel)
Advanced high-strength steel content increased dramatically between the 2020 and next-generation 2021 Cadillac Escalade bodies. (General Motors slide provided by Great Designs in Steel)
Ultra-high-strength steel content increased dramatically between the 2020 and next-generation 2021 Cadillac Escalade bodies. (General Motors slide provided by Great Designs in Steel)
The 2021 Cadillac Escalade B-pillar is still press-hardened steel, but made using a tailor-rolled blank. It also swaps out a high-strength, low-alloy reinforcement for a composite one. (General Motors slide provided by Great Designs in Steel)
GM also dipped into third-generation steels for the 2021 Escalade's roof rail inner. (General Motors slide provided by Great Designs in Steel)
Share This: