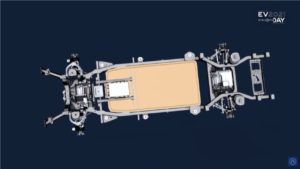 Stellantis on Thursday announced it would produce four electric vehicle platforms soon and seek to have more than 40 percent of its U.S. sales involving plug-in hybrids and EVs by 2030.
Along the way, the OEM will spend more than $35.5 billion on electrification and software between now and 2025, Stellantis said during an "EV Day" Thursday.
Ram CEO Mike Koval announced Thursday his company would have a battery-electric Ram 1500 by 2024. Dodge said Thursday it wouldn't sell electric cars — but it would sell "AMERICAN eMUSCLE."
"If a charger can make a Charger quicker, we're in," CEO Tim Kuniskis said in a video.
Jeep said by 2025, it would have a 4xe edition in every SUV segment, and 70 percent of all Jeeps would be electrified in some way. CEO Christian Meunier said the 2021 4xe Wrangler had already become America's No. 1 plug-in hybrid in just two months — and the production run was already sold out for the rest of the year.
Stellantis also revealed its 2022 Jeep Grand Cherokee 4xe plug-in hybrid variant for the first time Tuesday.
The OEM expects to be able to produce and sell electric vehicles for much less than it costs today. Stellantis in a news release said it wants to cut battery costs by 40 percent between 2020 and 2024, "and by more than an additional 20% by 2030. …
"Affordability is a priority at Stellantis, as the company is targeting for the total cost of ownership of EVs to be equivalent to internal combustion engine vehicles by 2026."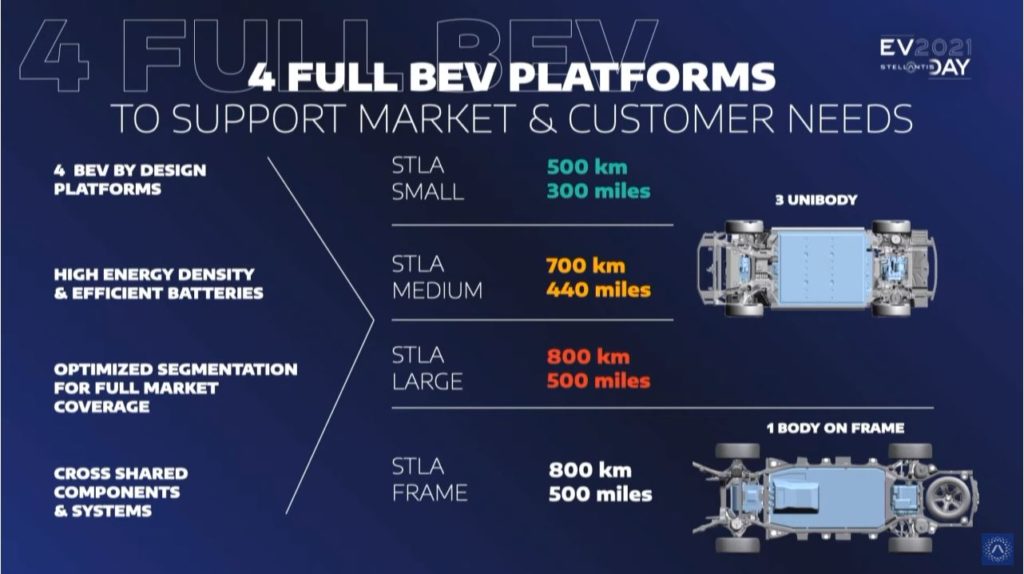 Stellantis said its four fully electric platforms consist of three unibody configurations and one body-on-frame setup.
"The platforms are designed with a high level of flexibility (length and width) and component sharing, delivering economies of scale as each platform can support production of up to 2 million units per year," Stellantis wrote in a news release.
The STLA Small architecture will offer up to 300 miles of range, while the STLA Medium should be able to reach up to 440 miles on a single charge. The 500-mile STLA Large and 500-mile STLA Frame setups are likely to be the most prevalent among the U.S. fleet. The former will include SUVs and muscle cars while the latter will include larger SUVs and pickups, according to Stellantis Chief Engineering Officer Harald Wester.
"They will unlock new facets of our brands," Wester said of the four platforms.
Stellantis Chief Design Officer Ralph Gilles said the OEM was creating eight vehicles on the STLA Large platform, and they would come to market in the next 3-5 years.
"That's just the beginning," he said. He said the STLA Large platform could eventually make its way to all 14 Stellantis brands.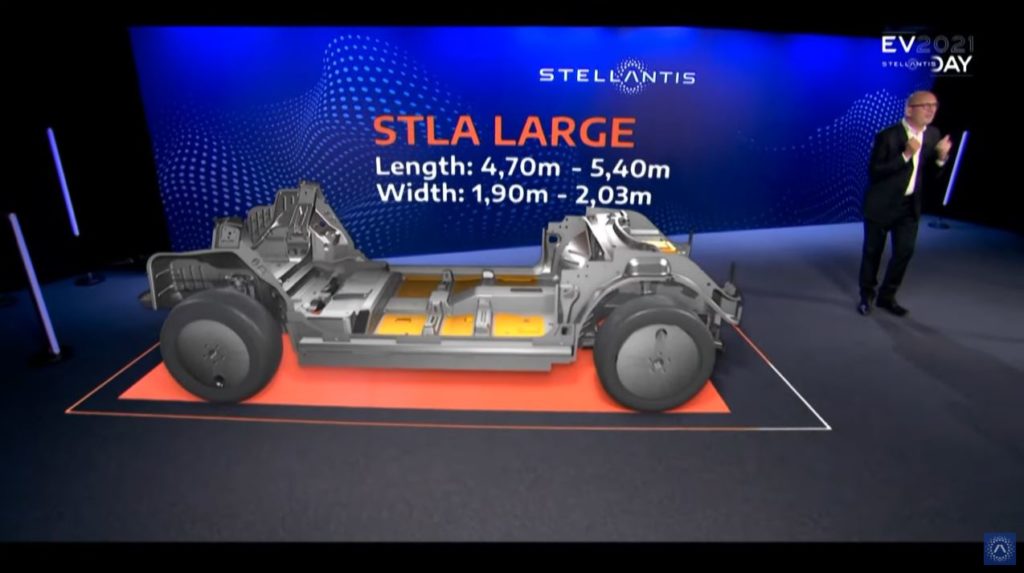 The news from the Stellantis "EV Day" presentation provides further indications that collision repairers are likely to see a boom in electrified vehicles throughout the decade. This could mean new training, equipment and repair operations.
However, Stellantis' new EV platforms by definition might ease the transition by presenting repairers with chassis consistency and familiarity. (Though you'll still need to check the specific repair procedures for the individual vehicle in front of you.)
A slide described shared components and systems as a feature of the platforms. Discussing the STLA Large architecture, Stellantis Deputy Chief Engineering Officer Patrice Lucas observed, "This platform will use common assets."
Lucas, whose role includes cross car line and project engineering, called this a "key lever" for the sustainability business model. He said cross-sharing components was important in "complexity reduction" and "volume bundling" for economic reasons.
More information:
"Stellantis Intensifies Electrification While Targeting Sustainable Double-digit Adjusted Operating Income Margins in the Mid-term"
Stellantis, July 8, 2021
"Stellantis: EV DAY 2021 [LIVE]"
Stellantis, July 8, 2021
Images:
The upcoming STLA Frame electric vehicle platform is depicted here. (Screenshot from Stellantis video on YouTube)
Stellantis plans to adopt four battery-electric vehicle platforms in coming years. (Screenshot from Stellantis video)
Stellantis Deputy Chief Engineering Officer Patrice Lucas appears next to one of Stellantis' three upcoming unibody battery-electric vehicle platforms. (Screenshot from Stellantis video)
Stellantis Deputy Chief Engineering Officer Patrice Lucas appears next to a representation of Stellantis' STLA Large unibody battery-electric vehicle platform. (Screenshot from Stellantis video)
Share This: