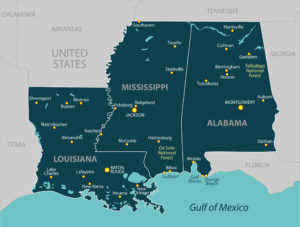 Mississippi Collision Repair Association Executive Director Josh Kent on Friday announced his trade group would change its name to the Gulf States Collision Association and open to shops in Louisiana and Alabama.
"We are just adding those states," Kent said. He said an Alabama body shop has joined the board, and he's in talks with a contingent of Baton Rouge, La.-area repairers. Any repairers in the three states interested in joining the expanded groups should contact Kent at oregon.josh.kent@gmail.com.
The revamped organization's board will "absolutely" feature a mix of representation from the three locations, he said.
Kent likened the new multistate trade group to the Carolina's Collision Association he also oversees as executive director. That organization spans both North and South Carolina.
The new organization would hold meetings in the various states, and "we'll bounce around some training classes in each state." Kent noted the three states are fairly close together.
The latest Census data available estimates Alabama had 498 "Automotive Body, Paint, and Interior Repair and Maintenance" companies in 2018. (The federal NAICS category does include a few peripheral industries like upholstery shops but is mostly collision centers). Together, the nearly 500 companies had 542 shops and 3,241 workers. The average employee made $43,276.
Louisiana had 459 auto body businesses running 473 locations with 2,996 workers in 2018. The average employee pulled in $45,187.
Mississippi contained 304 repair companies holding 320 shops. The state's 1,873 auto body industry professionals averaged $42,084 in wages.
The new Gulf States Collision Association will also collaborate with the Tennessee Collision Repairers Association and Carolina's Collision Association to host the Southeast Collision Conference on Feb. 3-5, 2022, in South Carolina. 
Kent noted that it will be one of the auto body repair industry's first in-person trade shows since the COVID-19 pandemic began in 2020. The industry will see two Collision Industry Conferences, NORTHEAST, SEMA, and "then will be us." The show will be held at the Gateway Conference Center in Richburg, S.C.
"Southeast Collision Conference is a 3-day conference open to all collision industry professionals and will contain numerous educational classes, presentations and a trade show," the CCA wrote in a news release Friday. "Hear from some of the industry's biggest names as they present on topics to help you!  Classes will be held by Mike Anderson, Erica Eversman, Mark Olson, Dave Luehr and many more.
"You do not want to miss this opportunity to learn, network, and experience the cutting edge information in our rapidly changing industry."
More information:
Southeast Collision Conference website
Featured image: Mississippi Collision Repair Association Executive Director Josh Kent on Friday announced his trade group would change its name to the Gulf States Collision Association and open to shops in Louisiana and Alabama. (Sateda/iStock)
Share This: