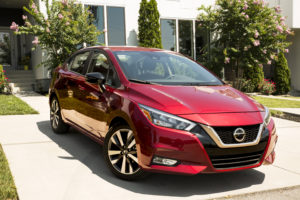 A lack of CCC and Mitchell data on late-model Nissan vehicles may soon be resolved, based on comments from the information providers and Nissan on Friday.
"Mitchell enjoys an excellent long-term relationship with Nissan," Mitchell repair sales and service Vice President Jack Rozint wrote in an email Friday. "Recently Nissan updated their data license agreements and we're in the final stages of wrapping up that process."
Nissan and CCC released a joint statement also indicating the absent data was nearing inclusion on CCC.
"CCC and Nissan are aware of the issue impacting the industry and are working closely together to make Nissan vehicle data for all model years available to repairers as soon as possible via CCC's estimating platform," Nissan said in a statement. "Quality is of paramount importance to both companies and while this information is currently available through authorized Nissan retailers, we are working to provide data for the newest Nissan vehicles within CCC's estimating platform. We anticipate the data will be available via CCC's estimating platform potentially beginning as early as next month."
CCC referred all other questions to Nissan. A Nissan spokeswoman said the OEM didn't have additional information to share. Thus, the scope of the information absent from CCC couldn't be officially confirmed.
But Database Enhancement Gateway inquiries suggest it includes parts and database entries for the model year 2020 and 2021 Nissan and Infiniti vehicles.
This was the case for Mitchell.
"It's the parts data on new models and model year updates for 2020/2021 vehicles that we will be updating in the database soon," Rozint wrote. "Service procedures have been available continuously in TechAdvisor and Mitchell Cloud Estimating Integrated Repair Procedures."
In March, a DEG user observed that they were "missing part database/ labor" in Mitchell for a 2020 Nissan Versa, which began a new design generation that model year.
"Unfortunately, due a lack of availability of the data, we have been unable to author content for late model Nissan/Infiniti vehicles," Mitchell replied in the spring.
"We are actively working with Nissan on a resolution."
DEG inquiries indicate the 2019 model year existed within CCC, but 2020 and 2021 information didn't.
"The 2020 Model Year update for Nissan and Infiniti vehicles has been delayed," CCC wrote in response to a Feb. 9, 2021, inquiry to the DEG regarding a 2020 Nissan Sentra. "MOTOR is working with Nissan Motors to secure access to the OEM information required to complete the 2020 model year update for Nissan and Infiniti vehicles."
The user had complained the Sentra's "vin number will decode in ccc but will not bring up a database."
Five days prior, CCC issued a similar response regarding the 2021 model year of Nissans and Infinitis after a user asked about a 2021 Rogue.
As indicated above, Nissan did not discuss whether an issue existed with Audatex. Solera on Monday said it was examining the issue. However, a March DEG inquiry on a 2020 Versa sees both the user and Audatex mentioning the existence of labor times and part numbers for the car.
Resolution of the issue would seem to be just in time for another Nissan model year. The 2022 Nissan Pathfinder was scheduled to reach dealerships last month.
Have a problem with an estimating system, a suggestion for one or a question about its information? Submit an inquiry to the DEG. The free resource is open to insurers and repairers.
More information:
Official Nissan OEM procedures website
Current and past Database Enhancement Gateway inquiries
Featured image: A 2020 Nissan Versa is shown. Database Enhancement Gateway inquiries in early 2021 indicated both CCC and Mitchell lacked data for this model. (Provided by Nissan)
Share This: