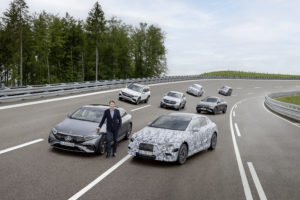 Mercedes on Thursday said all of its new architectures would be electric-only effective 2025, and it would be fine with going all-electric by the end of the decade "where market conditions allow."
By 2022, Mercedes would sell a fully battery-electric model in every segment it competes, the OEM said.
The OEM plans to launch three new all-electric platforms in 2025, the year it also expects at least half of its sales to come from hybrid or even more electrified powertrains.
But the automaker doesn't care long-term about partially electric platforms. It's going to slash spending on internal combustion engines and plug-in hybrid technology by 80 percent between 2019 and 2026. It also plans to spend more than $47.08 billion on electric vehicle between next year and 2030.
"Capital allocation is moving from EV-first to EV-only," Mercedes wrote in a news release Thursday.
The MB.EA architecture coming in 2025 will be the most relevant to the collision industry, for Mercedes described it as the plan for "all medium to large size passenger cars, establishing a scalable modular system as the electric backbone for the future EV portfolio."
The VAN.EA framework will focus on "purpose made electric vans and Light Commercial Vehicles." If you do a lot of Metris or Sprinter work, keep an eye out for this one in 2025.
Finally, AMG.EA will deliver "a dedicated performance electric vehicle platform" for customers interested in "technology" and "performance."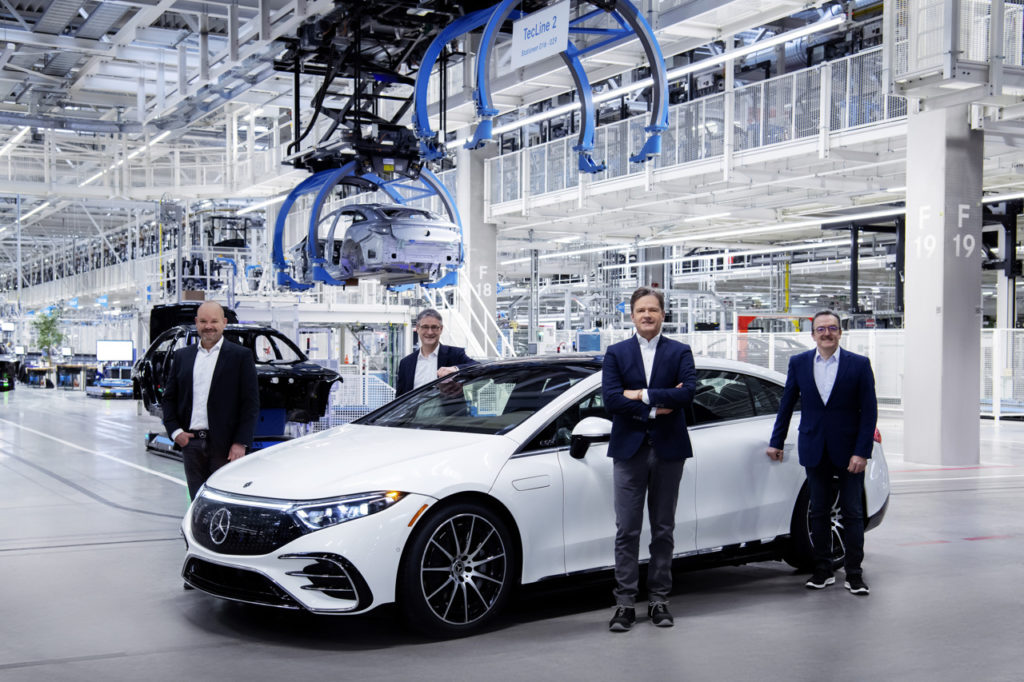 Mercedes also said an electric counterpart will exist in 2025 "for every model the company makes." We asked Mercedes if this meant existing internal combustion engine architectures will be modified for battery-electric variants until it's time to replace the entire generation with an all-new version. Continue to check Repairer Driven News for updates.
The automaker last year had made margin projections based on a quarter of all Mercedes sales being somewhere between traditional hybrids and fully electric by 2025. But on Thursday, Mercedes said it could hit the same margins with what it now predicted would be "an assumed xEV share of up to 50% by 2025 and a market scenario for new car sales which in essence has switched to fully electric by the end of the decade."
"The EV shift is picking up speed – especially in the luxury segment, where Mercedes-Benz belongs. The tipping point is getting closer and we will be ready as markets switch to electric-only by the end of this decade," Ola Källenius, CEO of Mercedes parent Daimler, said in a statement. "This step marks a profound reallocation of capital. By managing this faster transformation while safeguarding our profitability targets, we will ensure the enduring success of Mercedes-Benz. Thanks to our highly qualified and motivated workforce, I am convinced that we will be successful in this exciting new era."
Mercedes can tap the luxury market for more than a willing audience of EV buyers. The OEM observed it could juice net revenue per unit by selling more high-end Maybach and AMG models, which are more profitable for the automaker. Mercedes said this was an "important lever."
It also said it would strengthen its balance sheet by "taking more direct control over pricing and sales" and growing revenue in digital services.
More information:
"Mercedes-Benz prepares to go all-electric"
Mercedes, July 22, 2021
Images:
Daimler CEO Ola Källenius poses with Mercedes EQ vehicles. Mercedes has already revealed an EQB and EQS which are fully electric. (Provided by Mercedes)
From left, Mercedes board member Jörg Burzer, Sindelfingen plant production head and site manager Michael Bauer, Daimler board member and Mercedes Cars Chief Operating Officer Markus Schäfer, and plant works council Chairman Ergun Lümali pose with a Mercedes EQS, commemorating the beginning of EQS production at Factory 56. (Provided by Mercedes)
Share This: