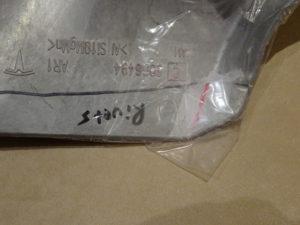 A welding supply distributor this month advised collision repairers to double-check welding and parts with dye penetrant inspection testing.
"You should be doing this all the time," SCRS board member Dave Gruskos (Reliable Automotive Equipment) told an SCRS open board meeting July 14.
The process is simple, according to instructions posted online by Magnaflux, one dye testing kit manufacturer. Clean the component, spray the dye, wait for it to penetrate the metal, wipe it away, and apply developer to reveal any cracks or defects indicated by dye remaining inside. Such problem areas will appear in red.
SCRS said the operation, also known as liquid penetration inspection, is nondestructive.
Gruskos showed the board meeting how dye penetration inspection revealed a crack within a new cast aluminum shock tower which had been dropped. The part had seemed to carry "zero visible damage," he said.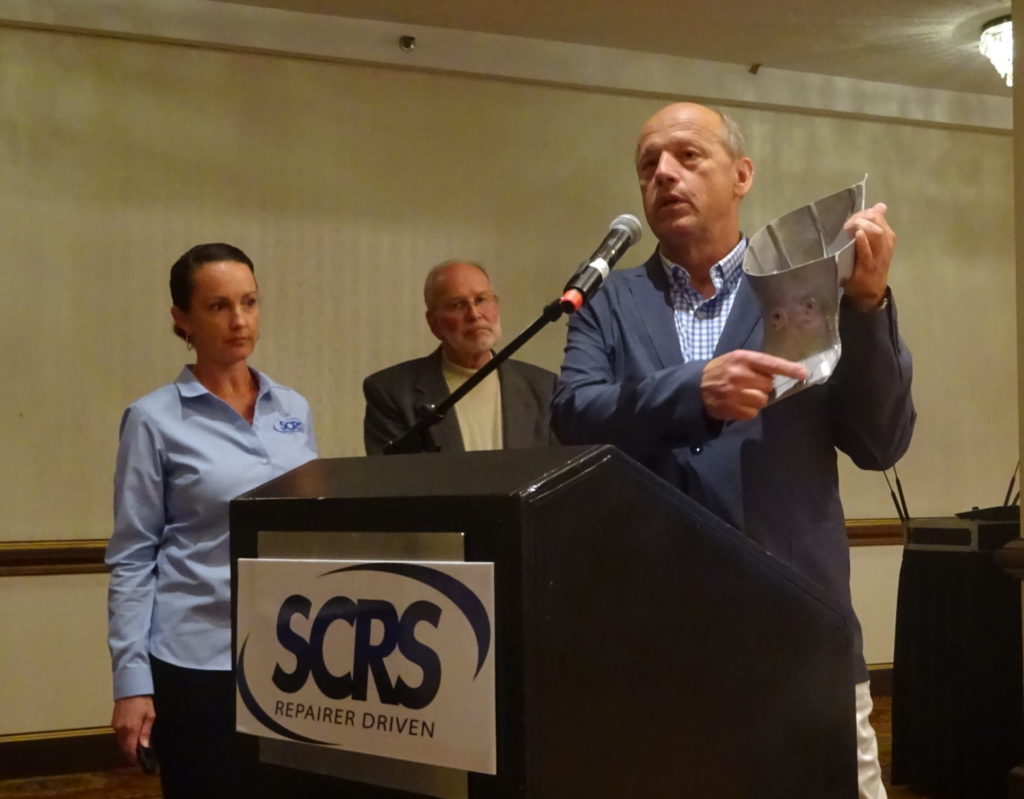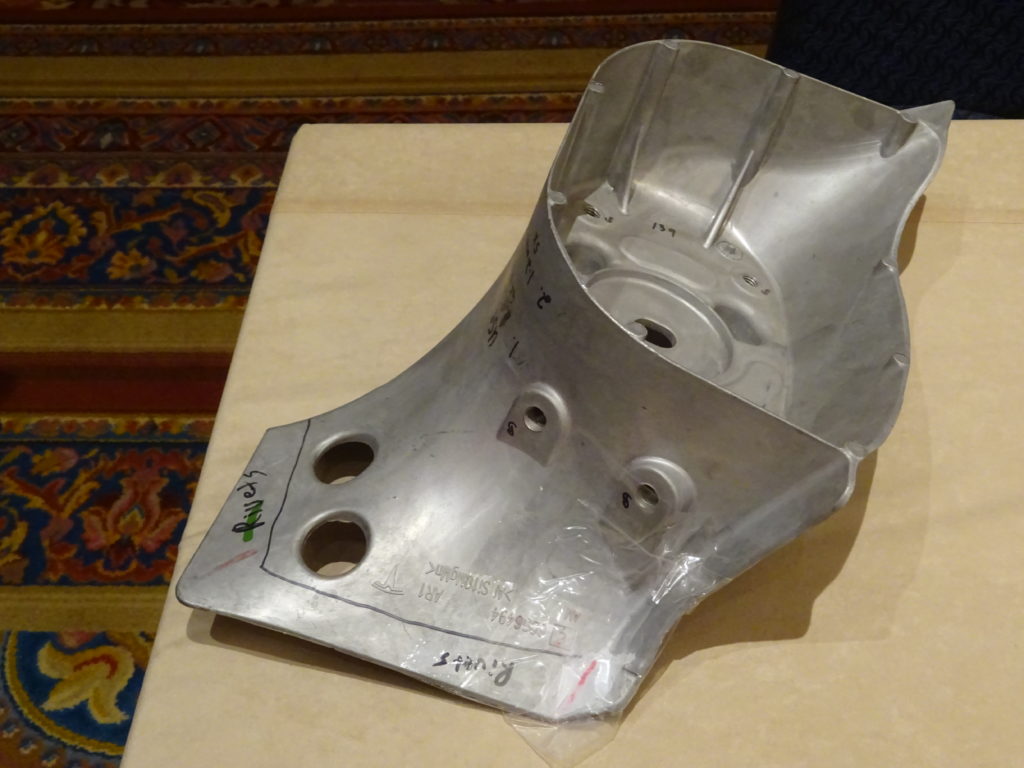 "This is just dropped," Gruskos said of the tower, which he displayed during an SCRS Education Committee presentation on considerations regarding recycled suspension components. He predicted dye penetrant would reveal cracks at the top of shock towers "90 percent of the time" following a suspension impact sending force up into the component.
"Aluminum cracks," he observed.
Not all collisions produce suspension damage, according to SCRS. But suspension damage is possible in vehicles that have sustained low-speed impacts, the organization said. "That certainly is a yes," Education Committee presenter Ron Reichen (Precision Body & Paint) said July 14.
SCRS showed Insurance Institute for Highway Safety footage of a 12 mph collision sending crash energy through a 2013 Mercedes C-Class suspension. Alley pointed out how the wheels appeared to bottom out and how the impact raised the question of an engine cradle strike to the shock tower.
Many automakers install cast aluminum shock towers connected to steel, Reichen said.
The webbing on the casting can experience "hairline cracking," he said. This could prompt a part failure.
A collision can also lead to energy reaching the top of the strut mount, around the bearing, according to Reichen. Without removing the bearing and checking it on a flat surface for a crown or altered camber, there's no way to know, he said.
Gruskos demonstrated how the dye penetrant testing could reveal weld flaws too. "The weld will fail," he said of two joined coupons with the telltale red visible, denoting insufficient penetration.
He advised applying the dye testing to a technician's welded or MIG-brazed joint.
"You'll be very very surprised at the results," Gruskos said.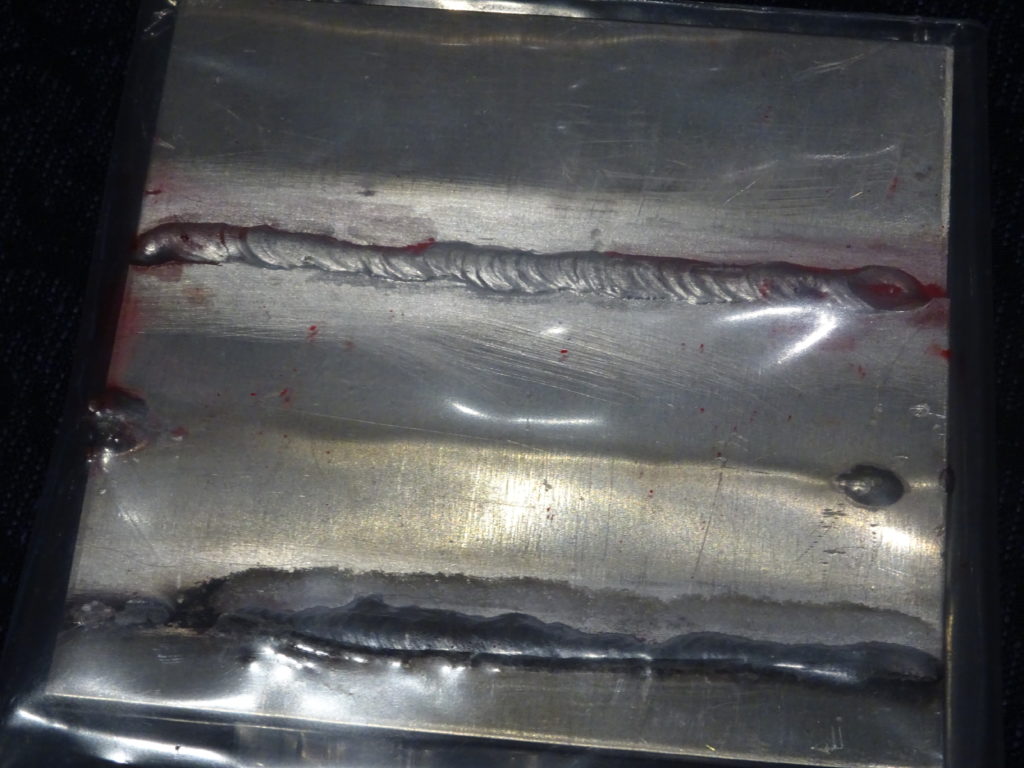 Though the company Magnaflux is among those selling dye penetrant inspection testing kits, the process is different from the part quality testing operation known as "magnafluxing," Gruskos said. According to an SCRS slide, magnafluxing deploys a magnetic field and magnetic particles to reveal defects. It only works on ferromagnetic materials like steel — not aluminum. Dye penetrant testing is possible on both aluminum and steel parts.
However, LKQ engineer Ray Pearson last week said the term "Magnafluxing" could apply to both dye penetrant inspection and magnetic particle testing. He also provided details Tuesday on "Dynafluxing," a competing dye penetrant testing process.
Some would offer the two as being a type of test, but both are actually brand names.
Magnetic Particle Testing (MPT) is commonly referred to as Magnafluxing because the materials most popular is the Magnaflux Brand of Y-1 Yoke and their powders. There are other companies like Western Instruments who also manufacture the equipment for MPT inspection so they may challenge the term.
Magnaflux also manufactures Liquid Particle Testing (LPT)  material and equipment for the SK – Red dye (visible Method) and Zyglo – yellow dye (fluorescent) method.
The term Magnaflux testing would be accurate for either MPT or LPT testing as the material used was from Magnaflux.
The Dyna flux brand has been around since the early 1970's and is most know for their Liquid Penetrant Testing materials (Crack Check) hence the term Dynafluxing when referring to visible dye penetrant testing. Dynaflux and Magnaflux are the most popular LPT brands.
LKQ part testing
It's important repairers understand such various processes so they can properly evaluate parts they receive. Sometimes, the parts provider might report testing has already occurred. Sometimes, the repairer might need to conduct their own testing (which isn't an included operation, Database Enhancement Gateway Administrator Danny Gredinberg told the board meeting.)
Reichen challenged a C-Class suspension assembly delivered to an SCRS member by LKQ. The aluminum part was covered in dye and its invoice carried a charge for "Magnaflux," according to fellow committee presenter Amber Alley (Barsotti's Body and Fender).
But Reichen argued that the presence of the red color meant the component hadn't received the cleaning and developer necessary to complete the test. It was "theatrics" that served as no proof of quality, he told the board meeting July 14.
"It was almost a charade," he said.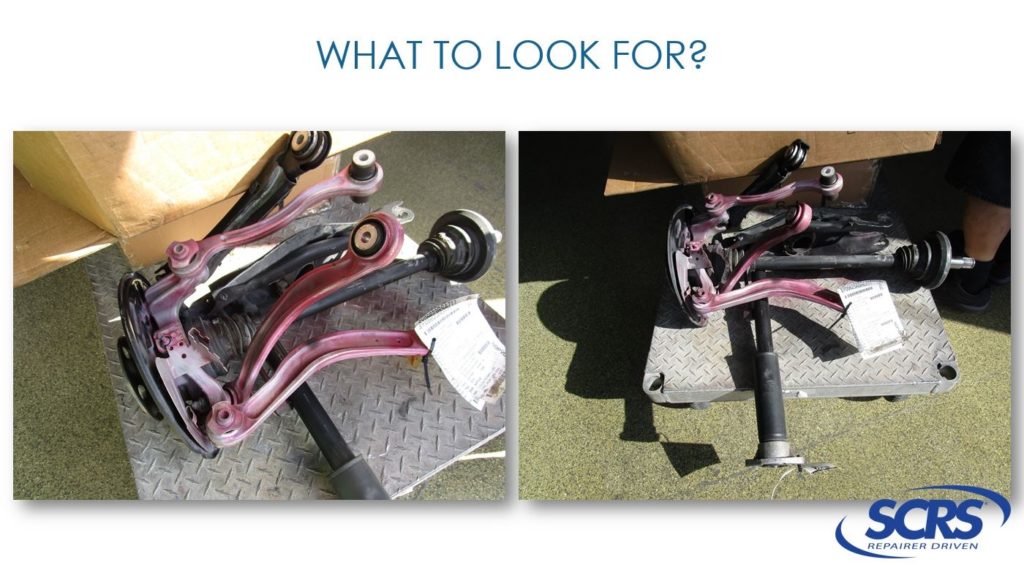 We contacted LKQ for a response. Pearson last week said such an appearance was possible after a proper test.
"Looking at the two images with the visible dye still apparent it could be residual dye still on the part," Pearson wrote. "Depending on the texture of the part it can be difficult to fully remove.
"During the process the part is cleaned, a red visible dye is applied and allowed to dwell for a period of time (typically around 15 minutes). The excess dye is then removed, and a white developer is sprayed on the part to provide contrast and allow a defect to be easier to identify. After inspection, the part is then cleaned again, and the developer is removed (which is very easy) and the original red dye could still be visible on the part.
"For a visible LPI testing the red stain does not hamper the inspection when the white developer is applied you are looking for a red indication to appear through the developer indicating an area for further inspection."
He said LKQ uses Magnaflux equipment and materials. "Our Engineers at AQTS are certified level NDT I or NDT II and the Laboratory is accredited in Non-Destructive testing," Pearson wrote.
We asked if LKQ disassembled and reassembled such components, noting that doing so would seem necessary to catch cracks on areas which would be covered by another component when part of an assembly.
"We follow a very thorough QC process within the organization," LKQ North America sales and marketing Vice President Terry Fortner wrote in an email last week.
Fortner also stressed LKQ's "Promise of Protection," in which LKQ  promises to "indemnify a licensed automotive repair shop (Repair Shop) that purchases any recycled OEM, reconditioned OEM, KeysIQ, and aftermarket part directly from LKQ and installs it on a private passenger vehicle (Product) against claims, actions, liabilities, costs and expenses relating to the death or injury of any person and the damage to any property (other than the Product, which is covered by its own warranty) directly and solely caused by a defect in the Product."
An LKQ invoice with the assembly also said, "This part comes with the Standard 6 Month warranty from the original date of Purchase. This part does NOT carry Labor or Rental Coverage of any kind."

More information:
"SALVAGE SUSPENSION PARTS CONSIDERATIONS"
Society of Collision Repair Specialists, July 14, 2021
Images:
Dye penetrant testing reveals a crack in a new Tesla cast aluminum shock tower which had been dropped. The crack is dyed red following the testing. (John Huetter/Repairer Driven News)
Dye penetrant testing revealed a crack in a new Tesla cast aluminum shock tower which had been dropped, SCRS board member Dave Gruskos (Reliable Automotive Equipment) said during a July 14, 2021, open board meeting. The crack appears red after the testing. (John Huetter/Repairer Driven News)
Dye penetrant testing reveals flaws in a weld. The defects show up in red following the testing process. (John Huetter/Repairer Driven News)
This suspension assembly delivered to a Society of Collision Repair Specialists member by LKQ bore a reddish tint, likely related to dye penetrant testing. SCRS Education Committee presenter Ron Reichen (Precision Body and Paint) challenged this as "theatrics," arguing the part needed cleaning and developer before its quality could be confirmed. LKQ engineer Ray Pearson said the dye could remain even after a proper test had been conducted.  (Provided by SCRS)
An invoice from an LKQ recycled suspension assembly for a C-Class. The Society of Collision Repair Specialists indicated items of interest; redaction by Repairer Driven News. (Provided by SCRS)
Share This: