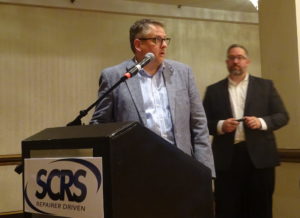 General Motors wholesale dealer channel collision manager John Eck this month warned body shops that parts procurement systems have emphasized the "economic side" but ignored standards and service provided.
"That's not taken into consideration," Eck told a Society of Collision Repair Specialists open board meeting July 14.
This pressure could affect the "potential levels of service that could be provided to private repair professionals," Eck said.
Mitchell in 2017 observed that the spread between six "primary" aftermarket and OEM parts — the savings insurers and consumers would realize by buying an aftermarket component rather than a new OEM part — had fallen between 2010 and 2016. Mitchell analyzed bumper covers, fenders, hoods, headlamps, rear combination lamps, and radiators.
The effect was less pronounced for European and Asian parts. But the spread between the prices of domestic OEM components and aftermarket copies fell by nearly 8 percentage points.
"Domestic OE price reductions on radiators and bumper covers is striking, because it's not common to see part prices go down like that in our industry," Mitchell analyst Nate Raskin wrote four years ago. "What seems evident is that domestic OEs are paying close attention to aftermarket pricing and making adjustments to regain share. With greater access to data and the advent of dynamic pricing mechanisms, I anticipate we'll continue to see OEs leverage technology to reach a competitive equilibrium."
Sean Carey, the president of SCG Management Consultants, observed during a recent VeriFacts Guild 21 call that he had declared the parts battle over a few years ago at IBIS. Insurers received price matching from automakers, and "it is economically feasible" to install OEM parts, he said.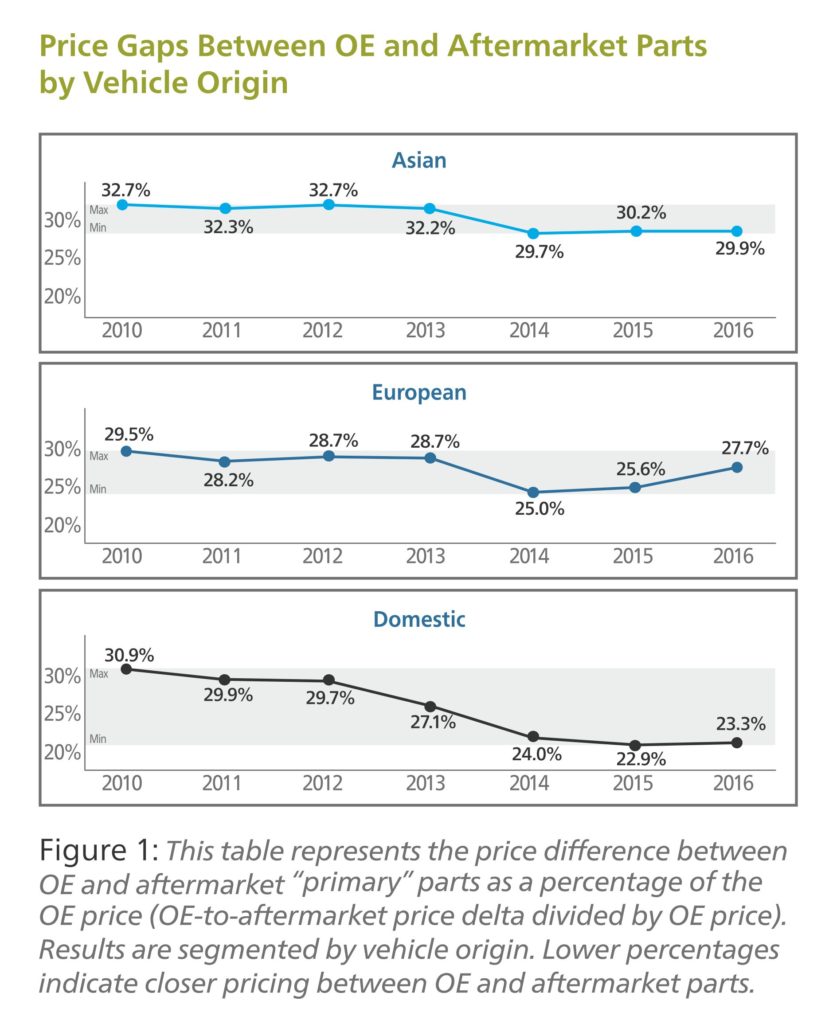 Eck said July 14 that dealers might scale back service soon, which he called a development nobody would wish to see.
"We are seeing dealers considering or have actually looked at repositioning their standards of service," he said.
PBE parallels
Repairers can look to the paint, body and equipment industry for an example of this cash-versus-service tradeoff.
Auto Care Association PBE segment committee Chairman Joe Mattos, the former owner of Mattos Pro Finishes and a 40-year veteran of the PBE industry, last year told us paint MSRPs have "basically remained the same" as when he started in the industry. Distributors are set up to receive a 36-40 percent gross profit.
However, a jobber must now give away "half of that" in discounts or advances, he said.
Two-thirds of the jobber's costs were people, which made for a logical place to reclaim profit, he said. Distributors have engaged in such cuts for a while, and "there's nothing new now," Mattos said.
Mattos estimated that this had a "pretty heavy effect" on services distributors could provide. "It had to," he said.
Mattos recalled he used to have staff to assist with waterborne training or hard-to-match colors. But it reached the point where the distributor couldn't give a shop 40 percent and afford such staff — the shop had to pick one, he said.
"They always took the money," he said. Then, they would complain about the lack of support, he said.
More information:
"OE Versus Aftermarket Part Price Deltas:  In Search of the Big Deal"
Nate Raskin in second-quarter 2017 Mitchell Industry Trends Report, June 13, 2017
Images:
General Motors wholesale dealer channel collision manager John Eck addresses a July 14, 2021, Society of Collision Repair Specialists open board meeting. (John Huetter/Repairer Driven News)
Mitchell in 2017 compared prices for certain OEM and aftermarket parts from 2010 to 2016. (Provided by Mitchell)
Share This: