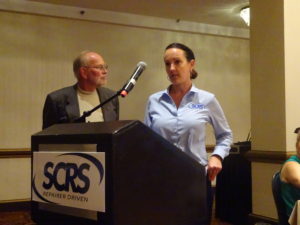 Noting that body shops are often asked to install used suspension components, but the topic is rarely discussed, the SCRS Education Committee last week offered repairers questions to put to a recycler and other topics to consider before making a parts decision.
The committee's presentation to the SCRS open board meeting July 14 did not advocate for or against recycled suspension parts and noted "there are many different opinions about when and if (such parts) should be used." The talk explored nuances that might inform a parts decision by a shop — or vehicle owner.
"Part selection is ultimately a decision determined by the owner of the vehicle and their chosen repair facility," a presentation slide stated.
"We feel strongly about this," committee presenter Amber Alley (Barsotti's Body & Fender) said of the choice resting in the hands of the owner and shop.
Here's the seven areas of inquiry SCRS proposed shops put to a recycled part vendor when considering suspension wares. We've also added some discussion from the talk July 14 and relevant benchmarks for quality and transparency the official Automotive Recyclers Association standards guide promotes for recycling facilities. (The ARA is in the process of updating the 2012 document, but confirmed Monday it would serve as the current standard for our purposes here.) The ARA standards suggest that some recyclers have already considered some of those topics.
"This Recycled Parts Guide is intended to help define the expectations and suggest performance standards for all parties involved in the trade and use of recycled parts," the ARA writes in the guide's introduction. "The goal is that, through the definition of those standards more parts will be included in repair estimates, more parts will be purchased by buyers and fewer parts will be returned."
Questions for vendors
Question: "Is the mileage and age of the damaged vehicle the salvage parts are coming from the same as the vehicle being repaired? Will the vendor document it?"
The ARA standards expect a buyer/estimator to provide the recycler with requests for parts "properly identified by year, make, model, body style and VIN."
In turn, the ARA instructs sellers to "provide a complete order response," which would contain:
• Specific part descriptions
• Accurate part condition
• Year, model and mileage of the source vehicle.
The care given the donor vehicle in life might also matter.
Alley gave the example of a grandparent's low-mileage, first-owner personal vehicle. This was contrasted with a rental car where many borrowers might "drive it like they stole it," as fellow Education Committee presenter Ron Reichen (Precision Body and Paint) put it. Hundreds of people might have used the rental and "didn't take good care of it" like the grandparent would, Alley said.
Q. "Condition of parts (A quality, B quality? What is insurance quality??)"
Alley noted the existence of terms like "A quality" and "insurance quality." She encouraged repairers to ask vendors for specifics about the part's condition.
They might learn a part carries damage that would render it not worth the time and effort to pursue, she said.
The Automotive Recyclers Association recognizes and defines three major part grades: A, B and C. (There's also an "X" designation for parts that haven't been graded yet.) For mechanical parts like suspension components, the A-C descriptions are as follows:
"'A' parts have less than 60,000 total miles, or if over 60,000 miles, must be less than 15,000 miles per model year of age," the ARA writes.
"'B' parts have equal to or greater than 60,000 and less than 200,000 total miles on them and have 15,000 miles or more per model year of age. 'B' parts must have less than 200,000 total miles regardless of age."
"'C' parts have equal to or greater than 200,000 total miles on them regardless of age."
Sellers using electronic parts procurement platforms would be expected "make every effort to validate the year, model and mileage corresponds to the VIN of the source vehicle" before listing it, according to the ARA standards. Vendors on procurement sites must also state repair units, a measure of damage the size of a credit card or smaller on sheet metal body parts. They must also use only "common and understandable terms" and the ARA "Parts Grading and Description Guidelines" and "make every effort to validate the year, model and mileage corresponds to the VIN of the source vehicle."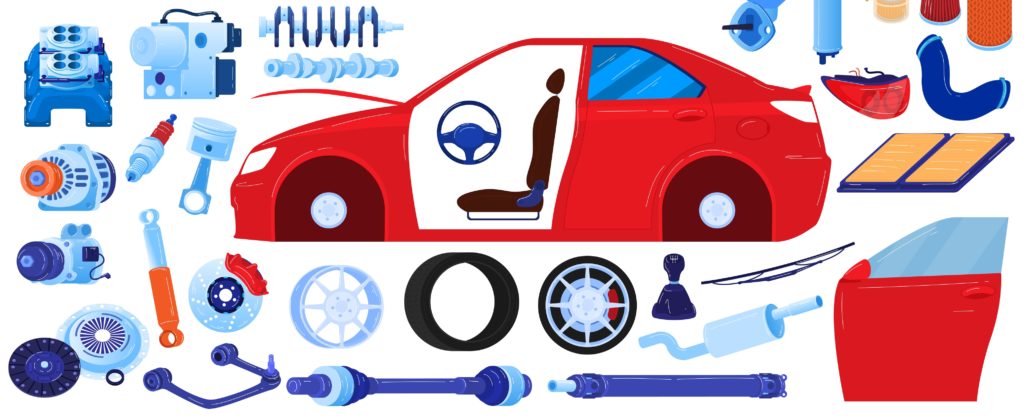 Q. "Does the part come with a warranty? What does the warranty cover? Will the warranty cover the repair facility expenses of performing a replacement as well?"
As to the latter question, Alley said a consideration here would be whether the recycler would pay a "fraction of your labor rate" for the subsequent work.
The ARA guidelines say the buyer holds the responsibility "(w)henever practical … to determine the usability of the recycled parts and to ensure they will not compromise the repair of the vehicle" prior to installing them.
Which is also how the courts see it, experts say: Repairers bear liability for the parts installed on a vehicle. (Reichen also noted that garagekeeper's liability carriers have been adding "comments" on recycled parts into policies insuring body shops.)
However, the ARA standards also declare that a "seller should arrange for the return of a defective part at the seller's expense and to pay the buyer for reasonable and necessary labor costs as agreed upon between the buyer and the seller."
Multiple OEMs have issued position statements noting they do not approve of recycled parts. However, under the Magnusson-Moss Warranty Act, they can't void your vehicle's warranty for going against this wish and installing a used or aftermarket part.
However, the automaker doesn't need to warranty any components affected by the alternative part's failure. For example, if an alternative radiator fails and damages the engine, the automaker can refuse to replace the latter, according to Reichen.
This domino warranty issue can be a consideration for suspensions, for "there are so many other parts kind of involved in that one-part process," Alley said. Reichen gave the example of the link between the strut, ball joint and integrated control arm.
Q. "Is there additional shipping considerations? If so, did the donor vehicle come from an area with other environmental considerations (ex: salt roads, wet or dry conditions, etc.)"
Alley pointed out that as a California repairer ordering a part from Michigan, "the part's not coming from the same environment."
Environmental considerations might also be an issue after a vehicle ends its old existence and starts a new life in a recycling facility, according to Reichen. He argued that many salvage vehicles might sit out exposed to the elements. Situations like ultraviolet light breaking down rubber hoses and dirt in brake calipers might arise, he said.
ARA guidelines call for vendors to avoid such situations.
"When stored at the seller's facility, parts should be protected to prevent deterioration or damage. When delivered, unprotected and interior parts should be covered and dry," the standards state.
"… When delivered, precautions should be taken to keep sheet metal parts away from oil, grease and other heavy components that might contaminate or damage them."
Q. "How quickly can you receive the salvage part vs. OEM"
Alley said recycled parts were "often delayed" compared to buying an new OEM version off a dealer shelf.
The ARA calls for a similar delivery period as new parts and for the buyer and seller to agree on a delivery date up front.
"Delivery time for initial recycled parts orders will be no greater than what would be expected if OEM or Aftermarket parts were used, which typically is next two business days," the ARA states.
"… To confirm expectations, the seller should request date and time of delivery of recycled parts if not defined by the buyer and should deliver the parts when expected. If delivery will be later than requested, every effort will be made by the seller to reduce this time whenever possible."
Q. "Why was the donor vehicle salvaged?"
Reichen gave the example of a submerged vehicle.
Q. "Did the vendor inspect part?"
The ARA expects a "seller will visually inspect the part (s) to ensure compliance with this Recycled Parts Guide and that all parts and their condition are as stipulated in the order" before they send it to the body shop.
SCRS instructed repairers to inspect parts too.
Recycled suspension parts should generally be mirror matched and evaluated for damage, straightness and issues with bushings and wearable components, Alley said.
"DO NOT install if there is any evidence of previous damage or repair such as heating, welding or straightening," an SCRS slide states. (Emphasis removed.)
The presentation also discussed using methods like dye penetrant inspection or magnetic particle testing to catch damage not visible to the naked eye.
A recycled ball and socket joint could be problematic for the repairer and vendor to inspect, according to Reichen.
The parts are formed together, and the tolerance is extremely important, he said.
But the socket can be made out of substances such as neoprene, which Reichen said can crack, perhaps due to the crash energy experienced during a collision.
It's possible internal damage could also arise. However, while repairers could look for "free play," they can't disassemble used ball-and-socket joints to confirm the absence of damage inside, Reichen said.
Even an OEM can struggle with new ball-and-socket joints. Reichen said a factory flaw has led to new joints failing with less than 10,000 miles of usage. He called it "critically important" for repairers to think through ball-and-socket replacements.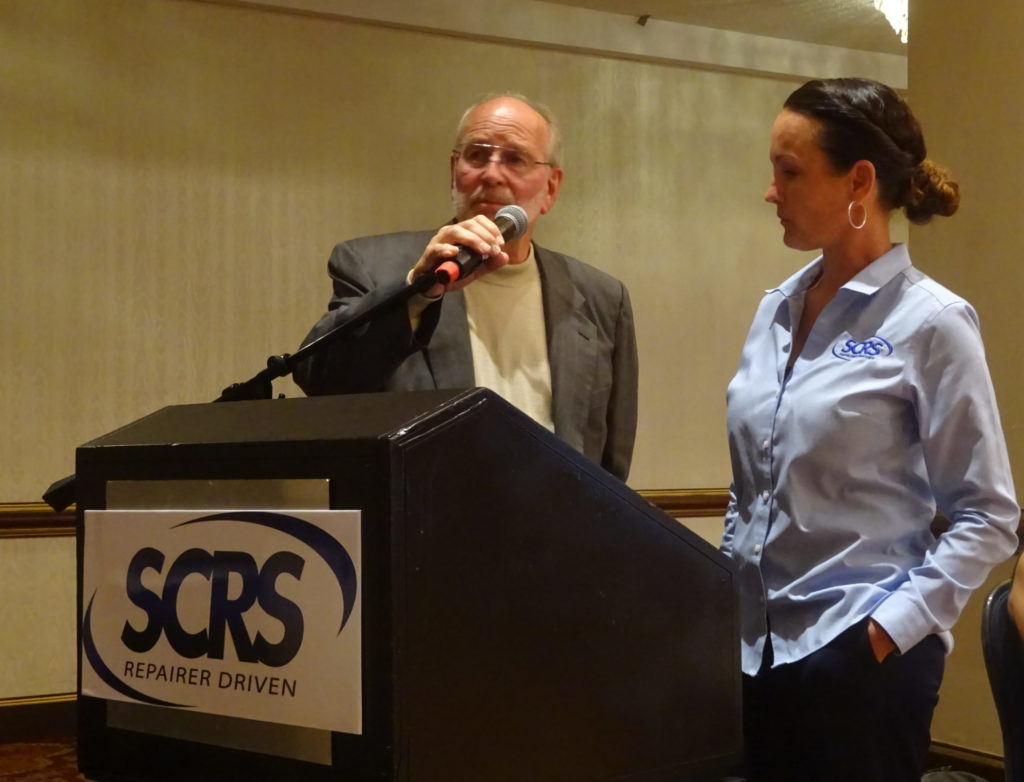 Parts raising particular concerns
Some suspension parts simply might not lend themselves to substitution with recycled versions regardless of the retailer's diligence, according to the SCRS presentation.
One-time-use parts by definition might be excluded, based on the presentation.
"Sometimes you just can't reuse these parts," Alley said of components like hardware, ball joints and bushings.
Reichen offered an example of a one-time-use scenario. Many automakers have adopted a different bolt thread pitch within their suspension hardware, he said. By changing the pitch of the nut thread 1-2 degrees, the OEM achieves a self-locking capability in the mechanical joint, he said.
However, the act of removing the part strips the thread and compromises the structural holding capacity, he said.
Like SCRS, I-CAR doesn't take a position on recycled parts, though it too offers ideas for how to evaluate them in its "Recycled Parts Considerations" class. That said, I-CAR has warned against using certain recycled mechanical parts, based on an educational item shared by SCRS:
• A/C parts exposed to moisture, such as an accumulator or compressor.
• Radiator caps
• Worn suspension and brake parts.
• Bushings.
• Emission items, such as catalytic converters and charcoal canisters, which cannot be sold according to the Clean Air Act. 
• Tie-rod ends. (Minor formatting edits.)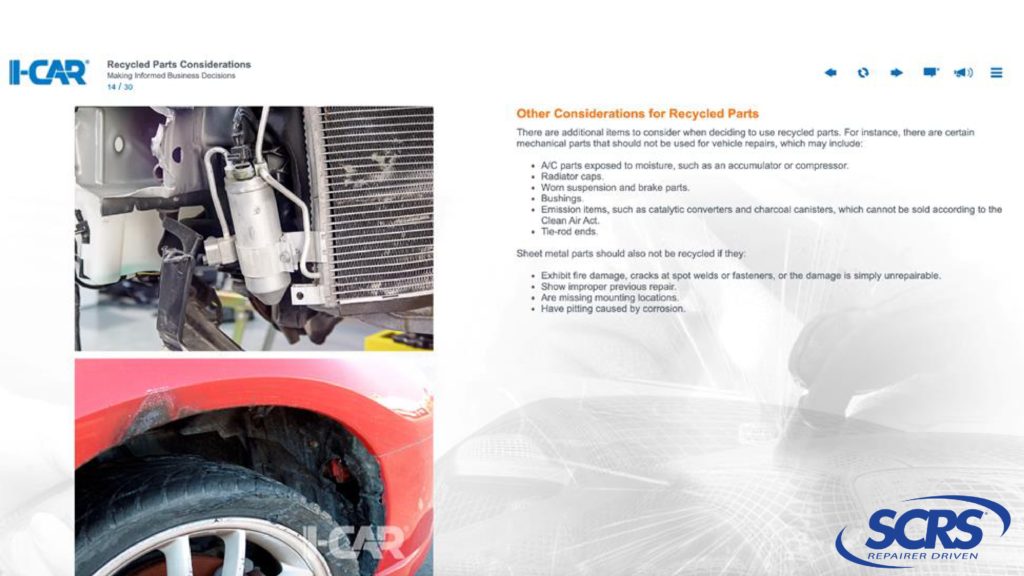 More information:
"SALVAGE SUSPENSION PARTS CONSIDERATIONS"
Society of Collision Repair Specialists, July 14, 2021
Automotive Recyclers Association Recycled Parts Standards & Codes
Automotive Recyclers Association, 2012
I-CAR portal to official OEM procedure websites
Images:
Society of Collision Repair Specialists Education Committee presenters Amber Alley (Barsotti's Body and Fender), right, and Ron Reichen (Precision Body & Paint) gave a presentation on recycled suspension parts during the July 14, 2021, SCRS open board meeting. (John Huetter/Repairer Driven News)
The Automotive Recyclers Association recognizes three main grades for recycled auto part condition: A, B and C. (Seahorse Vector/iStock)
Society of Collision Repair Specialists Education Committee presenters Ron Reichen (Precision Body and Paint), left, and Amber Alley (Barsotti's Body and Fender) gave a presentation on recycled suspension parts during the July 14, 2021, SCRS open board meeting. (John Huetter/Repairer Driven News)
An I-CAR educational material shared by the Society of Collision Repair Specialists warns against certain recycled parts. However, for many recycled parts, I-CAR has no position for or against their usage. (I-CAR material provided by Society of Collision Repair Specialists)
Share This: