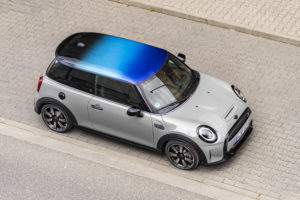 MINI Global last month announced buyers could upgrade to an optional "Multitone Roof" on two- and four-door and Clubman MINIs.
MINI USA head of corporate communications Andrew Cutler in a July email said the three-color roof is already available on two- and four-door hardtops in the U.S. starting with the 2022 model year now in production.
The OEM's Oxford, United Kingdom, factory produces the blue, aqua and black roof with "an innovative wet-on-wet painting process," MINI wrote in a July 7 news release.
First, the automaker sprays Pearly Aqua on the roof, followed by applications of San Marino Blue in the front and Jet Black in the rear, "creating the flowing colour gradients characteristic of the Multitone Roof.
MINI said the painting is automated. "Nevertheless, slight deviations in the colour pattern occur due to changing environmental conditions, so that each MINI with a Multitone Roof is already given the character of a unique specimen by the painting process at the factory," the OEM wrote.
However, Cutler said body shops would be able to refinish the roofs — and create a new unique design for the owner.
"REPAIR AND REFINISHING OF THE ROOF IS POSSIBLE," Cutler wrote. "OUR AFTERSALES AND BODY SHOP TRAINING OFFERS THE APPROPRIATE REPAIR TECHNIQUES AND TRAINING FOR AUTHORIZED REPAIR LOCATIONS IN CONJUNCTION WITH OUR DEALERS TO REFINISH THE MULTTONE ROOF.  FROM THE FACTORY, EACH ROOF  PATTERN IS ONE-OF-A KIND WITH SLIGHT VARIATION BY NATURE OF THE WET-ON-WET ATOMIZED SPRAY PROCESS .  IT IS AKIN TO THE UNIQUENESS OF A FINGER PRINT.  THIS HOLDS TRUE FOR THE REPAIR PROCESS, WHERE THE ROOF PATTERN OF THE REFINISHED ROOF WILL HAVE IT'S OWN SLIGHT AND UNIQUE VARIATION."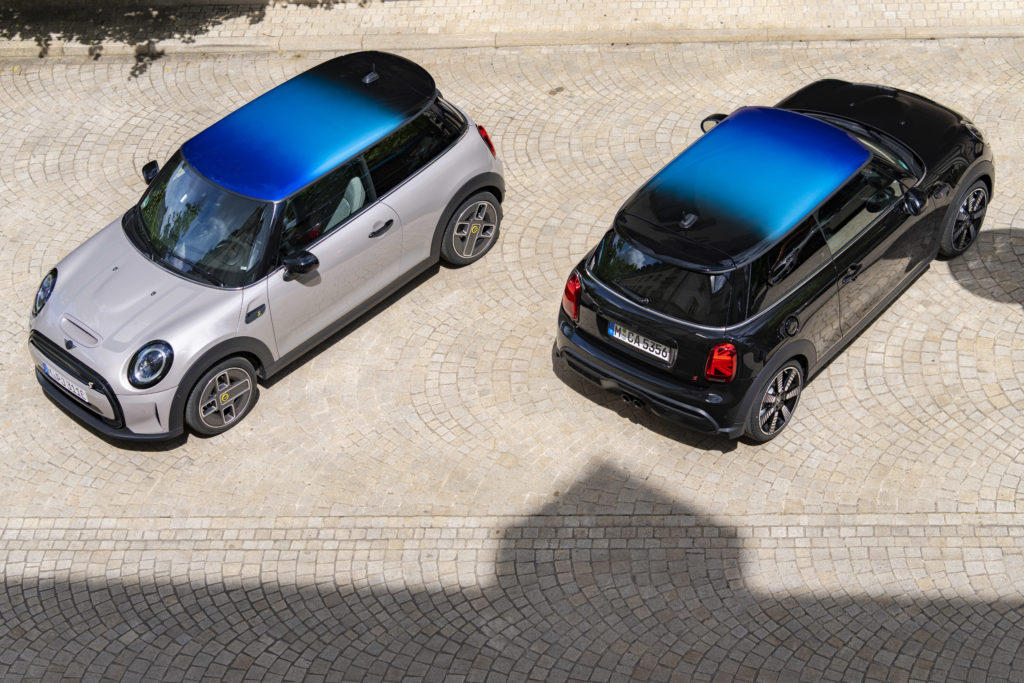 We asked if MINI planned to attempt tricolor paint jobs on other parts.
"CURRENTLY THE ROOF TOPS OF THE MINI HARDTOPS ARE THE ONLY BODY PANELS THAT FEATURE THIS UNIQUE PAINTING TECHNIQUE," Cutler wrote. "THIS MAKES SENSE AS HISTORICALLY MINI'S CONTRAS ROOF HAS BEEN AN IDEA CANVASS FOR CUSTOMIZATION AMONG OUR OWNERS.  WE'VE OFFERED DIFFERENT COLORS, AND ROOF GRAPHICS,BUT ARE TAKING THIS A STEP FURTHER WITH THIS UNIQUE PAINT APPLICATION, A PROCESS THAT IS THE FIRST OFFERED BY AN OEM FROM THE FACTORY.  WHILE NO OTHER COLOR COMMBINATIONS ARE CURRENTLY PLANNED, WE ALWAYS GAUGE CUSTOMER INTEREST AND FEEDBACK TO EXPAND FUTURE OPTIONS, FEATURES."
MINI said painters might also see optional white, black and silver contrasting paint jobs on the body, an optional red roof on John Cooper Works MINIs and MINI Original Accessories customization permitting "roof decors in various designs – from the Union Jack to the Checkered Flag design – for retrofitting."
More information:
"Three colours, three roofs, endless individualisation: the MINI Multitone Roof."
MINI, July 7, 2021
Images:
A two-door MINI Cooper S sports the "Multitone Roof." (Provided by MINI)
From left, the MINI Cooper SE and MINI Cooper S two-door carry the "Multitone Roof." (Provided by MINI)
Share This: