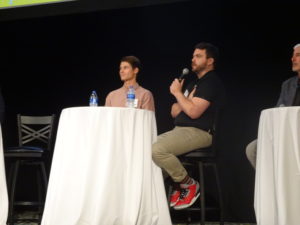 Würth 3D sales engineer Carter Rhodes told the Collision Industry Conference last month how a carbon-fiber 3D-printed Markforged chain link subjected to an Instron pulling test didn't break until 22,000 pounds of force, which equates to about five F-150s.
"We have extremely high-strength parts today," he said.
But the existence of such impressive 3D printing doesn't mean all parts created by additive manufacturing will behave the same way, based on comments by Würth Additive Group CEO A.J. Strandquist during the July 15 CIC Parts and Materials Committee session.
Strandquist said it was important to follow the "exact recipe" on how to create a specific part. A different method of printing a piece of carbon fiber could produce "unbelievable change" in its performance, he said.
He said that the 3D printing world also had "lower-rent units" which were "popping out parts," ostensibly from industrial 3D printers but lacking the same performance.
"There's a difference, right?" he said.
The difference between a good connection and a bad connection between the layers deposited by a 3D printer represented the difference between a $5,000 printer and a $50,000 one, Strandquist said. The lamination on the latter is so secure that the part will perform like an injection-molded one, he said.
RE3DTECH director of engineering Peter Kootstra said additive manufacturing can be thought of as 2D printing over and over again, one layer at a time. But each layer contains a "whole set of parameters" like infill and border passes, and the process can get complicated quickly, he said.
Koostra said his company works under a process where a customer can take the production file for the validated 3D-printed object and run it through the same type of printer with the same parameters and receive the same part.
Strandquist proposed a "frozen file" containing this "recipe," one which can't be printed using a different material and orientation.
There's a difference between a 3D-printed production part with a consistent level of quality and the uncertainty of running the same file through "Billy's 3D Printing Shack," Strandquist said.
The best bet would be to find a quality provider with certification, he said. "They're few and far between," he said. Wurth only buys parts from five companies, he said.
Kootstra offered the example of the 3D-printed replacement tabs created by Creative Repair Solutions and validated by CAPA after a "three-plus-year process." He described the parts as receiving OEM-level plastic testing prior to approval and being approved by a standardized organization.
3D printing carries the challenge of "repeatable quality," Kootstra said. How can one determine that the entire production run was suitable for use?
Strandquist said that as a supplier taking requests for serial production, Würth was becoming more "antsy" on its demands for lot control and inspection reports. He described a closed-loop quality inspection report containing data like hardware and printing success as an ideal scenario.
Kootstra also suggested "traceability" could help weed out legitimate 3D printed parts from counterfeit ones, using technology like blockchain to confirm a component came through proper channels.  He also noted such tracking could extend to a part's life cycle, such as a piece of tooling containing an RFID chip keeping tabs on its usage and time until replacement.
More information:
Collision Industry Conference Parts and Materials Committee Würth, RE3DTECH presentations on 3D printing
CIC, July 15, 2021
Featured image: Würth Additive Group CEO A.J. Strandquist speaks to the Collision Industry Conference on July 15, 2021. (John Huetter/Repairer Driven News)
Share This: