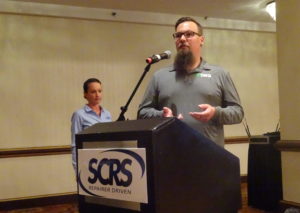 Body shops installing a recycled component into a vehicle could find multiple steps of the process need to be added manually in an estimating system, according to the Database Enhancement Gateway.
The guidance from the DEG, which was featured in a July 14 SCRS Education Committee presentation on recycled suspensions, derives in large part from the potential for a recycled part to be delivered as an assembly.
Estimating system times are by default tied to installing new OEM parts on vehicles fresh off the assembly line.
Audatex and CCC do feature labor times related to installing recycled assemblies on a vehicle, DEG Administrator Danny Gredinberg told the Society of Collision Repair Specialists open board meeting July 14. However, these values are based on removing an assembly and replacing it with another assembly, he said.
They don't include the work associated with disassembling individual components, Gredinberg said.
Mitchell, meanwhile, has dropped its recycled assemblies P-pages and simply relies on its main Collision Estimating Guide related to new OEM parts, Gredinberg said. This means the time required to strip down a recycled assembly to the part or parts needed wouldn't be included.
"In an effort to simplify overlap between the ATG and CEG, we no longer publish labor times for bolt on components or assemblies in the ATG," Mitchell wrote last year.
"Operations can be selected from the CEG, and the part type changed to LKQ. CEG labor times, and CEG P-page logic apply.
"ATG P-pages do not apply to (CEG) labor times.
"When utilizing an operation from ATG, with a published ATG allowance, the ATG P-pages are applicable."
The DEG recently put out a tip with a cheat sheet confirming that disassembly and other operations like cleaning, inspecting, sourcing and testing recycled parts would be manual entries in all three systems.
"At the end of the day, it's all not-included," Gredinberg said.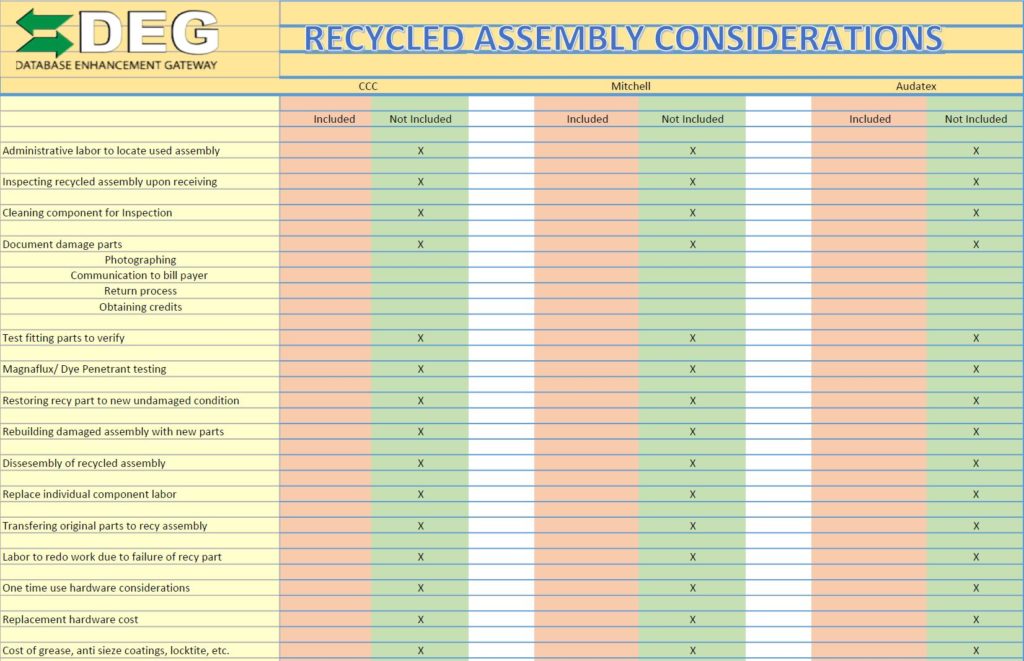 Gredinberg shared recent DEG discussion from the three estimating services on this topic.
All three information providers were asked in June DEG inquiries if several operations would be included when replacing a 2013 Lexus LS part:
When using Recycled parts please clarify if the following is included in recycled assembly labor time. Clean and Inspect Recycled Part, Overhaul Component, Perform magna-flux/ dye crack inspection, Measure component to verify OEM specs, replace any damaged part attached to recycled assembly. If the part is no good, documenting the part and returning the part for refund back to supplier.
No, the three IPs agreed.
Audatex: "We have reviewed our internal information for recycled parts," Audatex replied via the DEG. "Per the database reference manual recycled part labor calculation assumes that the parts are complete and in good working condition. Cleaning and inspecting, performing magna-flux/ dye crack inspection, and measuring the component are not included operations. Per the database reference manual labor exclusions, disassembly is not included in recycled parts nor is repairing, fitting, trimming/ modifying of recycled parts. No change warranted at this time."
CCC: "After review of our concern, please refer to the RACED Guide To Estimating for Included and Not Included operations," CCC wrote.
"With no specific RACED assembly specified in the DI, MOTOR is suggesting the customer review the Included/Not Included lists for each assembly shown. Also note, if an operation is not listed in the guide it is presumed not included."
"Same thing," Gredinberg said July 14. He directed the audience to compare the included and not included operations described within CCC's RACED recycled parts P-pages
"There's a big difference in the list," Gredinberg said. The list of not-included operations is often significantly longer.
Mitchell: Mitchell reiterated its comments from last year regarding CEG and ATG labor times in response to the inquiry.
"As stated by the inquiry type of-Non-Welded Panel Operations, please reference the (appropriate) CEG P-page for identified included/Not-included operations," Mitchell also wrote.
The DEG also reminded inquiry readers that Mitchell's CEG P-pages state:
THE LABOR TIMES SHOWN IN THE GUIDE ARE IN HOURS AND TENTHS OF AN HOUR (6 MINUTES) AND ARE FOR REPLACEMENT WITH NEW, UNDAMAGED PARTS FROM THE VEHICLE MANUFACTURER ON A NEW, UNDAMAGED VEHICLE. Any additional time needed for collision DAMAGE ACCESS, ALIGNMENT PULLS, NON-ORIGINAL EQUIPMENT or USED PARTS should be agreed upon by all parties. (Emphasis Mitchell's.)
Estimating in Mitchell is based upon individual parts, not assemblies, Gredinberg said. A recycled strut or lower control arm would be estimated based upon the individual part, not the assembly.
"That's all not-included," he said.
The SCRS Education Committee presentation July 14 also drew audience attention to a May 27 SCRS video tip on recycled assemblies. Gredinberg and Collision Advice CEO Mike Anderson discussed capturing "R, R and I" operations when estimating repairs involving recycled assemblies.
"There's a second removal required," Anderson said.
Anderson gave the example of installing a used door. A repairer might remove and save the door handle off a damaged door for use in the recycled one. But the door handle of the recycled door must also be removed, Anderson said.
"There's two removes required," Anderson said. He suggested repairers ask themselves what parts needed to be removed twice.
Gredinberg said a repairer must check the P-pages. The second removal and installation might not be included in labor times and would require a manual entry, according to Gredinberg. Components like a door's window, wire harness, regulator and motor "may vary from the recycled assembly to the one that's originally on the vehicle," Gredinberg said.
Fender liners also might present this scenario, Gredinberg said. Sometimes, a liner will be included on a recycled fender, he said. The labor to remove it would be a manual entry, he said. "Anything additional for a second or third labor is not included in all three systems," he said.
The video showed CCC's response to a February DEG inquiry on 2019 Chevrolet fender liners.
"After doing a study of how recycled/LKQ Fenders are being sold from recyclers throughout the entire country, the statement that the Fender Liner 'NEVER' comes with the Fender is not true," CCC wrote in February. "How the Fender comes is dependent on whether the Fender Liner is undamaged, the recycler's business practices, or if the repair facility asks for it when ordered (if available). Due to those variables, MOTOR will update the GTE in the next scheduled update in the fall of 2021 to reflect the Fender Liner to not be included in how the assembly is serviced."
Estimating system times would merely capture bolting on a fender or an entire door, Anderson proposed, and Gredinberg agreed.
"These are assembly times," Gredinberg said. The labor involved with extracting an individual assembly part and getting it to a state akin to the new, undamaged components described in estimating systems would not be included.
More information:
"SCRS Quick Tips: Duplicate Removal Steps on Recycled Parts (RR&I) NOTE: Second Removal NOT INCLUDED"
SCRSCollision YouTube channel, May 27, 2021
Database Enhancement Gateway website
"CCC, Mitchell and Audatex- Recycled Assembly Considerations"
DEG, July 12, 2021
Images:
Database Enhancement Gateway Administrator Danny Gredinberg discussed not-included operations related to recycled parts during a Society of Collision Repair Specialists open board meeting July 14, 2021. (John Huetter/Repairer Driven News)
The Database Enhancement Gateway released a cheat sheet chart confirming that disassembly and other operations like cleaning, inspecting, sourcing and testing recycled parts would be manual entries in all three estimating systems. (Provided by Database Enhancement Gateway)
Share This: