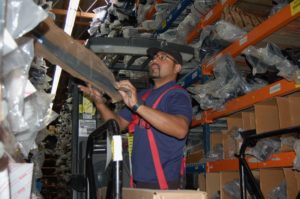 A projection by Carlisle & Company into what impact accident avoidance technology will have on dealers who sell wholesale collision parts offers short-term good news for those dealers – and likely for their collision shop customers as well.
The study, which combined the expected impact of the technology on accident frequency as well as severity measured in terms of parts count per claim and anticipated parts pricing, shows the industry still in an upward trend in terms of growth in total spending on crash parts, expected to peak about 2024 at a level about 34 percent above what it was back in 2012.
The news looks less positive following that, however.
In a presentation on the Carlisle model during Automotive News' "Fixed Ops Journal Forum," Nate Chenenko and Gabi Salomon from the consulting firm shared a projection showing accident frequency will continue to decline steadily in the coming decades, reaching a level in 2050 – when the Insurance Institute for Highway Safety estimates all vehicles in operation are expected to have some level of accident avoidance technology ­– that is about 29 percent below that of 2012.
"The line goes down sharper starting in about 2018 when we started to see the technology really proliferate," Chenenko said. "And the line grows increasingly steep because as more vehicles get the technology, and the technology gets more effective, the number of collisions decreases pretty substantially. It never goes to zero. The technology is not infallible. So we end up with a 29 percent reduction by 2050."
While the number of parts per claim has been increasing since 2012, accident avoidance technology will continue to lead to more slower-speed crashes, and another projection showed the number of parts per claim is expected to decline moving forward to about 30 percent below 2012 numbers by about 2036.
In the short-term, those declines will be offset for dealership parts departments by the higher price of collision avoidance equipped parts; a mirror equipped with a sensor can be 3-5 times the cost of one without accident avoidance technology, for example. Carlisle projects the uptick in pricing will peak around 2025.
"We do expect a natural decline in part costs, mainly due to innovation, and other competitors coming into the market and providing these parts at a lower cost," Salomon said. "So overall what we see is about a 27 percent increase in part costs by 2050."
Combining all these factors, the Carlisle projection shows the total dollars spent on crash parts to continue to rise until 2024, then decline by 37% (compared to 2012) by 2050.
Chenenko said dealers who sell wholesale collision parts can mitigate the impact from these trends by keeping parts order fill rates high, "by building a reputation for always having every part all the time, or being able to get it faster than anyone else."
More Information:
MOTOR, Carlisle: Mechanics want parts faster than dealers think
https://www.repairerdrivennews.com/2020/07/16/motor-carlisle-mechanics-want-parts-faster-than-dealers-think-20-customers-ask-for-oem-parts/
Images:
Photo courtesy of Image Output
Screenshots from Carlisle & Company presentation during Automotive News' "Fixed Ops Journal Forum"
Share This: