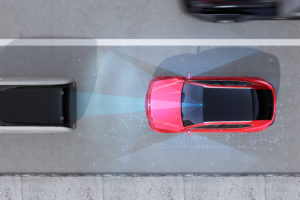 All passenger vehicles and large trucks sold in the U.S. would have to be equipped with passive emergency braking systems under a provision of the $1 trillion infrastructure bill now under consideration by the House.
The bill requires the the Secretary of Transportation to make a rule establishing minimum performance standards for such anti-crash technology, and to require all passenger cars and large trucks to be sold with systems that alert the driver if a crash is imminent, and automatically apply the brakes if the driver fails to do so. Passenger cars would also have to be equipped with lane-monitoring and lane-keeping systems, and be able to correct the course of the vehicle's travel if the driver fails to do so.
The bill leaves up to the Secretary of Transportation when the new regulations would be imposed, including any phase-in period.
The Insurance Institute for Highway Safety (IIHS) and the Highway Loss Data Institute (HLDI) have long been advocating the adoption of crash-avoidance technology, using HLDI's volumes of claims data to evaluate this feature on passenger vehicles.
According to the Insurance Institute for Highway Safety, police-reported crash data shows that crash avoidance technology could cut front-to-rear crashes in half.
"This bill pushes U.S. road safety policy forward in a number of areas, and we can see the work of IIHS-HLDI clearly reflected in many of the provisions," said IIHS-HLDI President David Harkey in a statement. "In some cases, the legislation is catching up with industry changes that we have already set in motion; in others, the bill could tee up meaningful progress on issues that we have been sounding the alarm on for years."
IIHS reported in December that 10 automakers have fulfilled a voluntary commitment to equip nearly all the new light vehicles they produce for the U.S. market with automatic emergency braking (AEB), ahead of the 2022-23 target set in the agreement brokered by IIHS and the National Highway Transportation Safety Administration in 2015.
In all, 20 manufacturers promised to equip at least 95 percent of certain vehicles with the crash avoidance technology by the production year beginning Sept. 1, 2022. The agreement covers light-duty cars and trucks with a gross vehicle weight of 8,500 pounds or less.
"The 10 manufacturers put the technology on more than 95 percent of the vehicles they produced between Sept. 1, 2019, and Aug. 31, 2020. Another three automakers exceeded the 90 percent threshold. However, five of the 20 automakers that signed the commitment equipped less than half of their vehicles with AEB," IIHS said at the time.
Four of the 10 — Audi, Mercedes-Benz, Volvo and Tesla — met their commitments last year, according to manufacturer reports. This year, they were joined by BMW, Hyundai, Mazda, Subaru, Toyota and Volkswagen.
"This voluntary effort is succeeding in getting an important crash prevention technology into vehicles quickly," said IIHS President David Harkey. "It's great to see AEB become a mainstream safety feature that's now standard equipment not just on luxury cars and SUVs, but on affordable models as well."
More information:
Years of work by IIHS-HLDI paved way for safety provisions in infrastructure bill
https://www.iihs.org/news/detail/years-of-work-by-iihs-hldi-paved-way-for-safety-provisions-in-infrastructure-bill
Front crash prevention slashes police-reported rear-end crashes
https://www.iihs.org/news/detail/front-crash-prevention-slashes-police-reported-rear-end-crashes
Evidence continues to mount in favor of front crash prevention
https://www.iihs.org/news/detail/evidence-continues-to-mount-in-favor-of-front-crash-prevention
More about Advanced Driver Assistance
https://www.iihs.org/topics/advanced-driver-assistance
Featured Image:
Aerial view of red SUV emergency braking to avoid car crash. Automatic Emergency Braking (Emergency brake system) concept. 3D rendering image. (Chesky W./iStockphoto)
Share This: