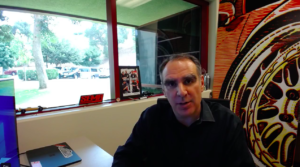 Organizers of the SEMA Show are "100% committed" to holding the 2021 event as scheduled on Nov. 2-5, and are encouraged by the number of exhibitors who plan to attend the organization's first show since 2019, Tom Gattuso, SEMA vice president of events, said during an update streamed live on Facebook and Instagram on Monday.
"We have got a strong exhibitor base, and really good support from buyers, and the hotel numbers are supporting both of these things," Gattuso said during the half-hour update. "That's a great sign for the show."
Although "we are seeing a lot of fluidity with the COVID landscape right now in Las Vegas," Gattuso said, "we see a good path to be able to have a very robust show."
He said organizers will continue to rely on the guidance of the State of Nevada and Clark County. While the only mandate currently in place for trade shows is that attendees must wear face masks, organizers understand that this may change, and are closely monitoring any developments.
"Know that we are going to do what the local and state jurisdictions ask us to do for live events," he said.
Gattuso noted that a number of factors should help ensure that the show can go forward. Among those is the recent addition of a West Hall to the SEMA's show's home, the Las Vegas Convention Center, which will allow the show to spread out over 25% more space.
As a result, he said, the show will offer wider aisles than in the past, and more space for exhibitors and attendees to network and do business.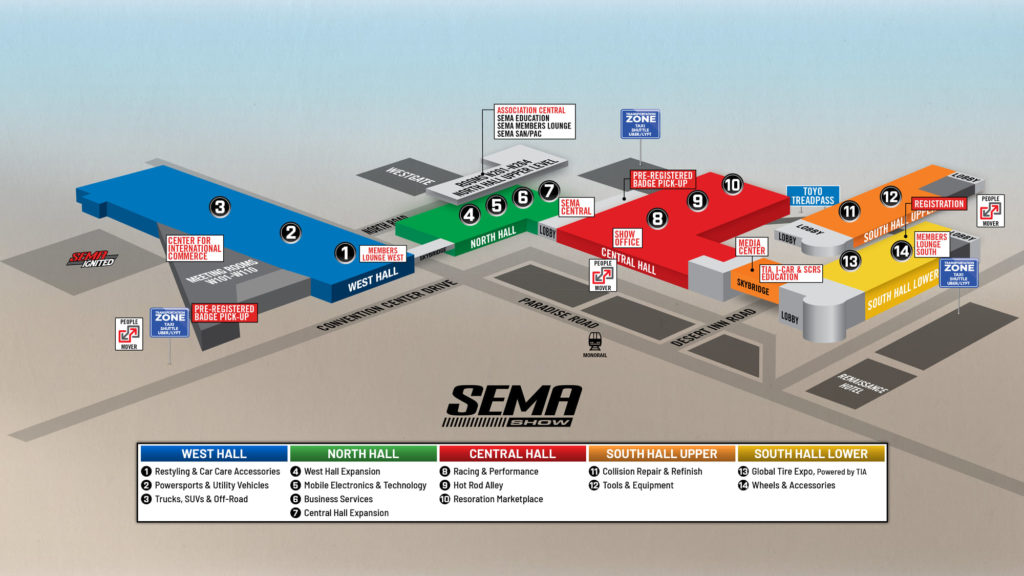 SEMA will also stand to benefit from the convention center's recent upgrading of its ventilation and air filtration system to "hospital grade," Gattuso said, and its attainment of the Global Biorisk Advisory Council's (GBAC) STAR certification for its approach to cleaning, disinfection, and infectious disease prevention.
Gattuso said there are 1,600 exhibitors registered for the show, which is in line with SEMA's projections, and represents only a 15% decrease in net square feet. He said international exhibitors, as expected, have been affected by "the lack of a pathway into the U.S.," but that for domestic exhibitors, "things are going pretty well."
Gattuso acknowledged that some manufacturers have decided that "this is not the year for them … [and] we do respect that decision." As part of its commitment to transparency, he said, the SEMA Show floor plan is updated whenever a manufacturer withdraws.
"I think what we're going to see is, we're going to start to see some consolidation," he said. "We really wanted to wait until we know what our critical mass was, and it's looking right now that we're going to have really strong numbers."
The New Product Showcase, the feature of the show most visited by buyers and members of the media, will be co-located in the Upper South Hall with the Collision Repair & Refinish Section.
The number of registered buyers fluctuates in single-digit percentages from 2019's year to date numbers, which Gattuso said is "a really, really good sign … we're really pleased with the support we've been getting there." Typically, he added, some 40% of buyers register before Labor Day. "We're right on pace to pick up some momentum after Labor Day," he said.
The Society of Collision Repair Specialists (SCRS), who has partnered with SEMA since 2010 in delivering the Repairer Driven Education (RDE) series at the SEMA Show, has shared similar, and encouraging outlooks on pre-registration numbers. In July, SCRS Executive Director Aaron Schulenburg shared that the 2021 pre-registration numbers for RDE reflected a shared enthusiasm from the industry.
"Registration opened roughly a month later than previous years, but 2021 year to date responses to Repairer Driven Education have already significantly eclipsed 2019 same-date registrations. We believe our audience is hungry for an event, and excited to have an epic national-level event to attend, and something to look forward to," Schulenburg said. In commentary this week, he confirmed that the trend has continued and "pre-registration numbers are still outpacing the registration activity from this date in 2019 — with some of the business registration periods still ahead of us."
"I think all of us learned a great deal in the past year about just how important in-person industry events are to our business," SCRS Chairman Bruce Halcro (Capital Collision Center) said in a statement this summer.
"We're proud of the work that we did to continue to connect our industry with much-needed educational topics during a time where the national pulled back from events, but we are all very ready to serve our membership with an event that feels more familiar, in a venue that sparks a great deal of excitement for all who attend, and allows businesses to spend the week committed to building on their business back home," Halcro said.
Hotel reservations are running at forecast, Gattuso said, with about 75,000 rooms rented to date. "A great year for us," he added, "is somewhere near the 100,000 range."
Gattuso said visitors should be encouraged by the response by Nevadans to the COVID challenge. "Nevadans are doing a lot to improve some of the metrics on the curves, with testing and positivity rates and hospitalizations," he said, "and we're starting to see some of those curves moving in the right direction."
According to the Nevada Department of Health and Human Services, the 14-day rolling average of new cases in the state has fallen by nearly 19 percent in the past week.
Gattuso took a few moments to address a few myths and misunderstandings, some of which may have arisen from SEMA's joint Aug. 26 announcement with AAPEX about health and safety measures in place for their concurrent shows.
While AAPEX will require proof of a COVID-19 vaccination or a negative COVID PCR test administered prior to arrival, Gattuso said SEMA is following the state's guidance, which sets no such mandate.
He said some confusion has arisen around Nevada Gov. Steve Sisolak's Emergency Directive 49, which requires proof of vaccination at indoor events with fixed seating, and makes mask use optional. This directive does not apply to trade shows like SEMA, and is meant for concert venues and athletic stadiums, he explained.
Instead, he said, SEMA falls under Emergency Directive 47, which makes mask use mandatory for indoor events.
Gattuso addressed exhibitors' worry that they might lose their deposits as a result of  waiting for further developments. "We'll work with you on being able to feel comfortable with the show, and not in fear of losing a deposit," he said.
"We're a trade association, and our job really is to help our member companies and our industry succeed, and we're really focused on that," he said.
Gattuso stressed that this year's show promises to be important, not only for the opportunities to make connections and learn about new trends and products, but also for setting a path for the show over the next several years.
"We have a lot of support from buyers and exhibitors," he said. "This is a time, if there ever was one, to unite as an industry, be able to come together, and start to chart the path of what the show's going to look like over the next 2, 3 or 5 years," he said.
Register on www.scrs.com/rde for the 2021 Repairer Driven Education, which will be held Nov. 1-5. The website also carries descriptions of the 2021 courses, starting Monday, Nov. 1, with three sessions from 3-5 p.m. Tuesday, Nov. 2, and Wednesday, Nov. 3, are packed with courses from 9:30 a.m. to 5 p.m. both days.
Thursday, Nov. 4, features the OEM Collision Repair Technology Summit, with three 90-minute courses running consecutively from 9 a.m. to 2:30 p.m. The day will start with a 9-10:30 a.m. session on electric vehicles, a session on "Vehicle Research and Trends" will follow from 11 a.m. to 12:30 p.m., and a session on "ADAS & Safety" from 1-2:30 p.m. will wrap up the day.
The SCRS Sky Villa After-party in the penthouse of the Westgate will be held from 9 p.m. to midnight Thursday, Nov. 4.
Finally, the TED Talks-like IDEAS Collide will return again from 10:30 a.m. to 12:30 p.m. Friday, Nov. 5. The session features "exploring a fast-paced agenda of 10 minute talks, designed to stimulate thought surrounding business challenges that can be overcome with unconventional ideas."
Individual courses, the three OEM Summit sessions, and IDEAS Collide each cost $75 to attend, and afterparty admission is $85, if tickets are purchased before the SEMA early registration cutoff in October. However, SCRS encourages attendees to just buy the Full-Series Pass, which costs $375 during the early registration period and gives the holder complete access to all classes, the OEM Summit, IDEAS Collide and the Sky Villa afterparty.
Images:
Featured image: Tom Gattuso, SEMA vice president of events is shown. (Screenshot from SEMA Facebook Live video)
The updated SEMA 2021 floorplan includes exhibit space in the newly constructed West Hall, a 1.4-million-square-foot facility. (SEMA)
More information:
State of Nevada's guidance for travelers
https://nvhealthresponse.nv.gov/travel-visitors/
SEMA's Health & Safety page
https://www.semashow.com/health-and-safety
2021 SCRS Repairer Driven Education series
https://www.repairerdrivennews.com/event/2021-scrs-repairer-driven-education-series/
2021 SEMA participating manufacturer list as of Aug. 27, 2021
https://www.semashow.com/participating-manufacturers
Share This: