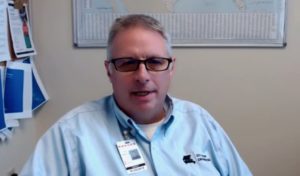 The pilot program underway at four college autobody training programs that combines school and work-based learning is seeing a rise in enrollment, donations and industry interest and support.
The Enterprise Rent-A-Car Foundation is funding the 2-year "Automotive Collision Engineering Pilot Program," launched earlier this year and based on a hybrid school-and-shop educational model developed at Ranken Technical College in St. Louis, Mo. As part of the program, students spend eight weeks at the school and then eight weeks working in a participating body shop, continuing this rotation over a 2-year period.
"It's a well-executed program and a brilliant way to teach these students, combining in-school learning and real world practical application while earning a degree as opposed to a certificate," Colorado shop owner Rob Grieve, whose son Greg is currently enrolled in the program at Ranken. "All the certifications the students graduate with are incredibly valuable to their employers"
John Helterbrand, chairman of the Ranken automotive collision repair department, this week offered an update on the program, which is also in place at three other schools: Contra Costa College in San Pablo, Calif.; Texas State Technical College in Waco, Tex.; and College of Lake County in Grayslake, Ill.
He said he sees it a solution to what the ASE Education Foundation refers to as the "leaky pipeline" in the industry, in that it provides participating students with a clear path into the industry, and is developing some tools secondary schools can use to reach high school students – or even younger children – with information about careers in the collision repair industry.
Helterbrand said the pandemic delayed the start of the program but also led to the development of an online "learning management system" for virtual learning that could continue to be used post-pandemic in that it helps meet the needs of those with different learning styles, and offers a database of study materials. It could also serve as a conduit for colleges to communicate with younger students.
"In the future, we plan to use the system to allow students to participate in a rolling start, to help those who cannot enroll before the program start date to begin their education online even before entering the classroom," a written update on the pilot project states.
Helterbrand said though the pandemic made for a rocky start to the program, having the learning management system developed sooner than expected has been positive.
"This was going to come. It just came a lot earlier because of COVID," he said.
Helterbrand said the program has been benefiting from recent donations from Mitchell International, 3M and Chief Automotive. The program was highlighted at a recent I-CAR Atlanta Committee meeting and during a Women's Industry Network webinar.
In July, Ranken worked with Collision Advice to bring in 20-group members – representing about 350 body shops across the country – for tours of the school and to learn about the program. Helterbrand said he was pleased to see all the willingness within the industry to get involved to solve the technician shortage. He said he also has been getting a clear message from collision repairers.
"I thought I had a pretty good grasp on things," he said, pointing to his 20 years as a technician and nearly two decades as both a Ranken and I-CAR instructor. "But what I realized by talking with the industry beyond just our area is how much more OEM involvement they want students to have. We need to improve the education from the OEMs. They need to catch [new technicians] when they are young, not already in the shop."
Helterbrand said the program's board will be meeting soon to, among other things, discuss when and how much to expand the program beyond the four schools. One challenge he sees: The program can require some significant changes for school ­– continuing the program through the summer, for example, and incorporating more instructor visits to shops where students are working. While Ranken is a privately-owned school, state or county restrictions on publicly-funded colleges can make it difficult for curriculum changes to keep up with the changes in vehicle technology.
Still, he foresees the board will want to add schools to the program, though perhaps on a slower pace than initially projected.
"We've learned a lot, but we still have some areas that we need to work on," he said. "I think this is an opportunity to try to really get this right before really trying to stretch the model too big."
More Information:
Enterprise pilot to grow collision techs using Ranken format mixing school, shop time
https://www.repairerdrivennews.com/2021/01/11/enterprise-pilot-to-grow-collision-techs-using-ranken-format-mixing-school-shop-time/
Schools, industry need to work together to solve 'leaky pipeline'
https://www.repairerdrivennews.com/?s=leaky
Images:
Courtesy of Automotive Collision Engineering Pilot Program
Share This: