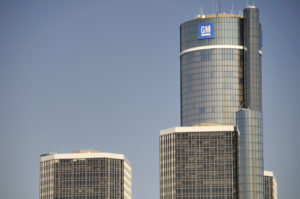 General Motors this week brought on board the former top American auto safety official to help advance the automaker's vision for an all-electric and autonomous vehicle future.
Effective Oct. 1, David Strickland will begin serving as GM's vice president for global regulatory affairs, succeeding Bob Babik, who will retire Jan. 1, 2022, after 20 years with the company.
Currently, Strickland is staff director of the U.S. Senate Committee on Commerce, Science and Transportation (Senate Commerce).
Strickland served as chief of the National Highway Traffic Safety Administrator during the Obama administration from 2010-2014. During that time he was an important force in former transportation secretary Ray LaHood's initiatives against distracted and drunk driving and promoting safety on the roads.

NHTSA sets vehicle safety standards, investigates auto safety defects and monitors recalls among other duties.
Strickland is joining GM as the nation's largest automaker is widely expanding its electric vehicle aspirations.
Strickland will report to Omar Vargas, GM vice president and head of global public policy.
"David has an extensive background working on a wide variety of transportation and auto industry policy issues," Vargas said in a release. "His knowledge of the issues and ability to work collaboratively with government and industry make him the perfect leader to help drive regulatory policies in support of GM's growth initiatives, including our vision for an all-electric and autonomous future."
GM reportedly is rapidly moving toward self-driving vehicles and it intends to stop selling gas-powered new light-duty vehicles by 2035. Strickland has been tabbed largely to help with those moves.
Senate Commerce Committee Chair Maria Cantwell told Yahoo that with Strickland, who has served on the panel for 11 years total, GM made a strong call.
"I'm happy that someone with David's integrity and experience will have a hand in advancing General Motors' transition to electric vehicles," Cantwell told Yahoo.
Since 2019, Strickland has been the staff director for Cantwell, a Democrat from Washington.
In his new role, Strickland will head a team that will be responsible for working with regulatory agencies at the local, state, national and international levels on issues that impact GM and the overall auto industry.
Strickland has 25 years of experience working in government affairs and the regulatory realms.
He started working on transportation and auto industry issues in 2001 when he joined the Senate Commerce Committee as a senior counsel for the Consumer Protection Subcommittee.
In 2019, Obama nominated him as the NHTSA administrator. After leaving that role in 2014, Strickland worked at Venable LLP, where he was a partner in the firm's privacy and data security practice with a focus on connected and automated vehicle policy.
Strickland holds bachelor's degrees from Northwestern University and a law degree from Harvard Law School.
Images:
Featured image: GM's corporate headquarters is shown. (RiverNorthPhotography/iStockphoto)
David Strickland. (General Motors)
Share This: