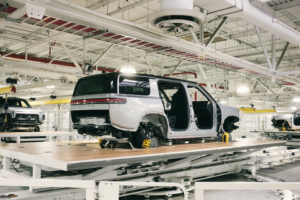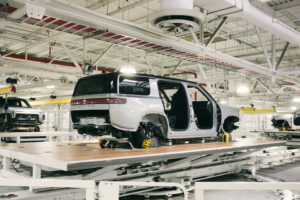 Rivian to begin deliveries of EV pickups, SUVs in March 2022
By on
Announcements
The Rivians are coming.
Rivian Automotive last week sent out emails telling reservation holders to expect deliveries of their R1T electric pickup trucks and R1S electric SUVs beginning in March, according to postings on the Rivian Forums enthusiast website.
Responses to an online Rivian Forums poll indicate that deliveries of Launch Edition vehicles may be evenly divided among three delivery windows: March-April, April-May, and May-June.
Some deliveries appear to be scheduled as far out as September, according to responses to the poll. The company had previously indicated that deliveries would begin in October 2021.
Rivian began production of customer cars at its Normal, Ill. plant on Sept. 14, and is now stepping up its schedule for delivering its light-duty pickup trucks and SUVs to customers.
Rivian, in a federal filing, has said it has a backlog of 55,400 orders for the R1T and R1S.
The OEM has been building up a certified collision network composed entirely of independent shops. Rivian collision repair program senior manager Kelly Logan has said Rivian will establish its own network of mechanical service and repair facilities but rely on "third-party collision centers."
More information
Rivian's electric truck, SUV to include aluminum, carbon fiber, UHS steel
EV startup Rivian plans certified auto body repair network, will restrict parts
Images
Featured image: Rivian R1S SUVs being transferred between stations on the trim line in general assembly. (Provided by Rivian)
Share This: