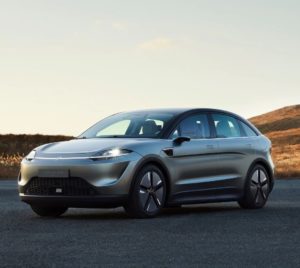 Sony elevated its entrance into the electric vehicle (EV) landscape by unveiling its SUV prototype, the VISION-S 02, at the 2022 Consumer Electronics Show last week.
Sony first said it was exploring EVs at the 2020 CES with the VISION-S 01 that was tagged as "an initiative aimed at contributing to the evolution of mobility." After completing safety, user experience, imaging, sensing and human-machine interface (HMI) tests 5G driving tests began in April 2021.
Sony plans to further develop those efforts as it enters a new phase of VISION-S development aimed at continuing mobile safety, security, adaptability and entertainment evolution, according to a Sony press release.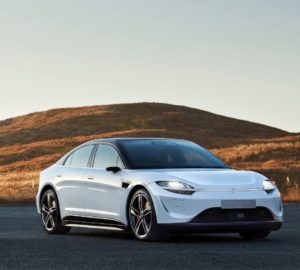 Sony Mobility Inc. will be established this spring to "further accelerate and make new proposals that further evolve the mobility experience" and "explore entry into the EV market."
"Sony is well-positioned as a 'creative entertainment company' to redefine mobility," said Sony Group Corp. Chairman, President and CEO Kenichiro Yoshida.
The seven-seat VISION-S 02 uses the same EV/cloud platform as the VISION-S 01, which is being tested on public roads.
The safety system sees the environment in real time with high-sensitivity, high-resolution and wide dynamic range image and lidar sensors installed around the whole vehicle, according to the release. There is also intuitive driver interaction with the vehicle's sound system and HMI system.
Time-of-Flight (ToF) sensors are used to provide monitoring functions for driver authentication and to watch over passengers with intuitive gesture and voice commands. As far as aesthetics, users will be able to customize the display theme and the acceleration and deceleration sounds of the vehicle.
So what will sitting in a VISION-S sound like? Sony says speakers in the seats will create a 3D sound field and "360 Reality Audio" will provide an "immersive music experience."
Vehicle settings, key locks, and user settings can be synchronized by linking the vehicle to the cloud using mobile communication. Noting remote operation as an important technology with the rise of autonomous vehicles, Sony said its using knowledge of communication technology from the development of smartphones and the VISION-S 01 telematics system to conduct driving experiments in Japan and Germany.
Sony plans to equip its VISION models with front panoramic and rear-seat screens for a "high-quality movie experience." Gaming will also be possible with remote connection to PlayStation consoles and streaming through the cloud.
Sony hasn't shared details on what safety restrictions, if any, would be placed on its gaming features but it's an issue that the National Highway Traffic Safety Administration will likely have its eye on. Tesla came under fire last month when an investigation of 580,000 Tesla 2017-2022 Model 3, S, X and Y vehicles was launched by the NHTSA for the Passenger Play feature functioning on the front center touchscreen while the vehicles are in motion. NHTSA's Office of Defects Investigation stated it "may present a distraction to the driver."
CNBC reported a NHTSA spokesperson confirmed Tesla would issue a software update that locks Passenger Play when the vehicles are in motion.
IMAGES
Featured image: Sony shared details about its SUV EV, the VISION-S 02, at the 2022 Consumer Electronics Show last week. (Photo provided by Sony).
The VISION-S 01 was unveiled by Sony at the 2020 Consumer Electronics Show. (Photo provided by Sony).
Share This: